Local trainee Dahiya upsets 3rd seed Shandilya
Tribune News Service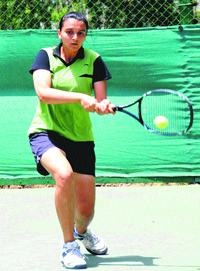 Nupur Kaul returns a shot during a match of the CLTA-AITA Men's and Women's Rs 1 Lakh Tennis Tournament in Chandigarh on Monday. Tribune photo: Manoj Mahajan

Chandigarh, May 19
Making a comeback after his last year's defeat, local CHART trainee Vikrant Dahiya defeated 3rd seed Rubal Shandilya in a marathon 3 hours and 15 minutes boys' main draw match during the ongoing CLTA-AITA Men's and Women's Rs 1 Lakh Tennis Tournament, being held at the CLTA Tennis Courts here today. Rubal had beaten Vikrant in the previous two AITA championships in 2013.
Starting the day on an easy note, Vikrant took the 1st set (6-4). However, marking his presence felt, Rubal took the full control of the match and claimed 5-2 lead in the next set.
Afterwards, Vikrant managed to win his service game but failed to name the set and lost it 6-3.
In the Final set, Vikrant again started off well and claimed an initial lead of 5-2, however Rubal held his serve in the 8th game after being down a match point. Vikrant lead 40-0 in the 9th game but Rubal kept his steady game and managed to win the next 2 points. On the match point, Vikrant kept his cool and won the match.
In the women's category, 4th seed Sanya Madan was upset by Nupur Kaul. The latter conceded only two games to upset Sanya (6-1 and 6-1).
Results
Men's final qualifying round:
Nihit Rawal bt Aditya Deshwal 7-5, 6-3
Paramveer Bajwa bt Yashad Ganatra 0-6, 6-1, 6-3
Manjot Singh bt Digvijay Mehta (walkover)
Sandeep Chaudhary bt Harshvardhan Thirani 6-4, 6-0
Vikrant Dahiya bt Raquib Bin Mangzir 6-4, 6-4
Sahil Deshmukh bt Yash Yadav 6-2, 1-6, 6-1
Fatehdeep Singh bt Upadhyaya Puru 6-3, 6-4
Faisal Qamar bt Ankush Arora 7-6 (6), 6-4
Men's 1st round (main draw):
Jajbir Singh bt Raghvendra 6-4, 6-3
Paramveer Bajwa bt Aaditya Tiwari 6-4, 6-2
Lavish Nehra bt Nihit Rawal 6-7(4), 6-3, 7-6 (5)
Hardeep Sandhu bt Sahil Deshmukh 0-6, 7-6 (4), 6-3
Vikrant Dahiya bt Rubal Shandilya 6-4, 3-6, 6-3
Chinmay Pradhan bt Abhishek Gaur 7-6(5), 7-5
Aaditya Deshwal bt Ayush Mintri 6-4, 6-2
Ankush Arora bt Yash Yadav 7-5, 7-6(4)
Rohit Sarwate bt Upadhyay Puru 6-4, 6-4
Sameep Mehta bt Harshvardhan T. 4-6, 7-5, 6-0
Ranjeet Singh bt Maninder Singh 6-4, 6-0
Fatehdeep Singh bt Manjot Singh 7-5, 6-0
Dalwinder Singh bt Yogesh Phogat 6-2, 6-4
Bhavesh Gaur bt Bharat Bhardwaj 7-5, 6-3
Faisal Qamar bt Yashad Ganatra 6-2, 4-6, 6-1
Gurinder Singh bt Sandeep Chaudhary 6-2, 6-2
Women's 1st round (main draw):
Victoria Chahal bt Seerat K. Pannu 6-1, 6-2
Harsimrant Kaur bt Kirandeep Kaur 6-1, 6-4
Pooja Mourya bt Gayatri Kumaraiah 6-3, 6-3
Amala Amol bt Abhilasha Vishwanath 6-1, 6-2
Vineeta Singh bt Aarushi Kakkar 6-2, 6-1
Anjali Thakur bt Sachi Belwal 6-2, 6-1
Rajbir Kaur bt Baljinder Kaur 6-2, 6-3
Manya Nagpal bt Kanishka Chawla 6-1, 6-4
Namita Bal bt Ananya Jha 6-3, 6-2
Shubhi Dviwedi bt Saumya Vig 6-3, 1-6, 6-1
Ananya Mahapatra bt Krishnali Bhonsle 6-0, 6-1
Nupur Kaul bt Sanya Madan 6-1, 6-1
M Arthi bt Preetnain G 6-0, 6-3
Nandini Sharma bt. Samriti 6-1, 6-0
Bhawya Wadhawan bt. Nikita Bishnoi 6-3, 6-2
Aashima Garg bt Anupreet Bedi 4-6, 6-3, 6-0