BJP, Cong gear up for Parliament session
New Delhi, May 19
The BJP and the Congress are gearing up for the Parliament session in their own way. The BJP looks forward to strengthening its presence in the Rajya Sabha, while the Congress is keeping its fingers crossed, hoping to at least retain its position as the principal party in the Opposition.
Sonia should ensure room for honest dissent: Ashwani Kumar
New Delhi, May 19
Former Union Minister Ashwani Kumar today emphasised that Sonia Gandhi must continue to lead the Congress at this crucial juncture and ensure an atmosphere where honest dissent was respected.
Home Secretary briefs Modi on security situation
New Delhi, May 19
Union Home Secretary Anil Goswami met Prime Minister-elect Narendra Modi today and briefed him on the security situation, including that prevails in Jammu and Kashmir, the Northeast and the Naxal-affected areas.
Safety measures in place to avoid naval mishaps: Dhowan
Mumbai, May 19
Chief of the Naval Staff Admiral RK Dhowan today said all recent incidents involving assets of the Navy had been thoroughly analysed and all standard operating procedures were being followed.
Rape case: No SC relief for Asaram
New Delhi, May 19
The Supreme Court today refused to grant any relief to Asaram Bapu on his plea for shifting trial in a rape case against him from a special court meant for child victims to a regular court.
Jaya sacks 3 ministers
Chennai, May 19
Tamil Nadu Chief Minister J Jayalalithaa today sacked three ministers and inducted as many, besides rejigging the portfolios of some others.
Congress heavyweights lose deposits in Seemandhra
Hyderabad, May 19
The bifurcation of Andhra Pradesh has proved to be an electoral disaster for the Congress as reflected by the scale of its defeat in Seemandhra region where 150 candidates of the ruling party lost their deposits.
Model code of conduct ends, says poll panel
New Delhi, May 19
The model code of conduct has ended after being in force for over two months. During the period the Election Commission took several major decisions, including giving the nod to the government to appoint the next Navy and Army chiefs and asking it to defer notifying doubling of prices of natural gas.
Coalgate: CVC opposes CBI's closure reports
New Delhi, May 19
The Central Vigilance Commission (CVC) has opposed closure of several Preliminary Enquiries (PEs) registered by the CBI in the multi-crore coal blocks allocation scam.

Hit-and-run case: Waiter identifies Salman Khan
Mumbai, May 19
A waiter, who served Salman Khan and his friends shortly before the actor allegedly ran over his Land Cruiser on a group of sleeping slum dwellers 12 years ago, identified the star in court today.
Salman Khan


Tejpal gets 3-week bail in rape case
New Delhi, May 19
The Supreme Court today granted interim bail for three weeks to Tehelka founder Tarun Tejpal in a rape case against him. A Bench comprising Justices BS Chauhan and AK Sikri allowed the release of Tejpal on bail to enable him to attend the funeral of his mother, who died in Goa yesterday, and other related religious rites.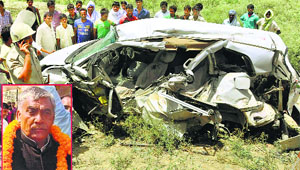 UP minister killed in mishap at unmanned rail crossing
Lucknow, May 19
A state minister and two of his staff members were killed this morning when the car they were travelling in was hit by a passenger train at an unmanned railway crossing in the Line Bazar area of Jaunpur.

FATAL MISHAP: The mangled remains of the car that rammed into a train at an unmanned railway crossing in Jaunpur district, Uttar Pradesh, on Monday. State Minister Sitaram Yadav (inset), his gunman and the car driver were killed in the accident. PTI

Monsoon reaches Andaman Sea
New Delhi, May 19
Monsoon rains have reached the Andaman Sea and parts of the Bay of Bengal, the Met Department said today. Monsoon hit parts of southeastern Bay of Bengal two days early on Sunday, and conditions are favourable for the advance of the monsoon into parts of the south and central Bay of Bengal during the next two days. — IANS