Apolitical cut
Earlier this year, an e-commerce site started selling Modi kurtas, cashing upon the popularity of the Prime Minister designate and his well-starched, well-stitched pastel-shaded kurtas. Now after he has won the election, Narendra Modi has become a muse for a fashion designer in Mumbai, who has stitched a special suit for his swearing-in ceremony.


Conserve, preserve
While nature paid a heavy price for human civilisation, there's only a little that it demands back from society. Perhaps, only the residual concern of humanity that lurks for meaning in the Gandhian philosophy— what we are doing to the forests of the world is but a mirror reflection of what we are doing to ourselves and to one another.

FREE SPIRIT: Tim Faulkner
vanity box
Go with the flaw
Cover scars, hide those burns, coat your tattoo, enhance cleavage and conceal injury mark…There is all the more need for make up on the body, even though it seldom moves away from the face. If at all, there are no flaws to cover, there is scope for a tanned glow, body contour, muscle definition and the right highlights.
Weight watch
Cantaloupe & calorie
Cantaloupe is a summer boon to a weight loss diet. A cantaloupe has naturally occurring sugars, which help satisfy your sweet tooth and may enable you to resist eating high-calorie, less healthy foods.
Par Excellence
The chicken wing
The chicken wing is a term used for a 'flying elbow' in the follow through. When the left elbow (for a right handed golfer) moves outwards and upwards similar to a drive in cricket, it is called a chicken wing and is one of the reasons for a slice.


Vienna calling…
Vienna, the seat of the former Austro-Hungarian empire, situated in the heart of Europe, is all set to project its youthful romantic appeal to attract hundreds of honeymooning couples from India this year.

Step out: Vienna is an ideal destination for honeymooners.

Art on the go
The Chhattisgarh State Handicrafts Developments Board, with the brand name of Shabari, an undertaking of the Government of Chhattisgarh, has displayed a wide range of craft objects particularly from Chhattisgarh at Lajpat Rai Bhawan-15, Chandigarh.

The mobile craft market




She is worth it!
Bollywood diva Aishwarya Rai Bachchan met actress Freida Pinto during a special shoot at the ongoing Cannes Film Festival. The 40-year-old former Miss World has teamed up with the Slumdog Millionaire star for the first time for a L'Oreal Paris shoot.

Freida Pintu at Cannes



Going retro for Tigmanshu
Vidyut Jammwal is seen sporting a bearded, long haired look for his next, modelled over Robert De Niro and Al Pacino's yesteryear looks. Looks like we have another actor joining the list of Aamir Khan, Shah Rukh Khan, Ranbir Kapoor and Ranveer Singh who've taken 'look authenticity' to the next level and that's none other than our young action hero Vidyut Jammwal.
Vir instructed to lose weight
After Revolver Rani, Vir has already gotten in to a grueling shooting schedule for his next, 1984 which is based on the infamous Sikh riots that happened 30 years ago. Vir plays a Sikh in the film. Vir had to gain little muscle for his role in Revolver Rani. Since he played an aspiring actor in the film, he had to bulk up a bit to look the part.


Black magic
Bollywood fashionista Sonam Kapoor walked the coveted red carpet at the ongoing Cannes Film Festival in a voluminous black Elie Saab couture gown. The 28-year-old actress opted for a vintage look this time with a faux bob hair do and completed her get-up with Chopard earrings and red lip colour.

Sonam Kapoor in a Alexander McQueen gown
Cameron finds love
Actress Cameron Diaz is reportedly dating Good Charlotte singer Benji Madden. The new couple, who have apparently been dating for about a month, are said to have been introduced by Nicole Richie, who is married to Benji's brother Joel.
Like father, like son
Superstar Akshay Kumar wants his son Aarav to keep a distance from showbiz so that he can enjoy a normal childhood. "It's a conscious decision to keep my son away from limelight. I think it is better to keep them (children) away from all this that is seen everywhere in newspapers and all. I want to give them a normal childhood," Akshay, 46, said in a media interaction here.
Bride & her baggage
Bride-to-be Kim Kardashian flew out of the city for her wedding with 12 bags in tow. Kim, who left Los Angeles on Saturday to meet her Prince Charming, rapper Kanye West, along with her daughter North. The couple is set to marry on May 24 apparently in the Orangerie Garden at the Palace of Versailles, France.
Asin's imposter
Actress Asin, who prefers to stay off social media, recently discovered that an impostor had made an account in her name on the social micro-blogging site and had started interacting with her fellow actors Abhishek Bachchan, Riteish Deshmukh and many others.
Demi's Man Friday
Actress Demi Moore reportedly enjoyed a date night with rocker Sean Friday and the duo were said to be getting cosy during their outing. However, the 51-year-old actress, who sparked dating rumours with Sean earlier this year, did not walk the red carpet with Sean at the De Re Gallery in Hollywood.


Himani's honest take
Veteran actress Himani Shivpuri, who has done innumerable roles, will soon be seen in a comedy show Ajab Gajab Ghar Jamai. But the actor feels TV is bereft of fresh ideas and there isn't much acting left.


Strong note: Himani Shivpuri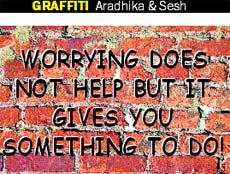 CHATTER BOX