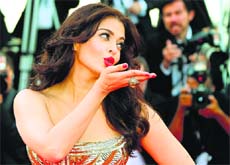 Aishwarya Can-nes!
This time, she has nailed it…completely. With every step she took and every pose she struck, she made the world get up and take notice of her new-found curves, of her porcelain skin and of her impeccable choice for her first Cannes Film Festival outing this year. Aishwarya Rai Bachchan looked stunning in a Roberto Cavalli strapless fishtail gown with her lips done in red, minus the baggage of accessories except for a huge yellow stone ring.


Life is a pie
Ayush Tandon has hit the highway to success early in his life and there is no stopping this fifteen-year-old. When children barely start to play with a toy-camera, he was performing before cameras at the age of five and one after the other he has done more than 50 advertisement films!

SCREEN SHOT: Ayush Tandon Photo: Himanshu Mahajan
India calling
This one chose madness over method! Born and brought up in London to a Gujarati mother and Tanzanian father, Kavi Shastri was going steady in UK's telly scene when impromptu he moved base...to Mumbai. Some films, other telly and stand-up comedian stints over the weekends, Kavi is all set to debut as a host for Bindass' show Love by Chance next.


It's magical
In their propensity to entertain customers while giving them a little more than just good food, the city restaurants, lounges and pubs are banking heavily on live shows, which in a lot many ways benefits both, the local talent and the eatery.

Fun world: The Merry Madness Extravaganza combines food with entertainment. Photo: S Chandan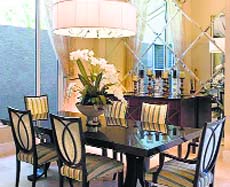 the 'in' side
Mirror mirror on the wall
Mirrored walls are back..! Yes, before you think about the 70's trend and cringe at the thought, think again. Those disco era walls have been replaced by the new chic, classic, timeless mirrored walls that don't look tacky at all. Today mirrors on the wall are a great way to make a huge decorating impact, not only by increasing the light and size of the room, but is also a fairly inexpensive way to update a room no matter what your decorating style is.
Doc Talk
Blood relation
The latest and now the most popular procedure in cosmetic medicine and surgery is the introduction of injecting or applying person's own platelet cells, which is producing excellent results in reviving the youth and rejuvenation lost in skin and hair.
Master Chef
Royal treat
Come summer and we all are looking for foods that cool us. Salads are a sure bet. With a careful choice of the ingredients, we can prepare a visually 'happy' salad. Any salad which keeps the goodness of veggies intact with minimal cooking is worth its salt.


It's Rocking
Eminem says sorry
Here comes the most awaited song of the season- Headlights by Eminem, featuring American singer and fun front man Nate Ruess. The fifteenth track on his eighth studio album The Marshall Mathers LP 2 (2013), it features production from Emile Haynie, Jeff Bhasker and Eminem himself.

Eminem hugs his mother
Free flowing
Nargis Fakhri believes in being free and original when it comes to fashion Nargis Fakhri rocks whatever she wears because she is beautiful, sexy and has a great attitude. She talks about her opinion on fashion and more.
Prachi turns item girl
Prachi Desai will make a glamorous guest appearance in Balaji and Mohit Suri's keenly awaited Ek Villain. Prachi will feature in the Awari track, which will be shot in Mumbai later this week, with a surprise actor whose identity is being kept under wraps.
Indian connection
Jenifer Lopez was spotted in a custom made outfit by Falguni and Shane Peacock at her recent performance at the Billboard 2014 Music Awards, in Las Vegas, Nevada where she also received the Bill Board Icon award.
Zoya sets sail!
Zoya Akhtar's film went on floors last weekend. She has set sail with the cast and crew of Dil Dhadakne Do. On board the liner, which has set off from Barcelona are Ranveer Singh, Anil Kapoor, Farhan Akhtar, Priyanka Chopra and Shefali Shah.
Sick in Bali
Actress Parineeti Chopra, who has been shooting for her upcoming film Kill Dil in Bali, is currently on a bed rest. 'Sick and in bed :( yeh toh hona hi tha,' Chopra updated. Meanwhile, the 25-year-old actress recently finished shooting for some underwater sequences.


Pun'jab' Sandeep Joshi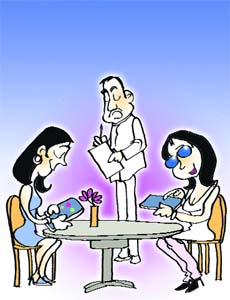 IN THE WEB: For the health-conscious we also have a meal app that you can download for satisfaction.
Secret romance
Bollywood stars are quite secretive about their love life in general. They may have a no-comments stand and usually get linked with their co-stars but many of them have love interests outside of the industry.
No negative shades
She has played many positive roles in serials, but Ankita Sharma seems to have come on her own in a negative role in Rangrasiya. She plays the lovely Laila, who wants to win Rudra at any cost. She talks about it and much more.