| | | |
| --- | --- | --- |
| | ARTICLE | |
The goal of nuclear disarmament
Ambiguity on China's 'no-first-use' policy
G. Parthasarathy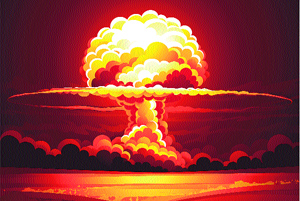 On July 8, 1996, the World Court ruled that countries possessing nuclear weapons have not just a "need" but an "obligation" to commence negotiations leading to nuclear disarmament. Nearly two decades later, the ruling of the World Court remains an ever-receding mirage. Even today, a quarter of a century after the Cold War ended, the US deploys an estimated 150-200 tactical nuclear weapons in NATO allies -- Belgium, Netherlands, Italy, Germany and Turkey. The US has held the position that it would not hesitate to use nuclear weapons for its security and to protect its NATO allies. The 1999 NATO Doctrine retained the option to use nuclear weapons against states for merely possessing chemical or biological weapons, even if they had signed the NPT. While the Soviet Union had declared that it would never be the first to use nuclear weapons, the Russian Federation adopted a "first-strike" doctrine in 1993, which was subsequently reaffirmed.
The Bush Administration was prepared to use nuclear weapons even against non-nuclear weapon states in regional conflicts. The 2002 Nuclear Policy Review called on the Pentagon to draft contingency plans for the use of nuclear weapons against Russia, China, Iran, North Korea, Libya and Syria. In contrast, the 2010 review by the Obama Administration avers the US will not use or threaten to use nuclear weapons against non-nuclear weapon states that are signatories to the NPT and in compliance with their nuclear non-proliferation obligations. It notes: "It is in the US interest and that of all other nations that the nearly 65 year record of nuclear non-use be extended forever". India should move to get universal support for this reference of getting the "record of non-use extended forever".
China adopted a "no-first-use" (NFU) policy in 1964, stating it would "not be the first to use nuclear weapons at any time and under any circumstances". It reiterated this policy in 2005, 2008, 2009, and in 2011. But, some Chinese statements have cast doubts on whether their NFU pledge would apply to states like India possessing nuclear weapons which have not acceded to the NPT.
The Pentagon has noted that "there is some ambiguity on the conditions under which China's NFU would apply". China has offered to sign agreements on "no first use" of nuclear weapons with the other five NPT "recognised" nuclear weapon states. It signed such an agreement with Russia and concluded a "non-targeting" agreement with the Clinton Administration, immediately after our nuclear tests. New Delhi should seek and obtain a formal confirmation from China that their NFU pledge applies to India.
While Pakistan has not formally enunciated a nuclear doctrine, the former head of the Strategic Planning Division of its Nuclear Command Authority, Lieut-Gen Khalid Kidwai, told a team of physicists from Italy's Landau Network in 2002 that Pakistan's nuclear weapons were "aimed solely at India". Kidwai added that Pakistan would use nuclear weapons if India conquered a large part of Pakistan's territory, or destroyed a large part of Pakistan's land and air forces. Kidwai also held out the possibility of use of nuclear weapons, if India tried to "economically strangle" Pakistan, or pushed it to political destabilisation. This elucidation, by the man who was the de facto custodian of Pakistan's nuclear arsenal for over a decade and a POW in India in 1971-1973, was a precise formulation of Pakistan's nuclear thresholds. It now appears that Pakistan's military wants to also keep open the option of mounting further Mumbai-style terrorist attacks, by threatening to lower its nuclear threshold by the use of tactical nuclear weapons. India has no intention of either destroying Pakistan's armed forces, or conquering its territory. Pakistan cannot, however, forever assume, it would be free from an appropriate Indian response, to 26/11 style terrorist attacks.
The threats by Pakistan to use tactical nuclear weapons in a conflict against India arise for two reasons. First, Pakistan wants to warn India and the world that it will respond with tactical nuclear weapons if Indian forces cross the border following yet another 26/11 style terrorist attack. This is a crude resort to nuclear blackmail, to enable Pakistan to perpetuate cross-border terrorism.
Secondly, there is a cold calculation in this thinking. The Indian Nuclear Doctrine is premised on nuclear restraint. India has pledged "no first use" of nuclear weapons, while voicing a commitment to developing a "credible minimum deterrent" comprising a triad of land-based, air-launched and sea-based missiles. Realistically, India's nuclear deterrent will be credible only after the Agni 5 missile and the nuclear submarine Arihant become fully operational.
India's doctrine also contains provisions of a massive response should Indian territory or Indian armed forces anywhere be subjected to attacks by nuclear, chemical or biological weapons. Pakistan evidently believes, or purports to believe, that if it uses tactical nuclear weapons against concentrations of Indian forces attacking or poised for attacking it, India will not risk a massive retaliation, as this would lead to a full-fledged nuclear conflict and mutually assured destruction. Pakistan appears to have lobbied globally seeking understanding of this rationale.
In these circumstances, we need to review how we should signal to Pakistan and the world that we have the capability and willingness to inflict escalating and devastating damage on Pakistan's military if it chooses to be stupid enough to resort to the use of tactical nuclear weapons against our forces. General Kidwai has clearly spelt out Pakistan's thresholds. India really has no reason to cross these thresholds, while responding to a 26/11 type of terrorist strike emanating from territory under Pakistan's control. Thanks to liberal assistance from China, Pakistan has developed the capability to build a large arsenal of plutonium-based weapons — both strategic and tactical. This was not the case when our nuclear doctrine was formulated. There is, however, no need to change our basic commitment to "no first use" of nuclear weapons Uncertainties about our intentions, thresholds and policies, could lead to others seeking to resort to a pre-emptive first strike, with disastrous consequences.


OPED

Security
Wanted: A National Security Commission
Lt Gen SS Mehta


The other models
The NSC in the US is chaired by the President. Its regular attendees (both statutory and non-statutory) are the Vice President, the Secretary of State, the Secretary of the Treasury, the Secretary of Defense, and the Assistant to the President for National Security Affairs
The National Security Council of the United Kingdom is a Cabinet Committee tasked with overseeing all issues related to national security, intelligence coordination, and defence strategy.
China may be the 'new kid on the block' in dealing with holistic national security but are fast, determined and focused learners. President Xi Jinping has recently presided over the first meeting of the recently established National Security Commission.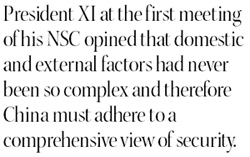 The earlier article established that India does not in effect have a National Security Policy and has, as a result, bled consistently for almost 70 years without seriously attempting to staunch the bleeding. On the contrary, instead of seeking solutions or studying the models of successful countries in this upper-end seriously nation-building enterprise, we have adopted a peculiarly Indian escapism where we philosophically rationalise, even laud a patented propensity for inaction and comatose, sleep-walking stratagem in which "No decision" in itself becomes typified as a "decision" and thereby the subject of much insipid appreciation.
It is instructive to study some examples of how others deal with issues of national security. First the US. The NSC in the US is chaired by the President. Documents state its regular attendees (both statutory and non-statutory) are the Vice-President, the Secretary of State, the Secretary of the Treasury, the Secretary of Defense, and the Assistant to the President for National Security Affairs. The Chairman of the Joint Chiefs of Staff is the statutory military advisor to the Council and the Director of National Intelligence is the Intelligence Advisor. The Chief of Staff to the President, Counsel to the President and the Assistant to the President for Economic Policy are invited to attend any NSC meeting. The Attorney General and the Director of the Office of Management and Budget are invited to attend meetings pertaining to their responsibilities. The heads of other executive departments and agencies, as well as other senior officials, are invited to attend meetings of the NSC when it is considered appropriate.
China's example
Let us take the example of China. They may be the "new kid on the block" in dealing with holistic national security but are fast, determined and focused learners. When President Xi Jinping presided over the first meeting of the recently established National Security Commission, his prescient remarks suggested that the commission would have the power to reach into nearly every aspect of domestic and foreign policy. Plans for the commission were approved at a Communist Party leadership meeting in November 2013. The state news media reported that President Xi at the very first meeting of the National Security Commission laid out its policy ambit. This not just indicated that President Xi had come fully prepared and done his homework but also that that he had a wide-ranging and inter-linked charter for the commission, embracing both external and domestic issues. "Nowadays, the denotations and connotations of national security for our country are more profuse than they have ever been at any period of history in the past", he opined. Mr Xi went on to add that "the domestic and external factors (in China) are more complex than at any time in history, and we must adhere to a comprehensive view of national security." The President could not have put the national security conundrum in a better and more forward looking perspective.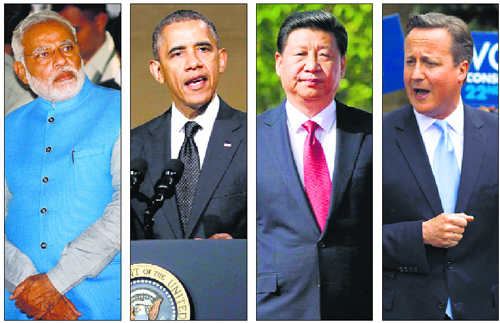 Prime Minister designate Narendra Modi

US President Barack Obama

Chinese President Xi Jinping

UK Premier David Cameron

It would be instructive for India to study how countries such as the US, UK and China deal with issues of national security and their organisation set-ups.

A look at the United Kingdom is equally revealing. The National Security Council of the United Kingdom is a Cabinet Committee tasked with overseeing all issues related to national security, intelligence coordination, and defence strategy. The NSC was established in 2010 by Prime Minister David Cameron. The Council coordinates responses to threats faced by the United Kingdom and integrating at the highest level, the work of relevant government entities with respect to national security. The council is chaired by the Prime Minister and has the deputy PM, The Chancellor of the Exchequer, the secretary of state for foreign and Commonwealth affairs, the secretaries of state for defence, home, international development, energy and climate change, the chief secretary, and the minister for government policy as its members. In addition, other government ministers, senior officials, military and intelligence officers, and civil servants attend as necessary. The Leader of the Opposition is an attendee on an occasional, "as-required" basis. The point is made. India can no longer take recourse to obtuse and abstract philosophical meanderings. Instead, there is an irrefutable case for setting up a National Security Commission (NSC) to make up for the void created by chronically dysfunctional structures which have failed us time and again.
The proposed NSC should be a unique non-statutory body suited to meet our specific and peculiar needs and aspirations. The Prime Minister should be the ex officio Chairman. It should have a Deputy Chairman, who is given the rank of a full Cabinet Minister. The current CCS ministers, including the HRD Minister (human resource is the key to security), should act as ex officio members of the Commission and the Leader of the Opposition should be an invitee. The NSA should be the secretary of the NSC within the PMO and supported by a skeleton staff to monitor the recommendations of the CCS. Its full-time members should be renowned experts from disciplines like internal security, external security, nuclear, defence economics, defence production, science, technology and research, manufacturing (public and private), international relations, human resource development, water, energy, environment, health, national defence including coastal security, media, space, and cyber space. This group should replace parts of the NSCS as it is configured today. Stringent entry qualifications must apply; not the least the expert's ability to display macro-vision about the strategic space that defines India's peculiar security and defence problems. They must think and act integrated; create rare synergy and deliver output that makes the country and the world sit up and take notice. The Commission should work through three divisions — The policy, integration and implementation divisions. The NSC's recommendations must be funnelled through the CCS. After CCS approval, the proposals should be put through Parliamentary oversight and approval. All NSC activities must be placed on a strict time and activity continuum.
The new NSC, when formed, will have to break existing silos of sloth and resistance, be credible, ensure synergy between various stakeholders, give every component a hearing, debate policy, and ensure that no single individual or a vested group hijacks policy. The policy should be outcome driven. In brief, it should get its message across to the citizens, the neighbours, and the rest of the world.
Citizens' right to know
Every citizen has a right to know where we stand on the national security scene. There is much that can and should be shared. The days of stand-alone planning are passé. The former PM in his farewell address to the Planning Commission said, "Are we still using tools and approaches, which were designed for a different era? Have we added on new functions and layers without any restructuring of the more traditional activities in the Commission?" By his remarks he acknowledged, that we need more than just a Planning Commission, and even what the Planning Commission does is caught in a time warp.
A warning is mandated here; a grim reminder. In the pre-British rule era, we were a fractured and feudal polity. The British cannily and successfully practised divide and rule over us during their 150- odd years of rule. Left free to do our own thing, the million-dollar question was the form governance would take after Independence. What really unfolded after the euphoria of freedom began losing its novelty was that almost inadvertently, vested interest groups mushroomed.
Multiple power centres
A power ladder emerged. Today's India is a complex mosaic of power centres, linked by scores of narrow-minded interest groups, constantly wrestling and jostling for their place in the sun. Those who have manoeuvred well, try to retain their status. Those who lost out resort to intrigue, perpetually scheming to get status and those who are left out, look for mentors who can help them on their way up. The lobbies, the fights, the vested interests, are well documented and require no elaboration. What is unedifying to recall is that efforts to address the problems we face have turned out to be worse that the problems they were required to address and resolve.
The NSC should have stipulated terms of reference. These can be spelt out, however, space constraints preclude the listing of these for now. The NSC should place equal emphasis on our capabilities to operate throughout the spectrum of traditional and non-traditional threats to National Security.
(To be continued).
The writer, Lt Gen SS Mehta retired as the Western Army Commander. Post retirement he has served as DG, Confederation of Indian Industry and as a member of the National Security Advisory Board.
We welcome your comments and suggestions on the articles. Please send them to the nsftribune@tribunemail.com
Tomorrow Defence expenditure: An engine for growth?