OPED

Defence
Top Army brass at war with itself
Dinesh Kumar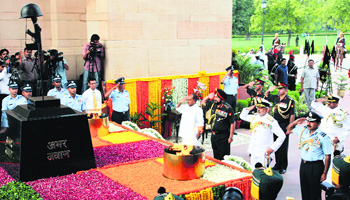 Armed with foresight: It is time to take corrective measures to safeguard the Army chief's appointment from manipulation

A disturbing trend of politicisation and polarisation is at play in the armed forces, more specifically in the Indian Army, which in turn is adversely affecting the inner health of its officer cadre. Beginning 2005, either the appointment or tenure or both in the case of four successive Army chiefs, starting with General Joginder Jaswant Singh, have been fraught with unpleasant controversies. Controversy has similarly dogged the present Army Chief-designate making him the fifth chief in succession to be figuring in the news for the wrong reasons. There is thus an urgent need for taking remedial measures in order to prevent such controversies and a further downslide in the senior echelons of the world's third largest Army that stands at about 1.1 million.
Civilian control
On May 13, the government named Lieutenant General Dalbir Singh Suhag, an Infantry officer, as the country's 28th Army Chief. Lt General Suhag, who is slated to assume the top post on July 31, when the present incumbent, General Bikram Singh, retires, will be the third officer of the Gorkha Rifles Regiment to become Chief of Army Staff (COAS) after Field Marshal Sam Hormusji Framji Jamshedji Manekshaw (June 1969 - January 1973) and General Gopal Gurunath Bewoor (June 1972 - May 1975). But let alone this trivia, appointments of service chiefs in India are considered routine and have at best been evoking a brief and ceremonial mention in the media. After all, India is a democracy where civilian control over the country's apolitical armed forces is well established. In any democratically run country, where civilian control is always supreme, it is the norm for service chiefs to be appointed and to then fade away without controversy.

In recent years, however, the appointment of Army chiefs has begun to invite considerable attention, all of it unsavoury. This unnecessary development is reflective of an increasing dysfunction within the Army. It is also reflective of a paradoxical mix of a dubious complicity of the Defence Ministry and a growing strain in civil-military relations. Until a few years ago, attention to the appointment of Army chiefs was reserved solely for neighbouring Pakistan where ever since General Ayub Khan, a self- proclaimed Field Marshal, became that country's Chief Martial Law Administrator in 1958, the Pakistani Army has played a pivotal role in either governing the country or in propping up or dislodging democratically elected governments.
Critical attention, unfortunately, is also beginning to focus on the appointment of Army chiefs in India. The latest is the appointment of Lt General Suhag. The outgoing UPA-II government's decision to appoint Lt General Suhag on the well-established principle of seniority invited objections from the main opposition party, the Bharatiya Janata Party (BJP), which is hoping to win the elections and form the government at the Centre this month. The BJP advised the outgoing Manmohan Singh government to desist from appointing the next Army chief in view of the election results being announced tomorrow, which is two-and-a-half months prior to the present chief retiring.
Prima facie, the BJP's objection is uncalled for considering that it is not unusual for the government to name a successor to a service chief in the midst of elections and up to three months in advance. A well-cited example is that of the BJP-led NDA government announcing the appointment of Admiral Arun Prakash as Chief of Naval Staff on May 11, 2004, just two days before the Lok Sabha election results were declared on May 13 and 11 days before the UPA-I government took charge on May 22, 2004.
However, Admiral Arun Prakash had not figured in any controversy prior to his appointment. Nor did the then opposition Congress have an issue with the Navy officer. Lt General Suhag, on the other hand, has been in the news for the wrong reasons with a section of the main opposition party, the BJP, having issues with him for reasons that figure later in the article. In the absence of any transparency by the Ministry of Defence and the Army Headquarters, the truth in Lt General Suhag's case remains a matter of much speculation which is both cause and fuel for an unpleasant controversy involving the office of an Army chief.
Seeds of controversy
The controversy involving Lt General Suhag dates back to 2012 when General Vijay Kumar Singh was Army chief. On May 19, which was 12 days before his retirement on May 31, 2012, General VK Singh had ordered an inquiry against Lt General Suhag and imposed a discipline and vigilance (DV) ban on him, preventing his further elevation on charges of "abdicating responsibility" in handling an intelligence and surveillance unit in Assam in a "most unprofessional and lackadaisical manner" that was under his command when he was General Officer Commanding (GOC) of the Dimapur (Nagaland) headquartered III Corps.
Earlier, in March that year, General Singh recommended a CBI inquiry against Lt General Suhag for his alleged involvement in a scam in the Cabinet Secretariat but was overruled by the government. Lt General Suhag was then with the Special Frontier Force, a secret Special Forces unit of the Research and Analysis Wing that is officered and trained by the Army. General Bikram Singh, who took over as the COAS on May 31, took the extraordinary decision of not filling the post of GOC-in-C of the Army's Eastern Command which became vacant on June 1, 2012, and a week later, lifting the DV ban on Lt General Suhag.
A fortnight after taking over as Army chief, General Bikram Singh posted Lt General Suhag as GOC-in-C of the Eastern Command, which is entrusted with defending India's borders with China, Myanmar, Bangladesh and Bhutan and quelling insurgency and political violence in the security sensitive north east. Although the ban on Lt General Suhag was lifted, the general court martial against several concerned Armymen had continued. Towards the end of 2013, which was a year-and-a-half after the inquiry had been ordered, 15 Armymen that had comprised the intelligence unit's raiding party were found guilty. Yet, they were let off with little punishment, leaving the Gauhati High Court to ask for details of the quantum of punishment. This invited criticism of a cover up by the Army which affected its credibility and image in a sensitive part of the country.
Reversing the ban
Meanwhile, in an extraordinary development, the post of GOC-in-C Eastern Command was kept vacant for a fortnight. It was clear that General Bikram Singh favoured giving Lt General Suhag a chance to head the Eastern Command and had kept pending his recommendation to the government for an appointment to this top post until the officer's name had been cleared. Neither did the government appear to have shown concern for allowing an operational Army command to remain headless for half a month. The swiftness with which the ban on Lt General Suhag was first imposed and later revoked gives rise to speculation that considerations other than professional and biases may have been at play.
In the process, Lt General Ravi Dastane, who was in the running for becoming GOC-in-C, became a "casualty". He was denied the opportunity of becoming an Army Commander and took the government to the Supreme Court on August 6, 2012, saying he was not assigned the Army's Eastern Command even though the post of GOC-in-C had been vacant and a DV ban was then in force against Lt General Suhag disqualifying him as of then from becoming an Army Commander.
The BJP's objection to the UPA-II government naming General Bikram Singh's successor again lies in intense rivalry and probable prejudice. General (retd) VK Singh, who spearheaded the BJP's protest, is the BJP's candidate from Ghaziabad. It is widely known that General VK Singh's daughter's father-in-law, Lt General Ashok Singh, who is currently GOC-in-C of the Army's Pune-headquartered Southern Command, is the second senior-most lieutenant general after Lt General Suhag who can be considered for the Army's top post. Yet, interestingly, had Lt General Dastane been made GOC-in-C of Eastern Command, he would have been in the reckoning to become Army chief with Lt General Ashok Singh not necessarily figuring on the list.
Part of the recent politicisation in the Army arguably dates back to when General Joginder Jaswant Singh was Army Chief. It is alleged that during his tenure, he had altered the seniority-based succession line for the post of Army chief. His own appointment as Army chief had evoked some lobbying, including most infamously from Tarlochan Singh, then chairman of the Minorities Commission, who wrote to then defence minister George Fernandes in January, 2004 eulogising the possibility of General JJ Singh becoming the first-ever Sikh Army chief. General JJ Singh, however, was appointed strictly on the seniority principle. Critics, however, allege that General JJ Singh's "succession plan" included General Bikram Singh's elevation to the post of Army chief. General VK Singh's supporters allege that in 2006 his year of birth was deliberately fixed as 1950 instead of 1951 so as to give General Bikram Singh the opportunity to become Army Chief. Else, the line of succession would have changed with Lt General Kaiwalya Trivikran Parnaik becoming the senior most lieutenant general in the reckoning for the top post.
The PIL
Whether or not the above is true, the fact is that General Bikram Singh too had found himself at the receiving end prior to his appointment as Army chief. A group of seven persons comprising two retired lieutenant generals and a major general among others and led by Admiral Laxminarayan Ramdas, a former Navy chief who had earlier retired in September 1993, filed a PIL in the Supreme Court against General Bikram Singh's appointment alleging that he has been involved in a fake encounter in 2001 when posted in Kashmir and Indian troops misconduct, including rape, during a UN peacekeeping mission in Congo under his command in 2008. The PIL, which was subsequently dismissed, unfortunately ended up dragging both a senior lieutenant general and the office of the Army chief into unnecessary spotlight. It is not known what was the motive of the petitioners.
General Bikram Singh's predecessor, General Deepak Kapur, had similarly faced insinuations from Lt General Hargobind Singh Panag. General Kapur had been GOC-in-C of the Army's Udhampur-headquartered Northern Command prior to his taking over. He was succeeded in Udhampur by Lt General Panag who had ordered a string of inquiries relating to questionable financial transactions made during General Kapur's tenure as Army Commander. A year later, in 2008, Lt General Panag found himself being controversially posted out of Northern Command to the Army's relatively less important Lucknow-based Central Command.
Clearly, the top Army brass seems to be at war amongst themselves. Such controversies, manoeuvring and manipulation does not augur well for the Army which has long, undefined and troublesome borders to defend, asymmetric warfare to handle and is required to be in a state of constant preparedness in a complicated and adversarial, if not hostile, neighbourhood. Elan, morale, honour and respect are critical for an armed force. It takes a long time to build an armed forces. And once it begins to decay, the downslide can be quick making rebuilding very difficult.
The next government that comes to power must not attempt to reverse the decision on the Army chief's appointment taken by the outgoing UPA-II government. At the same time it is time to take corrective measures and put a stop to such manipulations and manoeuvring. The Army's senior leadership must introspect, reflect character and put an end to cliques and cronyism while the civilian-run Ministry of Defence must play honest broker.
Past forward
In August 1959 , Army Chief General KS Thimayya resigned following differences with Defence Minister VK Krishna Menon but was persuaded by Prime Minister Jawahar Lal Nehru to withdraw it.
Lt General Brij Mohan Kaul was promoted to three star general against the Army's recommendation and subsequently given key assignments because of his proximity to Nehru and Menon.
In 1972, the Indira Gandhi government side-stepped Lt General P.S. Bhagat, who was in line to succeed General (later Field Marshal) Sam Manekshaw. This was done by giving his junior, Lt General G.G. Bewoor, a year's extension, during which time Bhagat retired. Bewoor, thus, succeeded Manekshaw.
Indira Gandhi again altered the Army's succession chain in 1983 by superseding Lt General S.K. Sinha by appointing General A.S. Vaidya as Army chief.
Of late, polarisation in the Army's top hierarchy has become pronounced. Unhealthy cliques and rivalries are on the increase and that is affecting the quality of leadership. Senior officers are engaging in mud-slinging and stooping to the extent of harming careers and indulging in blatant favouritism and lobbying.