Nehru & Abdullah: An intricate bond
Sheikh Abdullah's opposition to feudalistic politics and princely rule, besides a socialistic approach to economic issues, left a lasting impression on Jawaharlal Nehru
Raghuvendra Tanwar
Jawaharlal Nehru was, perhaps, the only trusted and dependable friend that Sheikh Mohammad Abdullah had among the centres of power in New Delhi. On his part, Nehru, too, had much warmth and regard for the Sheikh. But Nehru died a sad man — feeling let down, perhaps even betrayed. Cutting across political boundaries, it was widely accepted that the Sheikh had political ambitions that were in sharp conflict with the Union (of India).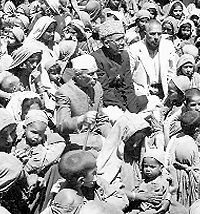 Jawaharlal Nehru and Sheikh Abdullah in the Valley on May 28, 1949.

Sheikh Mohammad Abdullah, the 'Sher-e-Kashmir' as he was commonly addressed, often said that "even though he was born into a faith that was in common with Mohammad Ali Jinnah, but he had dreams that were common with Jawaharlal Nehru" (Flames of the Chinar, p. 71). Nehru and Abdullah had met for the first time in 1937. But it was in 1938 when Abdullah joined Nehru and the Frontier Gandhi, Khan Abdul Ghaffar Khan on a visit to the Frontier province that they came close to each other.
What appears to have left a lasting impression on Nehru in these early days was Abdullah's opposition to feudalistic politics and princely rule and even more so his socialistic approach to economic issues. Abdullah, an M.Sc. in chemistry and almost 16 years younger to Nehru, obviously looked up to him. Abdullah could not have escaped Nehru's intellectual charm. Nehru was also happy by the manner in which Abdullah convinced his party to replace its name from Muslim League to the National Conference ( June 11, 1939). Nehru took this, as a sign, of the Kashmiri populace joining the national main stream. When Abdullah invited Nehru to address the National Conference (August 4, 1945) Nehru used the term Sher-e-Kashmir to address Abdullah.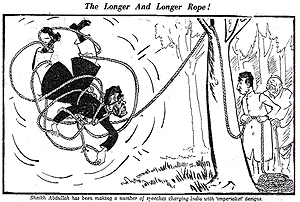 This cartoon shows G.M. Bakshi, Prime Minister of Jammu & Kashmir, and then Union Home Minister Gobind Ballabh Pant trying to handle Sheikh Abdullah. At the time, Abdullah had been issuing statements charging India with 'imperialist designs'. Shankar's Weekly, March 9, 1958

Abdullah, who had earlier been arrested in 1938 for organising an agitation against Maharaja Hari Singh, was arrested again on May 20, 1946, on the orders of the Maharaja as he was on his way to meet Nehru. An angry Nehru decided to appear in defence of Abdullah and accordingly proceeded to Kashmir. On the orders of Hari Singh, Nehru was, however, stopped at the border (July 1946). For five hours, Nehru sat on dharna at the border and was allowed to enter Kashmir only after Viceroy Wavell had personally intervened in the matter. Abdullah was released from detention in September 1947. Some days later, Nehru invited him to New Delhi and even broke protocol to personally receive him at the airport.
Abdullah was naturally for Maharaja Hari Singh enemy number one. Yet Hari Singh had no choice but to recommend Abdullah's name to head the Emergency government, when he announced the state's merger with the Union of India. Abdullah, who enjoyed widespread goodwill among the people also now, had Nehru's support.
But as things turned out, Abdullah, who took charge on October 30, 1947, soon learnt that but for Nehru and to some extent Gandhi, he did not have much support in New Delhi. On countless occasions in the years that followed, Nehru came to stand out in Abdullah's support, often in isolation. On November 13, 1947, for example, Nehru wrote to Hari Singh, advising him of how in his (Nehru's) views: "Abdullah was the only person who could deliver the goods in Kashmir".
In this letter he even advised the Maharaja to repose full confidence in Abdullah and: "to deal with him directly rather than through intermediaries".
Nehru's handling of Abdullah was in sharp contrast to Sardar Patel's perception of things. Patel's basic problem with Abdullah was that he believed that Abdullah repeatedly shifted his stand on key issues relating to the accession of Jammu and Kashmir with the Union. Nehru was an idealist, Patel a pragmatist.
To Patel, Kashmir was just another princely state that had merged with the Union — why the special provisions. He refused to acknowledge the extra political weight that Abdullah claimed to possess. Not surprisingly, Abdullah in the evening of his life while penning his autobiography noted: "The Sardar disliked my friendship with Nehru and counted me among his opponents" (Flames of the Chinar, p. 56).
Nehru, however, believed that Abdullah was in a position to ensure mass support for India's cause. His handling of Abdullah as such was both political and personal. For example, when he learnt that Srinagar was likely to be in danger from the Pakistan-sponsored tribal invasion, he specially deputed Pandit Kachru to assist Brig. Hira Lal Atal in arranging for the safe evacuation of Abdullah's family (Atal, Nehru's Emissary. 1947).
On Abdullah's part, he frequently supported Nehru's policy on Kashmir. In the context of plebiscite, for example, Abdullah, often said that: "Nehru was in favour of a plebiscite in Jammu and Kashmir because of his (Nehru's) immense faith in the Kashmiri people".
Several contemporaries have also explained that Nehru was keen on a plebiscite because he did not want a Muslim majority province to accede to India without support of its people. It was this conviction that fitted Abdullah into his (Nehru's) scheme of things — support of the people.
Much has been written on the subcontinent and in the West discussing the circumstances in which Abdullah began to harden his stand, tone and tenor on key issues, such as the status of post-accession Jammu and Kashmir and, of course, the working and implementation of the contentious Article 370. The Praja Parishad movement (winter 1952) that targeted Abdullah is commonly cited as the turning point. Nehru strongly disapproved of the Parishad movement particularly for the divisive impact it was said to have had in the Valley. The Praja Parishad's version, of course, charged Abdullah for steps that were against the interests of the minorities in the state.
As Abdullah's actions and statements appeared to put in doubt his unambiguous support to Jammu and Kashmir's accession to the Union, Abdullah was deposed and arrested on August 9, 1953. Most political parties in India welcomed the arrest, but Nehru "was furious" (Brig. Atal, Nehru's Emissary) Y.D. Gundevia, another 'insider' of the period has dismissed M.O. Mathai's version that Abdullah was arrested with Nehru's specific consent. M. J. Akbar, who has written extensively and with authority on the issues, has suggested that the detractors of Nehru by facilitating the arrest of Abdullah had indirectly hit at Nehru.
Nehru who was otherwise a frequent visitor to the Valley did not do so even once for as long as the Sheikh was in detention. He flew into Srinagar only in December, 1957. Abdullah was released on January 8, 1958, only, of course, to be rearrested about a year later (April 30, 1958).
Even as Nehru's health had begun to fail, the Sheikh's detention continued to weigh on him. As a file that was linked with the proposed release of Abdullah was delayed, Nehru had angrily told Home Minister Gulzari Lal Nanda, "Let the file go to hell…. I want him released".
As influential political lobbies in New Delhi continued to oppose Abdullah's release (Hindustan Times, April 30, 1964), Nehru was increasingly put under pressure. Such was reported to be the stress that he lost his cool even with Lal Bahadur Shastri, a man who was held in very high esteem by Nehru. Referring to the charges against Abdullah, Nehru angrily told Shastri: "If a damn thing can't be proved in four years, obviously there is nothing to be proved" (Gundevia, Sheikh Abdullah, p. 121).
Abdullah was released from detention on April 8, 1964. More than 5,00,000 people lined up to receive him in Srinagar (The Tribune). It was with this background that Nehru invited Abdullah to New Delhi as a personal guest soon after his release. Abdullah spent a week at Teen Murti with the Prime Minister's family. During these days, he travelled to Waradha to meet Vinoba Bhave and to Madras to meet C. Rajagopalachari. He also met Jayaprakash Narayan. These were all people whose advice Nehru had greatly valued.
Nehru spoke in the Lok Sabha on Jammu and Kashmir for the last time on May 8, 1964. As he praised Abdullah for his commitment to secularism and opposition to the two-nation theory, his address resulted in an insightful and historic intervention by the then young and brilliant parliamentarian Atal Bihari Vajpayee. Vajpayee had cautioned the Prime Minister on his handling of the Sheikh. Incidentally, it may be of interest to know that Nehru greatly admired Vajpayee's skill of parliamentary oration. On an earlier occasion, he had after listening to Vajpayee in the Lok Sabha commented that in the young Vajpayee, he (Nehru) saw the glimpse of a future Prime Minister.
In sum, S. Gopal, the acclaimed historian and biographer of Nehru, has explained Nehru's handling of the Sheikh by suggesting that Nehru was sad and remorseful to see Abdullah repeatedly alter his stand on key issues particularly Article 370. Gopal has cited a letter by Nehru to Girija Shankar Bajpai. Referring to Abdullah's shifting stands on critical issues, Nehru had written: "I cannot explain his (Abdullah's) new attitude except on the uncharitable assumption that he has lost grip of his mind".
Abdullah was in Pakistan (with Nehru's knowledge) when he learnt of Nehru's death (May 27, 1964). A witness has recalled that, on learning of the Prime Minister's death, Abdullah's eyes went moist, he sat dumb-founded. He immediately returned to New Delhi for Nehru's funeral. He was accompanied by Zulfikar Ali Bhutto.
In Nehru's death, Abdullah had lost his only friend in New Delhi. Lal Bahadur Shastri, who succeeded Nehru as Prime Minister, was cast in a different mould. In less than a year of Nehru's death, Abdullah was again arrested. This time he would be detained for almost three years to be followed by yet another arrest some years later.
What they said
"The people of Kashmir possess the ultimate decision and nobody can quarrel with the Sheikh (Abdullah) for saying so, the quarrel arises when the Sheikh claims for himself the right to change and to indecision and to give to his people advise different from what he has been giving them for the past five years… communal encumbrances on the part of some Hindus may have irritated him… the Muslims of India as much as the people of India must learn to destroy the cult of one-man leadership and replace it with democratic leadership…" Rammanohar Lohia, Will to Power and Other Writings (1956).
"We found that the condition of the minorities in Kashmir was not better, if not worse than Pakistan,… as regards government service, the criterion for appointment had been (before Abdullah) merit-based... but immediately after the establishment of the Abdullah government (1948), this practice was changed… in the Police Department, especially it was announced that only Muslims should apply". Hori Lal Saxena, Sheikh Mohammad Abdullah & The Kashmir Muddle - Being a True Story of Kashmir & All that Happened since 1931 (Dec. 1949).
The writer is a senior professor of modern history, Kurukshetra University