AIIMS sprucing drive hits hawkers' bread and butter
Ananya Panda
Tribune News Service
New Delhi, May 11
Over the last few months, the premises and area around the All India Institute of Medical Sciences (AIIMS) have undergone a facelift that catches the eye of a visitor though the makeover has not gone down well with several hawkers who were evicted recently from outside gate number one and two of the institute.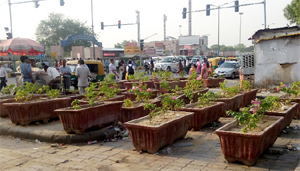 Cemented flower pots that replaced the hawkers' eateries recently outside the gate number one of the institute. Tribune photo
Claiming that they have a stay order from the Delhi High Court, they are crying foul over the institute's decision to put up cemented flower pots as part of its sprucing drive outside the gate one where until last month around 15 hawkers had set up eating stalls which drew customers after the eateries inside the gate and in front of the Rajkumari Amrit Kaur OPD were closed down.
Hawkers have levelled allegations against Dy. Chief Security Officer Rajdeep S Rawat and Dy. Secretary and Chief Vigilance Officer Sanjeev Chaturvedi of AIIMS.
"In January, Rawat demanded Rs 50,000 from us to let us continue putting our stalls outside AIIMS gates. We told we had a stay from the Delhi High Court and so we should be allowed. We were harassed by the security guards on his orders and on April 2, our goods were confiscated and on April 4 afternoon and April 5 early morning, we were manhandled by his private and permanent security personnel," Anuj Gupta, a tea vendor and resident of Dwarka told The Tribune.
When contacted, the Deputy Secretary and Chief Vigilance Officer Sanjeev Chaturvedi maintained that the area inside and outside AIIMS was cleared for patients and smooth flow of traffic. Besides, the step was taken to allay security threat in view of frequent VIP movement.
"People were occupying space illegally and it had become a security issue because of VIP visits. Our effort has been to ensure that security is in no way compromised. The decision was taken at a higher level and is part of a larger project. The encroachments gave a shabby look to the premier institute. We would henceforth ensure no such unauthorised eateries come up in and around," he said.
Rawat echoed the same view, "All their claims are false and it is the mafia which is being run by a handful who have their unauthorised stalls here as well as Sarojini Nagar. Over the last few months, they came up one by one and the area had become very crowded, unhygienic and people used to urinate next to the gates during nights. We received several complaints and then we told them to vacate."
Noting that action should have been taken much earlier, they said the space was finally cleared with the cooperation of New Delhi Municipal Council (NDMC) and Delhi Police and henceforth it would be ensured that no unauthorised encroachments in and around AIIMS institute happen.
Under the banner of Urban Street vendor- Squatters Welfare Association, the hawkers have protested against the move to evict them.
"For years my father and many others earned a living through stalls here but now we have been shoved away by AIIMS authorities. Both the NDMC and police acted in favour of AIIMS. We have approached the Central Vigilance Commission demanding a favourable action," said the group of hawkers.
Justifying the municipal action, NDMC spokesperson Arun Mishra pointed, "They are illegal occupants and moreover as per the Supreme Court judgement, there should be no encroachments around hospitals. On humanitarian grounds, we are seeing if we can relocate them to some alternative place."
However, social activist associated to NASVI Ranjit Abhigyan argued, "Hawkers can't be removed from their livelihood site. Either the September 9, 2013 Supreme Court judgement related to the Maharashtra Ekta Hawkers Union has to be complied with or the recently enforced Street Vendors Law should be implemented."