Jung assures BJP of releasing MLA funds
New Delhi, May 6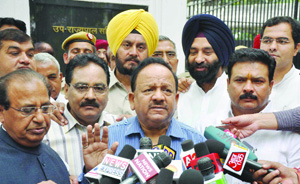 Lieutenant Governor Najeeb Jung assured a BJP delegation of releasing the MLA funds and finding an appropriate way to continue battery rickshaws after the end of the Model Code of Conduct.


Delhi BJP president Dr. Harsh Vardhan with party MLAs talks to mediapersons after submitting a memorandum to Lt Governor Najeeb Jung in New Delhi on Tuesday. Tribune photo

DUTA decries 'bid' to reinstate Ambedkar College principal
New Delhi, May 6
The Delhi University administration today drew flak for its alleged "design" to "surreptitiously" reinstate suspended principal of Bhim Rao Ambedkar College G.K. Arora who is charged with abetting the suicide of a former employee Pavitra Bhardwaj. She had alleged sexual and mental harassment by Arora.
Workshop on puppetry for kids held at National Museum
New Delhi, May 6
Facilitating the new generation to get a first-hand feel of the human body and its dynamics, National Museum organised a workshop on puppetry for children over the weekend on the sidelines of a landmark exhibition which is drawing increasing footfalls.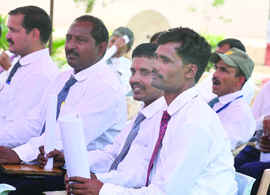 Convicts at Tihar Jail wait for their turn to be interviewed for job placement in New Delhi on Tuesday. About 31 companies came to the jail for campus placement and about 66 inmates who are due to be released in the next six months attended the interview. Tribune Photo

Arms supplier caught
New Delhi, May 6
A 19-year-old youth who has allegedly supplied arms in Delhi, Mathura, Meerut and Agra was apprehended from a bus terminal at southeast Delhi's Sarai Kale Khan area. The accused has been identified by the police as Ajay Alawa. The police caught him on Saturday night.
Students exposed to cultural diversity
New Delhi, May 6
India International Rural Cultural Centre's annual series of lecture-performance on classical dance and music currently under way in the national Capital offers students of government schools glimpses of country's rich cultural diversity and traditions.
DSGMC to implement revised pay scale in GHP School
New Delhi, May 6
Two days strike of teaching and non-teaching staff in Guru Harkrishan Public (GHP) School in Vasant Kunj has forced the Delhi Sikh Gurdwara Management Committee (DSGMC) to announce for implementation of the recommendations of the Sixth Pay Commission in June.
Two SDMC officials held for taking bribe
New Delhi, May 6
The CBI arrested two officials of the South Delhi Municipal Corporation, a junior engineer and a beldar posted at Najafgarh Zone, allegedly for demanding and accepting a bribe of Rs 40,000 from the complainant to allow him construct a four-storey building. The accused have been identified as junior engineer Vijay Jadhav and beldar Govinda Ram Meena. A case was registered against Meena and Jadhav on the allegation that they demanded Rs 1.5 lakh in order to allow the construction of a four-storey building owned by the complainant, said a CBI official. A trap was laid and both the accused were caught red-handed while accepting a bribe of Rs 40,000 as part payment, the official added. Both the accused have been remanded in 14 days' judicial custody by a special CBI court here. TNS
Mustard oil unit opens at Tihar Jail
New Delhi, May 6
Tihar Jail today inaugurated a new unit for production of mustard oil. It is packaged in half litre and one litre bottles and pouches in a factory at Jail No. 2. The project is based on a PPP model. Vimla Mehra, D.G. (Prisons), launched the new product under the brand TJ-Aum, by filling the first bottle of mustard oil herself. "IFP Petro Products Pvt. Ltd., a leading manufacturer of oil and contract packager for major oil companies, has taken this social initiative for prisoners' rehabilitation. IFP is providing the machinery, raw material, packaging material and technical supervision and marketing for the product," said Mehra. The product will be available in retail outlets and IFP plans to create market space at retail stores and solicit business from corporate bulk consumers. TNS