Sangrur set to record highest wheat yield in country, again
Sangrur, May 6
For the third consecutive year (2013-14), this district is all set to top in per hectare yield of wheat in the country. As per the results of the crop-cutting experiments conducted by the District Agriculture's office during the past three weeks in the district, per hectare yield of wheat has been recorded at 5,511 kg.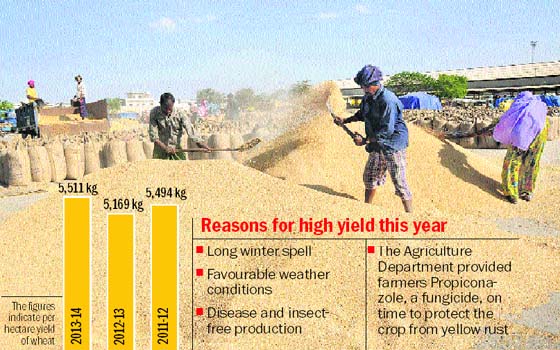 Procurement pangs
Labour shortage has led to a delay in the procurement of more than 3 lakh tonnes of wheat lying in several grain markets and procurement centres in
Sangrur district
The situation is no different in the Fazilka grain market, where chaos prevails
Officials claim that the matter will be resolved soon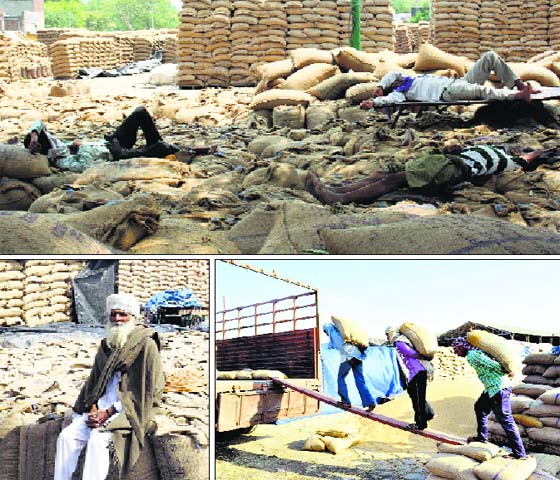 Endless wait: Tonnes of wheat await lifting at the Faridkot, Patiala and Rajpura grain markets. Tribune photos: JS Virdi, Rajesh Sachar
2.4 lakh tonnes procured in Fatehgarh Sahib
Fatehgarh Sahib, May 6
The procurement of wheat is going on in full swing at all 33 procurement centres in the district. Till today, 2.4 lakh metric tonne (MT) of wheat has been purchased by government procurement agencies and private parties.
4,000 quacks on the loose in Majha
Gurdaspur, May 6
Thousands of illegal doctors, also known as quacks, are ruling the roost in Majha, taking undue advantage of ignorance and illiteracy of rural people. Though senior health officials, including Gurdaspur Civil Surgeon Dr VK Beri, claim that the number of quacks is decreasing, sources say the phenomenon of quacks prescribing medicines to people, particularly those living in rural areas, has reached menacing proportions.
Wall paintings at Golden Temple regain glitter
Amritsar, May 6
Restoration work on the interiors of the sanctum sanctorum at the Golden Temple is expected to be over by the month end. The effort initiated by the SGPC by roping in experts has infused a fresh lease of life into the wall paintings. Sources said the restoration of wall paintings in the "parikarma" on the first floor had been completed and now work in the passage area was underway.
| | |
| --- | --- |
| Golden glory: A view of the restored wall paintings in the 'parkarma' at the Golden Temple's first floor in Amritsar. A Tribune photograph | An artist at work. A Tribune photograph |

Cong leader attacked in Moga village, seriously hurt
Sangatpura (Moga), May 6
In retaliation against the attack on an Akali leader's son at Sangatpura village of Moga on April 30, a group of Akali workers late last night allegedly opened fire on a Congress worker of this village, leaving him seriously injured.

Security personnel deployed at Sangatpura village in Moga district. A Tribune photograph



Manpreet to meet CJ on poll 'malpractices' by SAD


Muktsar, May 6
Manpreet Singh Badal, Congress-PPP-CPI candidate from Bathinda, today said that he had sought an appointment with the Chief Justice of the Punjab and Haryana High Court to apprise him of the "malpractices" adopted by the ruling Akali Dal and the high-handedness of the state police during the April 30 elections.

Jaitley, not Priyanka, arrogant: Capt


Amritsar, May 6
Former Chief Minister Capt Amarinder Sigh today lashed out at BJP leader Arun Jaitley for calling Priyanka Gandhi arrogant. In a statement, Amarinder said Jaitley's attitude "smacks of high- headedness and arrogance." He said both Rahul Gandhi and Priyanka were known to be affable.



Pakistan to expand facilities at ICP, says Lahore chamber prez


Amritsar, May 6
Lahore Chamber of Commerce and Industry (LCCI) president Sohail Lashari has said the Pakistan Government is committed to boost the Indo-Pak bilateral trade and a blueprint is being prepared to expand trade facilities at their side of the Integrated Check Post (ICP).

Claims on road safety campaigns
Legal Services panel says it is unable to submit report
Chandigarh, May 6
More than a month ago the Punjab and Haryana High Court had asked the district Legal Services Authorities to verify claims on road safety campaigns made by the traffic police of the two states.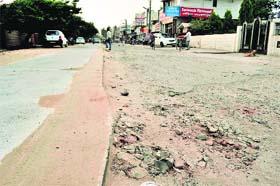 In limbo: A road left incomplete after the Lok Sabha elections, in Patiala on Tuesday. Tribune photo: Rajesh Sachar
State govt fails to implement child health programme
Mansa, May 6
The SAD-BJP leaders kept blaming the Centre while campaigning for the Lok Sabha elections for not giving the state enough funds for development and welfare works. In contrast, the state has failed to use funds sanctioned by the Centre under various schemes. One such programme is the Rashtriya Bal Swasthya Karyakram (RBSK) under the National Health Mission (NHM).
Employees to get DA arrears in 3 months
Chandigarh, May 6
The Punjab Government has finally decided to give dearness allowance (DA) arrears to its more than three lakh employees. But because of the state's precarious fiscal health, the employees will have to wait for another three months to receive these.
Majithia performs 'sewa'
Amritsar, May 6
Four days after the Sikh clergy awarded him 'tankhah' (punishment) for his blasphemous speech while seeking votes for BJP's Arun Jaitley, state Revenue Minister Bikram Singh Majithia today performed 'sewa' at Takht Sri Kesgarh Sahib in Anandpur Sahib.
25% complaints received by Sangrur election cell were anonymous
Sangrur, May 6
About 25 per cent of complaints received by the election complaint cell set up for the Sangrur parliamentary constituency have been reportedly anonymous or fictitious. The complaint cell has received more than 165 complaints so far.
CM reviews progress of memorials
Chandigarh, May 6
Chief Minister Parkash Singh Badal today reviewed the progress of all upcoming memorials in the state and directed the officials to complete the ongoing works in a time-bound manner.


Not paid honorarium, Fazilka election officials to protest
Fazilka, May 6
With the elections over, the Booth Level Officers (BLOs) have decided to launch an agitation against the government. They alleged that the government had been overlooking their demands for a long time.
UP IN ARMS: Booth-level officers raise slogans during a meeting in Fazilka on Tuesday. Tribune photo

Lawyer's arrest triggers protest
Faridkot, May 6
The arrest of a lawyer for the alleged offence of "hurting the religious feelings" of Faridkot MP Paramjit Kaur Gulshan triggered a protest by advocates in Faridkot today.

Advocate Jagdeep Singh Bajwa in police custody in Faridkot on Tuesday. Tribune photo



Protesters seek repair of roads in Phagwara
Phagwara, May 6
Leaders of different political parties came on one platform today to raise public interests issues and registered their protest against the inaction of the administration towards the redress of people's problems in Phagwara.

Note-for-vote scam videos may be sent to forensic lab
Muktsar, May 6
The video clip posted by the Punjab's AAP unit on its official Facebook page, which allegedly shows some Akalis buying votes at Kauni village in Gidderbaha assembly segment, is likely to be sent to the state Forensic Science Laboratory to confirm its authenticity.

Photo row event 2 years old: Ramdev
Amritsar, May 6
A day after the Shiromani Gurdwara Parbandhak Committee (SGPC) asked him to apologise for allegedly keeping a photograph of Guru Gobind Singh near his feet during an event, yoga guru Baba Ramdev today clarified that the incident dated back to November 2011 when he had conducted a yoga camp in Bathinda.

Bhupinder Preet is executive member of Sahitya Akademi


Moga, May 6
Eminent Punjabi poetess Bhupinder Kaur Preet has been elected as executive member of Punjab Sahitya Akademi, Ludhiana. She secured 492 votes. She is also a member of the District Consumers' Forum, Moga. As many as four anthologies of her poems 'Saleeb te latke haraf', 'Main shabdan nu keha', 'Barse megh sakhi' and 'Ehran' have been published, besides publications in newspapers and magazines.

Probing tax evasion, I-T team raids liquor godowns
Jalandhar May 6
Officials of the Income-Tax investigation wing, Ludhiana, today raided two liquor godowns in the city. Two senior Akali leaders are learnt to have a majority share in both these godowns.

Soon, B Sc to be taught in Punjabi
Fatehgarh Sahib, May 6
Gurmohan Singh Walia, Vice-Chancellor, Sri Guru Granth Sahib World University, Fatehgarh Shaib, said the university would impart B Sc-level education in the Punjabi medium to promote the language.

DC seeks reply on official's absence
Fatehgarh Sahib, May 6
Anand Sagar Sharma, Assistant Commissioner (G) in the Deputy Commissioner's (DC) office, is absent from duty for the past two days and he is not available at the headquarters.

Nabha school headmaster honoured
Patiala, May 6
Jagpreet Singh, headmaster, Punjab Public School, Nabha, has been conferred with an honorary doctorate (Doctor of Literature) by the Open International University for Complementary Medicines, Sri Lanka.



Faridkot consumer body rejects pleas against telecom firms
Faridkot, May 6
The District Consumer Forum in Faridkot is not entertaining complaints against telecom companies, stating these cannot be taken up under the Consumer Protection Act (CPA).

DGP Sharma to face trial for murder
Ropar, May 6
Punjab Director-General of Police (DGP) SK Sharma will face trial for the alleged kidnap and murder of Kuldip Singh (21) from Morinda in 1990. Additional District and Sessions Judge KS Sullar has ordered that charges be framed against Sharma as well as then SHO of the Morinda police station Balkar Singh, SPS Basra, DIG, and Gurcharan Singh, ASI, under Sections 302, 120-B and 201 of the IPC.



Man held for demanding ransom
Mansa, May 6
The Mansa police have arrested Harbhajan Singh of Tamkot village in Mansa district for demanding ransom through letters from a retired lecturer, Balwinder Singh, former Assistant Sub-Inspector Nacchatar Singh and village nambardar Lakhwinder SIngh Lakkha. The police also recovered Rs 15,000 from the accused besides seizing the ransom letters.

Trailer loaded with sand seized
Fazilka, May 6
The Sadar police, Fazilka, impounded four tractor-trailers, one of which was loaded with sand, on the Dhaban-Azamwala link road in the district yesterday night. Station House Officer (SHO), Arniwala Police Station, Palvinder Singh said they had intercepted seven tractor-trailers on the link road.

suicide case
Ex-in-laws point finger at victim's uncle
Jalandhar, May 6
Balwinder Singh, father of Pradeep Kaur's first husband, has told the police that his son Harmit Singh had divorced her after Pradeep's uncle Gurmej Singh showed an indecent MMS clip to the family.