Seven villages in country named Badal
Muktsar, May 1
If you are travelling in Himachal Pradesh, Haryana, Chhattisgarh, Uttar Pradesh or Odisha and find a village named "Badal", don't be surprised as there are seven villages in the country with this name.
10 Punjabis still stuck in Riyadh

Hoshiarpur, May 1
As many as 10 Punjabi boys, who were sent as drivers to an Arabian company by various travel agents of Punjab in November, are living "in hell" in Riyadh.


MAKING AN APPEAL: Youths who recently returned to Punjab from Riyadh hold a press conference in Hoshiarpur on Thursday. Tribune photo



Day after polling, Capt, Jaitley meet party workers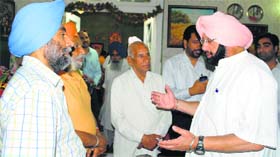 Amritsar, May 1
After slogging it out for more than a month, Congress' Capt Amarinder Singh and BJP's Arun Jaitley today took time off to rest. When The Tribune team visited Jaitley at his new residence at Green Avenue here, he was taking a nap.



Capt Amarinder meets his supporters in Amritsar on Thursday. Photo: RK Soni

Preneet, Dhillon unwind with friends
Patiala, May 1
Congress candidate Preneet Kaur and SAD-BJP nominee Deepinder Dhillon today spent the day thanking party workers even as AAP candidate Dr Dharamvir Gandhi held a dharna outside the Deputy Commissioner's office.
It's family time for Jalandhar candidates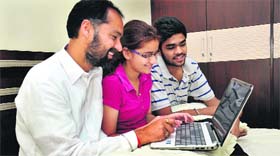 Jalandhar, May 1
For candidates of the Jalandhar (reserve) constituency, it is now time to spend time with their families. SAD candidate Pawan Kumar Tinu said: "After almost two months, I had a sound sleep yesterday."



SAD candidate Pawan Tinu with his children in Jalandhar on Thursday. Tribune photo: Malkiat Singh

Harsimrat, Sukhbir Badal offer sweets
Badal (Muktsar), May 1
There was a stream of supporters at the residences of Harsimrat Kaur Badal and her brother-in-law Manpreet Badal throughout the day today.
Candidates catch up on sleep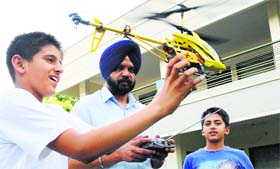 Ludhiana, May 1
With their fate locked in EVMs, most candidates preferred to unwind at home and catch up on their sleep. In the last nearly two months, most of them could barely sleep for three to four hours daily. However, for Aam Aadmi Party (AAP) candidate HS Phoolka, there was no time to relax.

SAD leader Manpreet Ayali with his family in Ludhiana on Thursday. Tribune photo: Himanshu Mahajan

Back in Amritsar, Sidhu does not meet Jaitley
Amritsar, May 1
Former Member of Parliament Navjot Singh Sidhu today said his commitment to Amritsar was eternal and he didn't need any post to be in the holy city.
Giani Iqbal 'forced' to leave meeting
Amritsar, May 1
Takht Sri Patna Sahib Jathedar Giani Iqbal Singh today left the meeting of the Sikh clergy midway, when an objection was raised. Akal Takht Jathedar Giani Gurbachan Singh contended that he had to leave suddenly because of his ailing health.
Punters give six seats to Congress
Sirsa, May 1
Punters feel it is advantage Congress in Punjab with several prominent leaders like Capt Amrinder Singh (Amritsar), his wife Preneet Kaur (Patiala) and Congress Legislature Party Leader Sunil Jakhar (Ferozepur) likely to win.
Protest march by Manpreet, Warring at Gidderbaha

Gidderbaha, May 1
Seeking the suspension of Gidderbaha DSP and action against Akali workers for trying to capture a polling booth here yesterday, Congress MLA from Gidderbaha Amarinder Singh 'Raja Warring' and PPP chief Manpreet Singh Badal, Congress candidate from Faridkot Joginder Singh Panjgrian, district Congress chief Gurmeet Singh Khuddian and a large number of supporters today held a protest march in the town.

Manpreet Badal visits an injured supporter at the Civil Hospital, Bathinda, on Thursday. Tribune photo: Pawan Sharma

With AAP enthusing young voters, state politics set to change
Chandigarh, May 1
These Lok Sabha elections in the state have been markedly different from the ones held in recent decades, especially after 1971. The youth this time played an active role in elections. The fledgling Aam Aadmi Party (AAP) was mainly dependent on the young voters who campaigned across the state.
What first-time voters have to say






Rallying for gandhi:

AAP candidate Bhagwant Mann addresses people during a protest against the Punjab Government in Patiala on Thursday. Tribune photo: rajesh sachar




braving the heat:

Girls cover themselves with 'dupattas' in the scorching heat in Jalandhar on Thursday. Tribune photo: sarabjit Singh
Post-poll, back to power pangs
Patiala, May 1
The ruling SAD-BJP alliance projected Punjab as a power-surplus state while canvassing for the Lok Sabha elections. However, just a day after polling, the Punjab State Power Corporation Limited (PSPCL) floated tenders to buy 2,100 MW till June 30 due to shortage of power from own sources and start of the paddy season.
Show-cause notice to MC official
Ludhiana, May 1
The State Information Commission (SIC) has issued a show-cause notice to Balwinder Singh, Public Information Officer (PIO), Municipal Corporation, under Section 20(1) of the RTI Act as to why penalty of ~250 per day (subject to a maximum of ~25,000) be not imposed on him till the information was actually furnished.
Delay in harvesting affected voter turnout in Faridkot
Faridkot, May 1
The increased enthusiasm among youth to cast vote notwithstanding, the turnout of voters in Faridkot parliamentary constituency was lower than that the last Lok Sabha elections and Vidhan Sabha elections.
Moga farmers rue tardy lifting of wheat
Baghapurana (Moga), May 1
Two lakh metric tonnes of wheat is yet to arrive in the market amid reports of poor lifting and shortage of gunny bags in some areas of the Moga district.
PU single-window counters at post offices
Chandigarh, May 1
For nearly 60,000 students enrolled with Panjab University, the Postal Department will set up a single window counter at 3,500 post offices in Punjab.


HC: NoC not required for PUDA plot sale deed
Chandigarh, May 1
The Punjab and Haryana High Court has set aside an order, whereby a sub-registrar asked for a no-objection certificate from the Punjab Urban Planning and Development Authority (PUDA) for registration of a plot's sale deed in an unapproved colony.
HC dismisses Kant's anticipatory bail plea
Chandigarh, May 1
Punjab former Director General of Police (DGP) Shashi Kant's petition, seeking blanket anticipatory bail in any criminal case to be registered against him in the state, today failed to find favour with the Punjab and Haryana High Court.


2 gang members arrested for extorting money
Phagwara, May 1
The police have arrested two members of a gang for allegedly demanding Rs 20 lakh as extortion from a local money exchanger.