Homegrown drugs more fatal: Capt
Amritsar, April 26
Former Chief Minister and Congress candidate Captain Amarinder Singh today told the BJP's PM face Narendra Modi that the home-grown cheap synthetic drugs were more dangerous and devastating than narco-terrorism.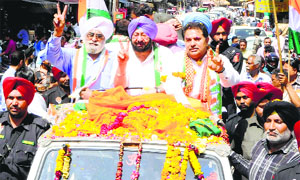 Another stepbrother of PM backs Capt
Amritsar, April 26
A day after Prime Minister Manmohan Singh's stepbrother Daljit Singh Kohli joined the BJP, the PM's family members here seem to have switched over to damage-control mode.



victory of sorts:

Capt Amarinder Singh, Dr Manmohan Singh's stepbrother Surjeet Singh Kohli (left) and MLA OP Soni (right) during a roadshow in Amritsar on Saturday. Photo: vishal kumar


leaders react to the tribune's report
Badal clan eating into state's economy, say AAP, Congress
Ropar, April 26
Reacting to media reports on "huge" wealth acquired by the Badal clan, Aam Aadmi Party candidate from Anandpur Sahib Himmat Singh Shergill said Chief Minister Parkash Singh Badal and BJP's prime ministerial candidate Narendra Modi must reply to people in this regard.


Dhuri MLA fuels talk of moving to SAD
Barnala, April 26
Congress MLA from Dhuri Arvind Khanna today failed to turn up for an important rally addressed by party chairperson Sonia Gandhi in Barnala, leading to rumours that he might join the Akali Dal.

Balram Jakhar chips in to boost son's campaign
Muktsar, April 26
Veteran Congress leader Balram Jakhar has arrived from Delhi to boost his son Sunil Jakhar's campaign. Congress Legislature Party (CLP) leader Sunil is the party candidate from Ferozepur constituency with Akali MP Sher Singh Ghubaya as his main opponent. Ghubaya enjoys the support of the Rai Sikh community that has a large presence in the area.




Wheat crop on 90 acres set afire in Kotkapura
Kotkapura (Faridkot), April 26
A large number of farmers blocked traffic at Kotkapura Chowk here today after wheat crop on around 90 acres, spread in three villages adjoining the town, was set afire.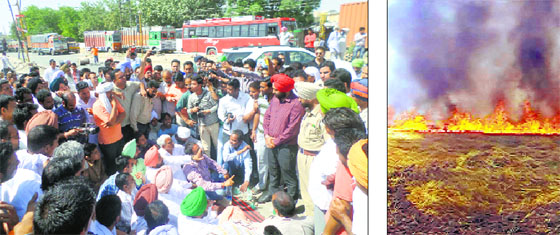 (Left) Residents of Kotkapura and farmers of three adjoining villages block traffic on Saturday; and the burning wheat fields in the area. Tribune photos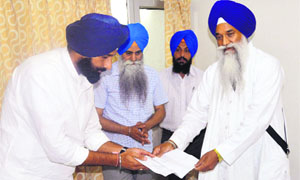 Majithia meets Takht Jathedar, tenders apology
Amritsar, April 26
A day after tendering public apology for "distorting" gurbani, Majithia on Saturday met Akal Takht Jathedar Giani Gurbachan Singh and handed him over a letter of apology. Sources said the Jathedar received the letter from him and said the matter would be discussed in the next meeting of the Sikh high priests.
Bikram Majithia tenders an apology before Akal Takht Jathedar Giani Gurbachan Singh in Amritsar on Saturday. Tribune photo

Rahul's Bathinda rally venue shifted
Bathinda, April 26
The Congress today changed the venue of All-India Congress Committee vice-president Rahul Gandhi's rally on April 28 to Thermal Colony stadium after facing problems at Model Town grounds.
MBBS aspirants needn't study Class X from state
Chandigarh, April 26
With just three days to go before the elections, the state government is leaving no stone unturned to win voters. The government has removed the previous clause of studying Class X from the state for medical aspirants seeking admission in BDS and MBBS courses in the state medical colleges.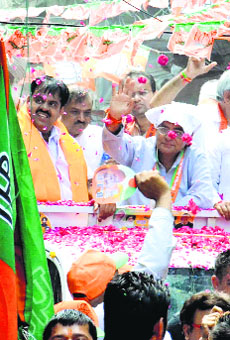 poll petals:

BJP candidate from Amritsar Arun Jaitley during a roadshow in Amritsar on Saturday. Jaitley said Narendra Modi's visit to Punjab would turn out to be a "game changer" in the Lok Sabha elections in the state. Tribune photo
Procurement staff harassing us: Farmers
Sirhind, April 26
Farmers have alleged that the state government's procurement agencies were harassing them by not procuring their wheat stacks promptly. Many farmers said they had been camping in the local market for the past four days. Satpal Singh of Boran village, near Sirhind, said, "I brought about 400 quintals of wheat to the local market five days ago but the officials concerned did not procure it saying that it has more moisture than the prescribed limit," he said, adding, "Can there be high moisture content in wheat when heat wave has gripped the country?"
Ensure officials get postal ballot: CEO
Chandigarh, April 26
Concerned about the complaints of irregular distribution of postal ballots, the Chief Electoral Officer (CEO) has issued instructions to all the Deputy Commissioners (DCs) to verify the strength of personnel who sought the postal ballot facility. The CEO issued these instructions so that the figures could then be tallied with the actual beneficiaries in their respective constituencies.
Accused in Ludhiana AIG assault case dies
Ludhiana, April 26
Maninder Pal Singh Johar alias Sunny Goodwill (45), a Youth Akali Dal leader, who had allegedly attacked the then AIG, SS Mand, in 2012, today died under mysterious circumstances.




US Punjabi woman let off in murder case
Sacramento (California), April 26
In a historic trial, Baljinder Kaur, who allegedly killed her mother-in-law Baljit Kaur with a hatchet, was found not guilty of the crime.



Baljinder Kaur

NRI AAP supporter held; kin cry foul
Ludhiana, April 26
The relatives of an NRI, Paramjot Singh from Toronto in Canada, have cried foul as he has been arrested for allegedly assaulting a man and using casteist remarks against some villagers.
Heroin worth Rs 110 cr seized, four arrested
Amritsar, April 26
The State Special Operation Cell (SSOC) confiscated 22kg of heroin, worth Rs 110 crore in the international market, and arrested four persons, including two notorious smugglers. The SSOC, a counter-intelligence wing of the Punjab Police that is dedicated to check the illegal drug trade, also seized a .30 bore pistol, six live cartridges and Rs 10 lakh from them.