237 transgenders in state enrolled as voters
Chandigarh, April 16
In spite of the Supreme Court judgment recognising transgenders as the third gender and providing quota for them in jobs, of nearly 25,000 transgenders in the state, only 237 will exercise their franchise in the Lok Sabha elections on April 30.
It's time for a Dalit PM, says Maya
Nawanshahr, April 16
Exhorting the voters not to allow "communal and corrupt forces" to form government at the Centre, BSP supremo Mayawati today called upon the people of Punjab to reject both the Congress and the BJP candidates. Addressing an impressive gathering here, she projected herself as an "ideal" candidate for the post of Prime Minister.
from the war room
Re-inforcements for Jaitley arrive from Delhi
Amritsar, April 16
Locked in a keen electoral battle with Congress heavyweight Capt Amarinder Singh, BJP candidate Arun Jaitley has embarked upon a vigorous election campaign with the SAD throwing its weight behind him.
Left parties to support four AAP candidates
Jalandhar, April 16
The state units of the CPM, CPI (ML) and CPI (ML) Liberation have decided to support candidates of the Aam Aadmi Party on four seats which these parties are not contesting.
Amarinder to blame for property tax, Jaitley tells voters
Amritsar, April 16
Terming his Congress rival Capt Amarinder Singh as the "real culprit" of property tax in Punjab, BJP candidate Arun Jaitley today claimed that it was during his stint as the Chief Minister that a memorandum of agreement was signed in this regard.
Fissures to fore in Hoshiarpur Cong unit
Hoshiarpur, April 16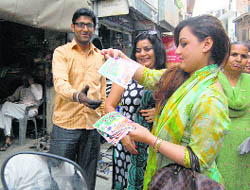 Congress's decision of fielding an external candidate in Hoshiarpur to check factionalism seems to be having no effect. Any outburst of the simmering restlessness among party men may spoil the chances for Hoshiarpur candidate Mohinder Singh Kaypee, who is the sitting MP from Jalandhar. The Congress high command, sensing the gravity of the unrest in the party unit at Hoshiarpur, had fielded Kaypee. Initially, the move seemed favourable as most of the Congress leaders came to share the stage with Kaypee.

Mohinder Kaypee's daughter Karishma Kaypee canvasses for father in Hoshiarpur

State govt keeps over 14 lakh pensioners waiting
Bathinda, April 16
Faced with a financial crunch, the Punjab Government has not released old-age pension to 14.53 lakh beneficiaries across the state since December 2013. It will be an uphill task for the Badal Government to clear the backlog by April 30 (polling date), say sources.
PGI doctor discovers potential cure for cancer, AIDS
Chandigarh, April 16
A doctor at Postgraduate Institute of Medical Education and Research (PGIMER) has discovered a master molecule inside the human body--which governs a set of nearly 300 genes--and impacts processes leading to cancer and immuno deficiency diseases like HIV.
NOTA may be introduced in HC bar assn poll
Chandigarh, April 16
NOTA may be introduced in the Punjab and Haryana High Court Bar Association elections. Just about a fortnight before the polls, the election committee has given its approval for including "none of the above" (NOTA) in the ballot papers. The matter had now been sent for final approval to the Bar Council of Punjab and Haryana. The ballot papers are to be printed on April 20, while the poll is slated to be held four days later. The approval of the election committee follows a representation by an advocate, Ajay Jagga.
Gippy loses temper at press meet, apologises
Bathinda, April 16
Singer-turned actor Gippy Grewal today lost his cool when asked about his appearance in the ruling SAD's advetisement campaign. He was promoting his upcoming Punjabi film, 'Jatt James Bond'.
Sukhbir seeks votes in Modi's name
Morinda, April 16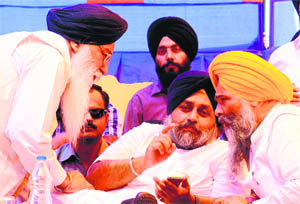 Deputy Chief Minister Sukhbir Badal on Wednesday addressed a rally in favour of SAD-BJP candidate from Anandpur Sahib Prem Singh Chandumajra. Sukhbir devoted a major part of his speech to BJP prime minister candidate Narendra Modi while seeking votes.


Deputy CM with Prem Singh Chandumajra in Morinda on Wednesday. Tribune photo: Vicky Gharu

Market shut, road blocked for SAD rally
Phagwara, April 16
An election rally addressed by Deputy Chief Minister Sukhbir Badal at Hargobind Nagar in favour of SAD-BJP candidate Vijay Sampla in the town led to inconvenience to traders and local residents.
Water logging woes in muktsar district
Work on improving drainage yet to begin
Muktsar, April 16
Records related to last year's Harhi crop reveal 43 per cent of the farmers affected by water logging in Lambi sub-tehsil did not accept compensation cheques offered by the state government. The reason was that the compensation amount was meager.
Inter-state roads sealed as Sriganganagar goes to polls today
Abohar, April 16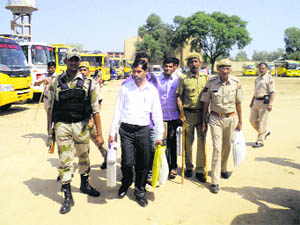 In a joint operation, Punjab and Rajasthan police sealed the inter-state roads today to ensure smooth polling in the eight segments of Hanumangarh and Sriganganagar districts on Thursday. A team of Punjab officials, led by Abohar Sub-Divisional Magistrate (SDM) Rajpal Singh discussed various steps with their counterparts at Sadulshehar, 30 km from here. The team also supervised search of vehicles on the state and national highway.
Polling teams leave Maharaja Ganga Singh Stadium, Sriganganagar, for their respective destinations, on Wednesday. Tribune photo

Moga rice millers up in arms against FCI
Moga, April 16
Rice millers staged a protest against the district authorities of the Food Corporation of India (FCI) over disparity in distribution of space in its storehouse in Moga today. They alleged that the FCI authorities were not giving adequate space (chakkas) to them in the main storehouse, which had temporally halted the process of storing the rice accepted by the food agency.
poll pot
Police hold march in Malerkotla
Sangrur: More than 100 police personnel on Wednesday took out a march through the main markets in Malerkotla, about 35 km from here. The police said the march was taken out to build confidence among residents and create a fearless atmosphere in the town so that voters could exercise their franchise on April 30. Since Malerkotla is a Muslim-dominated town, it is considered a sensitive area. This is the reason that the police always make special arrangements in Malerkotla. Station House Officer (SHO) of city-1 police station Sukhdev Singh and SHO of city-II police station Mandhir Singh participated.
Sikhs allowed kirpans in Canadian missions
Toronto, April 16
The Canadian government has approved a new policy which allows Sikh visitors to Canadian diplomatic missions abroad to wear kirpans. Sikh visitors will be permitted to retain their kirpans when entering Canadian missions abroad, a statement issued by the country's foreign affairs, trade and development ministry said.
Man held in 'honour' killing case
Jalandhar, April 16
In what is being suspected as a case of honour killing, a man killed his 14-year-old daughter following some reports of her having a relationship with a boy at Pwadra village near Bilga this afternoon.
Youth poisons mother, sister, commits suicide
Abohar, April 16
A youth poisoned his widowed mother and younger sister before ending his life when he could not marry his beloved. The neighbours were asked to break into the house, when no one responded to the phone calls of the family's elder daughter, Anu Rathi. The bodies of the deceased were found in the house. The deceased were identified as Vishal Kumar, mother Sarbati Devi and younger sister Tinu Maheshwari.
Pakistani smuggler shot, Rs 40 cr heroin seized
Amritsar, April 16
The BSF today foiled a smuggling bid near Rajatal border outpost in the Amritsar sector. A Pakistani national was shot dead after a heavy exchange of fire. The BSF seized 8 kg of heroin worth Rs 40 crore in the international market, besides ammunition and a Pakistani mobile phone.
Woman throws kids into pond
Abohar, April 16
A woman in Punrasar village in neighbouring Rajasthan allegedly threw her three children into a reservoir from the roof of her house last night.