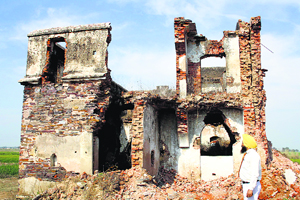 Hondh Chillar Sikh carnage
Probe panel summons former DSP, inquiry officer
Hisar, April 16
The inquiry commission set up for the Hondh Chillar Sikh carnage case has summoned the then deputy superintendent of police (DSP), inquiry officer and the munshi of Rewari district, asking them to depose before the commission regarding the genocide of 32 Sikhs on November 2, 1984.

The carnage site at Hondh Chillar village in Rewari. File Photo
Admn starts Ghaggar flood-control works
Fatehabad, April 16
With monsoon still more than two months away, the authorities in Fatehabad have started taking steps for prevention of floods from Ghaggar river. Floods from the Ghaggar have been causing extensive damage to crops and property in Fatehabad and Sirsa every time the flow of water is more than its capacity.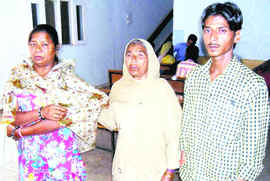 Newborn dies as doctors spar
Fatehabad, April 16
An altercation between two doctors of the General Hospital here yesterday cost a newborn his life. Two doctors of the hospital exchanged blows and hurled abuses at each other, accusing one another of negligence even as their lackadaisical attitude cost a poor couple their newborn.

Rajesh, newborn's father, with his mother and a relative in General Hospital, Fatehabad, on Wednesday. A Tribune photograph

No connection between literacy rate and voting percentage in Haryana
Chandigarh, April 16
There is no connection between literacy and voting in Haryana in the recent parliamentary elections as the districts with lower levels of literacy recorded higher voting percentages.
Farmers make own arrangements to protect produce from rain
Jind, April 16
Few minutes of drizzle here in the wee hours today not only left the farmers waiting in the local grain market for the purchase of wheat worried, but also exposed lack of storage arrangements of the authorities.
11 persons booked on murder charge
Yamunanagar, April 16
The Bilaspur police booked 11 persons on the charge of murdering a person of Nagal Patti village here today. The victim was killed by persons claiming to be 'gau rakshaks' (cow protectors). Alisher and Fakiriya, alias Kala, of Nagal Patti village and Gurumukh of Kotda village were going with four bullocks around 3 am today.
INLD leaders to visit Punjab soon
Kurukshetra, April 16
Ties between the Indian National Lok Dal (INLD) and the Shiromani Akali Dal (SAD) are getting stronger by the day. SAD leaders have canvassed for INLD candidates in Haryana even though the former is a part of the NDA. Confident of winning the maximum seats in Haryana, INLD leaders have geared up to campaign for SAD in Punjab, where polling will be held on April 30.
Govt to seek EC permission to complete works
Chandigarh, April 16
The Haryana Government will shortly hold a meeting with the Election Commission to seek its permission to go ahead with the various road projects and its repairs in the state. Sources said the government had been forced to seek relaxation on account of the model code of conduct that had been in force since the last month.
Incident of bride buying detected
Sirsa, April 16
An incident of bride buying has come to light. Two teenaged girls of a village near Noida were brought here on the pretext of employment. One of them was later sold to a villager at Darba Kalan in Sirsa. The other contacted her parents stealthily from the mobile phone of Vishnu, who had brought her here. Her parents came here and pleaded before the Begu panchayat in Vishnu's village for help in finding her.
6 bodies found in Mullana in one year
Ambala, April 16
The police is yet to make a breakthrough in the recovery of six bodies, three half burnt, in the Mullana segment of the district over the last one year. The rural division of the district police, which has been investigating these cases, confided in this correspondent that indentifying these bodies had become a challenge for them.
Only 3 wildlife officials for 300 villages
Jind, April 16
The Wildlife Department authorities are yet to wake up to the problem of intrusion of wild animals in residential areas of the district. There are only three officials of the department, having only one motorcycle, to look after the wildlife activities in the entire district.
Non-recognition of private schools
Parents in a fix over admissions
Sonepat, April 16
With temporary recognition of 20 private schools in the district ending April, parents are in a fix over admission of their wards in such schools. The State Education Department has prepared of a list of the private schools which lack recognition under Section 18 of the Haryana School Education Act, 1995 and 2009.
3 killed in mishaps
Sirsa, April 16
Two persons, including a woman, were killed when their motorcycle was hit by a vehicle near Khairekan village. Rakesh (25) was going towards Odhan with his friend's mother, Lichhma (55), for her treatment when an Innova vehicle hit his motorcycle.
Toll policy to be rationalised
Chandigarh, April 16
In view of the large number of representations especially from the people living in adjoining areas of toll barriers for rationalisation of toll charges, Bhupinder Singh Hooda has convened a meeting to formulate a policy for rationalisation of toll charges at Chandigarh on April 17 at 1 pm. While stating this here today, an official spokesman said officers of the National Highway Authority of India and state Public Works (Building and Roads) Department would participate in the meeting. He said the state government had received a number of representations from people living in nearby areas of toll barriers for rationalisation of toll charges. TNS
Ex-JWO's murder: 2 sent in police remand
Ambala, April 16
The Chief Judicial Magistrate (CJM) today remanded the alleged killers of retired junior warrant officer (JWO) in one-day police custody. The police arrested three-wheeler drivers Nitish Sharma, alias Pandit, and Sandeep, alias Ganja, on April 15 on the charges of killing retired JWO Jaswant Singh (65) on April 6. The victim was returning home from Beas (Jalandhar) in the three-wheeler. Mahesh Nagar SHO Rajneesh Yadav said the former JWO was killed for a paltry sum of Rs 500. The two accused took the victim to a secluded place and killed him. The two suspected that the victim was carrying huge cash. TNS
Missing boy's parents stage dharna
Karnal, April 16
The parents and sisters of two-and-half-year-old Krishan Kumar, who is missing since February 1, today staged a dharna outside the IG's office and raised slogans against police inaction. They had also taken out a 'mashaal' march in support of their demand in the city on Monday. Rekha, mother of the missing boy, alleged that they had been looking out for Krishan for a long time, but in vain. She alleged that the police had failed to trace him despite their repeated visits to the police station. If her son was not found even after the dharna, they would protest in front of the houses of politicians of every party, she added. — TNS
Opium seized from Innova: 3 held
SONEPAT, APRIL 16
The CIA team of the Sonepat police seized 4.8 kg of opium from an Innova vehicle on near Bahalgarh the GT road late last evening. The contraband was valued around Rs 4 lakh in the market. The police recovered opium packets under the Innova seats. Darshan Lal Malik, DSP, said the police impounded the vehicle and arrested three drug traffickers, Sandeep, Pradeep and Rajinder of Modipur village in Karnal district. The DSP said the alleged accused confessed to have brought the drug from Madhya Pradesh for supply in the Karnal areas. They were produced in the court today which remanded them in police custody. OC
Watchman hacked to death
Jhajjar, April 16
A 46-year-old watchman of an under-construction house was hacked to death in sector-9 A in Bahadurgarh town here last night. It is the fourth murder in the past five days. The police rushed to the spot and sent the body to the civil hospital for post-mortem examination. — TNS