Commercial property tax, service charges
Five years on, MC to revise list of properties in city
Chandigarh, April 26
After a gap of almost five years, the Municipal Corporation (MC), Chandigarh, is going to revise the list of properties in the city in order to identify defaulters and recover commercial property tax and service charges from them.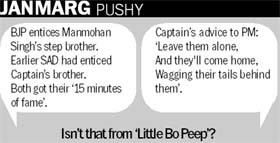 It will be raining invitation cards, pamphlets in Mohali district today
Mohali, April 26
Tomorrow, hundreds of Mohali district residents will get special invitation cards (prepared just like wedding cards) at their doorsteps and pamphlets will be showered on them from a chopper, with a message to reach the election booths on April 30.
assault case
DAV student arrested
Chandigarh, April 26
The Chandigarh Police today arrested a student of DAV College who along with his accmplices had assaulted three students of Panjab University (PU) near the Chemistry Canteen on the PU campus on April 25.

50 commercial buildings inspected for violations
Chandigarh, April 26
Continuing its drive against building violations, the UT Deputy Commissioner today constituted three teams, which inspected 50 commercial properties in different parts of the city. Assistant Estate Officer (AEO) Rahul Gupta, SDM (South) Kashish Mittal and SDM (East) Danish Ashraf led the teams.

SDM Kashish Mittal (right) looks at the master plan of the Elante Mall in the Industrial Area, Chandigarh, on Saturday. Tribune photo: Parvesh Chauhan

Mohali police hold flag march
Mohali, April 26
To imbibe confidence among the public and instill fear among mischievous elements ahead of the polling-day (April 30), nearly 75 policemen including several senior officers covered a distance of over 20 kilometers on foot today.


Police officials hold a flag march in Mohali to instill confidence among the residents. A Tribune photograph
SP Jain lashes out at Ambika Soni
Mohali, April 26
Lashing at the Congress candidate from Anandpur Sahib constituency Ambika Soni, the Chandigarh-based BJP leader and former Member of Parliament Satya Pal Jain accused her (Soni) of being part of 'corrupt inner coterie' of the ruling Congress in Delhi.


Three-hour drama at police post in Panchkula
Panchkula, April 26
High drama was witnessed today when a mob including women stormed into police post of Sector 19 after a complaint was registered against the area councillor Ravi Kant Swami. A woman accused Swami of misbehaviour.

Policemen trying to stop women from entering the police post, Sector 19, Panchkula. Tribune photo: Nitin Mittal
Liquor vends to remain closed from April 28
Mohali, April 26
Ahead of the Lok Sabha elections on April 30, the district magistrate-cum-district electoral officer today directed the SSP to ensure the checking of hotels, guest houses, restaurants, community halls and lodges for any unauthorised stay of outsiders and to make a list after the verification of the outsiders.
AAP activists hold 'jaago'
Zirakpur, April 26
To woo voters, Aam Aadmi Party (AAP) activists held traditional rural ritual 'Jaago' today evening. The party activists, mainly women workers, visited two villages, Dhakauli and Baltana this evening with traditional 'matki' (pot) on their heads to give an awakening call for the forthcoming elections. The event began at around 6.30 pm.
MACT awards Rs 2.6 cr compensation to families of accident victims
Chandigarh, April 26
The Motor Accident Claims Tribunal (MACT) here has awarded compensation of Rs 2.64 crore to the families of three assistant managers with the Reserve Bank of India (RBI), who had died in a road accident in June 2012.
Illegal hoardings removed at Elante Mall
Chandigarh, April 26
The enforcement wing of the Municipal Corporation (MC), Chandigarh, today removed illegal hoardings displayed at the Elante Mall here. The hoardings were reportedly in violation of the Chandigarh Advertisement Control Order (CACO), 1954.


Traffic disrupted on Zirakpur flyover
Zirakpur, April 26
Traffic was disrupted for about half an hour on the flyover here today as a scooter caught fire and a man got injured after an unidentified vehicle hit him while he was crossing a road to see the scooter. The driver of the scooter, however, had a miraculous escape.

Nikhil looks at the mangled remains of his burnt Activa on the railway flyover in Zirakpur. Tribune photo: Nitin Mittal

world veterinary day
Check-up camp for pets held
Panchkula, April 26
A free medical check-up and awareness camp for pets was held at the Pet Animal Medical Centre (PAMC) on the World Veterinary Day at Sector 3 here today. The Pet Animal Health Society organised the camp and 195 pet owners availed of the facility.

A dog being examined at the Pet Medical Centre in Panchkula on Saturday. Tribune photo: Nitin Mittal







Syndicate meeting
Panjab varsity constitutes new fee panel
Chandigarh, April 26
Panjab University constituted a new fee committee that will draft the fee structure for all courses. This was decided in the Syndicate meeting held today under the chairmanship of PU Vice-Chancellor Arun Kumar Grover.

Students of Shri Dhanwantry Ayurvedic College, Sector 46, Chandigarh, interact with Syndicate members at Panjab University on Saturday. Tribune photo: Pradeep Tewari
Row over disbursement of salary
PUTA intervenes to put end to controversy
Chandigarh, April 26
After the decision of withdrawing the powers of Music Department chairman Neelam Paul regarding joining and relieving faculty members, the Panjab University Teachers Association (PUTA) is planning to visit the department to resolve the controversy arisen between the faculty members and the chairman.


Diabetic children have a day out at Chhat Bir Zoo
Chandigarh, April 26
In order to motivate the children suffering from diabetes and distress due to the restrictions on eating, frequent checkups, the Department of Endocrinology, PGIMER, organised a picnic for these young patients at Chhat Bir Zoo recently.

Children accompanied by their parents during a picnic at Chhat Bir Zoo. A Tribune photograph
3-day short play festival to be held in city
Chandigarh, April 26
Citi Entertainment Network would organise a three-day short film festival in the city as a tribute to theatre thespian Charan Singh Sindhra. Among the plays that will be showcased include "Mochi Da Putt", written by Gursharan Singh; "Beimaan" by IC Nanda; and "Ram Mohammad Singh Azad" by CS Sindhra.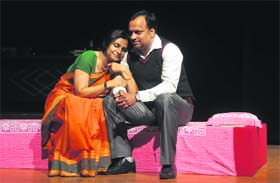 Striking a chord: Artistes enact a scene from the play, "Doosra Aadmi Doosri Aurat", at the Tagore Theatre in Chandigarh. Tribune photo: Pradeep Tewari
Dog bite cases on rise at PU
Chandigarh, April 26
Rajinder Kaur, a security guard at Panjab University (PU), had a harrowing time this morning. When she was coming for her duty, a stray dog bit her at Gate Number 1 of the university campus.
FROM SCHOOLS
Training concludes
Seven-day self-defence training for NSS girls of Shishu Niketan Model Senior Secondary, Sector 22-D, Chandigarh, concluded on the school premises on Saturday. The training, conducted by the Chandigarh Police, was the first project undertaken by any private school in the city.