ON RECORD
'Time for Indian comics to find global pull'
Vandana Shukla talks to Jatin Varma, founder of
Comic Con India/ Golden Kela Awards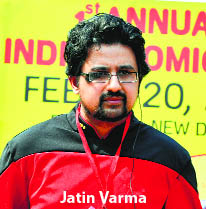 Jatin Varma, founder, Comic Con India (International Comics Convention), Twenty Onwards Media, Gold en Kela Awards and Pop Culture Publishing, belongs to the class of young entrepreneurs who introduced many 'firsts' to India. His love for humour led to the success of the first-ever Comic Con India. The 28-year-old is an economics graduate and has studied at the University of Washington. He left the US, foreseeing opportunities in India to establish his own independent business in his atypical, fun way. He made it profitable within four years. In 2007, he launched Twenty Onwards Media, an alternative media house that promotes out-of-the box ideas, ranging from publishing to films to live events. In 2009, he decided to introduce the Golden Kela Awards — India's first award for the worst movies and actors, a kind of Rasberry awards of the West.
How has Comic Con contributed in making the Indian comic industry transition to a more modern era?
We have made a huge contribution towards promoting and sustaining the Indian comic industry. We have helped creators and publishers connect directly with their fans and vice versa. It's also become a great platform for exploring the market and launching new products. At the 1st Comic Con India (CCI) in 2011, the footfall was about 20,000 and sales touched Rs 25 lakh in two days. At the 4th Comic Con India in 2014 — with a ticketed entry — the footfall touched 40,000 and sales almost Rs 2 crore in three days. In Mumbai, Hyderabad and Bangalore, the same story was replicated. The next four years are going to be even more crucial as we move from an introductory phase to expansion. We want to expand the comic industry and evolve the pop culture element of the event.
Great comics enjoy universal appeal. When will India find that voice?
The search is on since the first CCI. I am hopeful that this will happen sooner than later. Something will break boundaries and connect with audiences around the world. It's just a matter of time.
Why have Indian publications failed to acquire the scale and popularity of Spiderman and Superman of Marvel and DC Comics?
I don't see the situation as a failure. One needs to add the context and see things in a perspective. The distribution and retail setup is restrictive and not conducive for promoting it here. A new publisher struggles to reach out to the reader because the distribution model is completely broken. If a regular publisher faces so many hurdles, you can imagine the problems faced by a comics' publisher, who is selling something which is still considered niche. A Superman or Batman has been there for over 70 years and has a huge lead when it comes to building an audience. They have now evolved beyond comics and become a permanent fixture in popular culture. That is yet to happen with most Indian characters. Though we live in a much more connected world, I feel its only a matter of time that an Indian character or story reaches out to an international audience.
Hindi comics remain confined to small towns and English fails to acquire a pan- Indian appeal.
Most smaller publishers put out books in English as it allows them to sell across India. The distribution network creates a lot of hurdles for them to reach out to consumers. About Hindi comics, I feel the publishers would be best suited to answer the question.
How many new comics you launched survived?
We have had a few — say two-three smaller publishers — not survive after their launch, but most are surviving. We hope that in the coming years they are able to move beyond just sustaining and expand dramatically.
Does the presence of celebrities like David Lloyd, Waid, Gabriel Bá and Fábio Moon undermine the relevance of Indian comics?
Not at all. In fact, their presence gives our industry more credibility. We are essentially putting Indian creators on the same platform as the international ones. I am hoping that as we plan to bring in international guests to each of our events, we might actually see a collaboration happening in the future as well.
Do Indian publishers lack a strong digital strategy to popularise comics among the young?
I don't think they lack a digital strategy. Most are adept at using the social media to connect with their audience. However, when it comes to digital editions of their comics, most already have them out there on various platforms. The Indian audience hasn't really caught on in a big way to this bandwagon yet. They might be consuming a lot of content for free online, but they are not yet spending on it in a big way. Just like retailers convinced consumers of shopping online, we will get them spending on the content online as well.
Is self-publishing opted by many?
Well it's feasible now as you can easily list yourself on an online marketplace, create an audience via social media and also sell digital editions. It's not easy convincing an existing publisher to take up your project, so with the options available right now, there are many who are trying their hand at it.
When will India have its indigenous mature publication in political humour?
I hope soon. We certainly have a lot of content ready for it, especially when it comes to the political space.
Many comic lovers feel Comic Con has become more about greater footfall and revenue generation. How will it create fresh opportunities for the young?
Increasing revenue and footfall has been our goal from day one. We are running a business and the only way a business is sustainable and successful is if it's profitable. We make no bones about our event being a pop-culture event. This year, we will be expanding the scope of our events like never before. We will have a lot on offer for fans across various cities, where we are currently present. With respect to upcoming writers and artists, we already have a slew of things that we do, from heavily subsidised artist tables, to sessions and publicity around them.