last word: Gulzar
For all that lives in a heart, he has a word
The lyricist's detractors question his strange, even bizarre, choice of words. But the same criticism is turned around by admirers to say "only Gulzar can invent such new words."
By Nonika Singh
Over the phone he sounds like a man in a hurry, impatient to the point of being brusque, who clearly has no time for what he sees as irrelevant queries.
For distant observers, Gulzar is not an easy man to decode. To nosey journalists he might even seem curt, someone who will cut them off when he wants to. However, those who know him better swear by his childlike smile and innocence, his gentle 'poet at heart' being.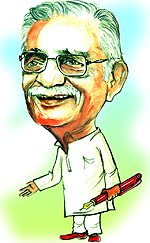 Sandeep Joshi
While your view of him may depend on the vantage point, Gulzar remains a man of exceptional talent and versatility. The renowned lyricist and poet has everybody in a thrall, common listener and critic alike. If you love poetry you can't but love Gulzar. And who can grudge the maker of heartfelt films like "Parichay" and "Koshish", and writer of lilting songs such as "Aaj kal paon zameen par" and "Mera kuchh saaman", the highest cinematic honour, Dada Saheb Phalke Award, for which he was chosen recently.
Of course, awards have been a given in his amazing journey that began with "Bandini". The mother of international honours, Oscar, has preceded the Dada Saheb Phalke Award. But he considers the Phalke award a bigger honour, and not just because being recognised by your own people is more gratifying. He says, "Let's not forget that an Oscar is only for one song, while the Dada Saheb Phalke Award is for the entire body of work."
His having received them all (several National Awards, nearly 20 Filmfare awards, besides the Sahitya Akademi Award), one may wonder what can awards possibly mean for him now? But Gulzar is not dismissive of the honours and considers each a reaffirmation of his being on the right track. Between people's love, which he has received aplenty, and the long list of honours, including the Padma Bhushan, he can delineate no difference.
Are Gulzar the film lyricist and Gulzar the poet one and the same? Yes and no. Both are marked by a heightened sensitivity and sensibility. And both are replete with a vivid imagery that is lyrical, and as grounded in everyday life as it is out of this world — real and surreal at the same time. But he points out a critical difference. Poetry is his personal statement on life, while songs are commissioned work.
Songs may be for a script, but the beauty of his film lyrics is equally breathtaking. Popular singer Sukhwinder, who has lent his voice to many of Gulzar's songs, including the Oscar winning "Jai Ho", says he feels enriched each time he renders a number penned by Gulzar Saheb. He doesn't hesitate in calling him a "Darvesh", and puts him in the same league as Baba Bulle Shah and Shah Hussein.
Gulzar has his share of detractors too, who often question his strange, even bizarre, choice of words. But the same criticism is turned around by admirers to say "only Gulzar can invent such new words." They swear by his evocative artistry.
Even more remarkable has been his ability to stand steadfast amid winds of change. He puts it simply, "If you are in sync with the times so will be your words." Thus the delectable item numbers such as "Bidi jalaile" and "Kajra re".
Gulzar says songs are dovetailed to a film's demands and one song can't be transposed on to another setting. "Dil to bacha hai" can't substitute for "Beedi jalaile"! Songs like "Mora gora ang lai le, mohe sham rang dai de" can still be written, only if they would make films that can carry them. Having directed memorable films such as "Aandhi", "Maachis" and "Angoor", Gulzar says he has given up filmmaking for good.
Writing is where his heart is. But right now it also goes where his grandson does. Beaming, he admits to the unparalleled joy of being a grandfather. Of course, he also makes it clear that his personal life is nobody's business. Daughter Meghna, though, has already revealed quite a bit of it in a biography of his that tells us among other trivia that his kurta-pyjamas are so starched that they often tear.
He was born as Sampooran Singh Kalra in Dina, Jhelum district, now in Pakistan. His self-effacing, understated demeanour often has people flummoxed, as many take him for a Bengali.
So is there anything distinctively Punjabi about him? For one he has penned several Punjabi songs and can speak the language very well. His ensemble of white kurta-pyjamas is accessorised with matching Punjabi 'juttis'. And the fact that at 77 he still finds the energy to play tennis too he credits to his Punjabi genes, and declares with pride, "After all, I am a sardar." Beyond this confession, don't expect him to wear his Punjabi identity on the shoulder, though he does bear the flag for the India-Pakistan peace campaign and has written the anthem "Nazar mein rehte ho".
The man of sensitive expression may not confess to being a romantic, but a dreamer he is. Love songs or peace anthems, perhaps no one understands the heart better than him. "Paani ki ek boond hai shayar, pura samandar apni aankh mein rakhta hai." His own lines sum him up the best.