Polling the tough questions, answer lies with voter
Beneath all the vitriol of elections, is there a catharsis taking place? And a new idea of India, where politicians are held accountable, rather roughly and rudely taking shape?
Kishwar Desai
IT is now 30 years since the 1984 massacre of the Sikhs. And on a visit to Amritsar a few months ago, we could not help being reminded of the assault on the Golden Temple, and all the terrible events which led up to the killings. Should we forget these incidents and move on, or should we use the elections strategically, and resolve not to vote for the Congress till justice has been delivered to all victims of the pogrom and the perpetrators punished?
I was in Delhi in 1984, alone at home with my two little children when a mob materialised at our doorstep. They thought I was Sikh, thanks to the nameplate on the gate downstairs (at the time my surname was Ahluwalia). They were an organised group of young men, with petrol cans in their hands. I was rescued by the ground-floor neighbours who stepped out to argue with them. I stood at the balcony with my young children, wondering how to save them if the mob actually came upstairs. Fortunately my neighbours persuaded the mob to leave—but unfortunately they targeted a house a few hundred yards from our house and burnt the gurdwara opposite.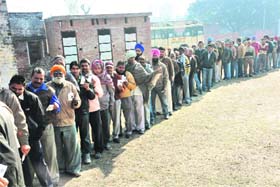 I then kept dialling the police station but received no response. From the roof top, we could hear distant shouts and saw smoke rising. We knew about the bloodshed during the Partition, but this was something none of us in democratic India had expected. But I was lucky. Eventually more than 4,000 Sikhs were executed all over the country.
And yet today Sikhs, and indeed Punjabis in general, seem to have little or no memory of that fearful event. When I see the outrage generated over the 2002 Gujarat riots, I wonder why the Sikhs have not boycotted the Congress, just as the Muslims have over and over again been told to boycott the BJP (even in cases, ironically, where they were not involved). Perhaps this resentment has been a powerful weapon and may have actually led to justice being delivered swiftly. Is it that the Sikhs have a greater ability to forgive and move on? Or is it that memories are short? Or is it because we simply do not care what happened to the victims of 1984? After all, Sikhs have in the past even elected Congress governments.
In fact, we seem to have been remarkably kind to the Congress, given the sufferings the Sikhs have faced. How and why has that happened? And is this attitude changing? There is some evidence of this at the Golden Temple, with the building of the 'controversial' memorial to Bhindranwale and others who died with him during Operation Bluestar. Obviously there is now a desire to acknowledge the horror of the events which preceded Indira Gandhi's death. It was a very painful and bloody period. Even though this might be considered treason by some, the building of the memorial is justified by members of the community who are also trying to grapple with their own anger and not accept the Congress doctored spin when remembering the siege of the Golden Temple.
And yet, have the events of 1984 been brushed away by those who felt that an apology by a Sikh Prime Minister was enough? In a way it is very impressive that the community seems to have moved on, though in Amritsar the scars to their holiest shrine are still evident. And so the question is: Will the people of Punjab allow the Congress to get away with a mere mea culpa, once again?
In reality, the question of accountability and punishment still remains, and the election in Punjab could become a symbolic test. If the people of Punjab vote for the Congress, will they have allowed yet another opportunity to send a strong message pass by? And should they, as in the past, allow the incident to be submerged in distant memory?
Of course, we should forgive and forget, and that appears to be the attitude of most of us Punjabis. We are a hardy race with an amazing ability to adapt to changed circumstances. Except that this time, for far too many reasons to enumerate, this is becoming a watershed election where many volatile issues are being brought into the open and openly discussed. Sometimes, beneath all the vitriol, one wonders whether a catharsis is taking place, and a new idea of India, where politicians are held accountable, is rather roughly and rudely taking shape. This seems to be an election where everyone's true colours and positions are being revealed. Would it not then be perhaps time to make a statement and communicate our own unhappiness that so many still await justice?
These are always difficult questions, because in a democracy one has only one vote to answer with!