30 years of the world's coldest war
April 13, 1984, was the first time Indian troops landed on the icy heights called Siachen Glacier. Hundreds of deaths and three decades on, the battle zone continues to inspire awe and fear. The Tribune takes stock.
By Dinesh Kumar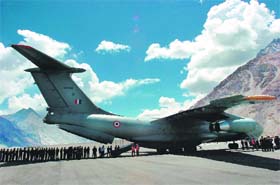 Indian troops boarding an IL-76 transport aircraft of the Indian Air Force at the Thoise air base, near the Siachen Glacier. Tribune file photo: S Chandan
THE bumpy road constructed by the Border Roads Organisation after painstakingly cutting at the mountainside meanders up the imposing rocky Ladakh Range visible from Leh. The slow ride leads to the world's highest motorable pass, the Khardung La at 18,380 feet. It's the highest point on planet earth to which a human being can travel on wheels without having to walk a step.
From there, the road winds down northwards past small hamlets and villages into the Shyok Valley through which the Shyok river snakes its way, eventually merging into the Indus river that flows into Pakistan Occupied Kashmir (POK). After some hours of driving, the Shyok river is greeted by the Nubra river which flows in a southerly direction from the Siachen Glacier.
This point at which the two rivers (known as 'Yankee point') meet becomes a valley wide enough for an Indian Air Force (IAF) Antonov-32 transport aircraft to take a U-turn, usually an extremely hazardous manoeuvre while flying in a valley flanked by imposingly high mountains. A straight drive from there leads to Partapur where the headquarters of the Army's 102 brigade, colloquially known as the Siachen brigade, is located.
Oxygen at a premium
A short distance further up from Partapar is Thoise airbase, which serves as the runway closest to the Siachen Glacier where the IAF's transport aircraft land after some skilful flying through the high mountains. A signboard put up at this airbase tellingly states, 'You are breathing 30 per cent less but pure oxygen'.
A right turn from 'Yankee Point' and a short drive on a bridge over the Shyok river leads into the Nubra valley with the Nubra river to the left. The road goes past the Old Silk Route before culminating at the snout of the 76 km long Siachen Glacier, the world's second largest glacier outside the polar region and also the origin of the Nubra river. From the snout (height approximately 12,000 feet), the glacier extends 76 km like a giant white tongue to as high as 18,875 feet at its source which is Indra Col (24,493 feet), the northern most tip of India.
It is near the snout — blackened over the years due to pollution, human habitation and mixing with gravel from the mountains — where the Army has a major Base Camp equipped with a training school for soldiers, helipads, a battery of the Swedish-made Bofors 155 mm Howitzer, and a memorial with the names of soldiers killed either due to weather, terrain or Pakistani fire over the last three decades among other equipment and facilities.
However, for almost 11 years now, beginning November 2003, both sides are maintaining a ceasefire in the area leaving soldiers on both sides to contend with weather and terrain, which arguably is a far bigger threat than the now silent guns of the adversary located on both sides of the 110-km long Actual Ground Position Line (AGPL) that runs along the Saltoro Ridge.
110 km trek in the freeze
This Base Camp caters for the northern and middle portions of the Siachen Glacier. A second Base Camp, catering to troops deployed in the southern Siachen Glacier, is located ahead of Thoise.
It is from these two base camps that Army soldiers begin their long arduous trek to the 100-odd posts located along the AGPL that begins from map grid reference NJ 9842 all the way northwest to Indra Col, which overlooks the Shaksgam Valley. The altitude of the Saltoro Ridge ranges between 17,800 feet and 25,500 feet, which is barely 3,500 feet less than Mount Everest, the world's highest peak.
The Indian Army is strongly positioned on the Saltoro Ridge, which overlooks Gilgit and Baltistan (POK) in the far distance and is located well ahead of the entire Siachen Glacier. But along with this major strength is also a pitfall. The nearest road head is located as far as 80 km from the farther Indian post. In these high killer mountains, 80 km can seem an endless distance for a soldier who has to spend up to several days traversing the glacier and climbing high peaks to take his position on one of the scores of Army posts dotting the Saltoro ridgeline.
Such distances in the absence of any possible roads on the glacier poses a herculean logistics challenge. How does one transport equipment and supplies? A helicopter? Yes, but it comes at a huge cost. The IAF and the Army Aviation Corps, which flies a range of helicopters – the smaller nubile Cheetah, the larger sturdy Mi-17-1V and the indigenously developed Dhruv advance light helicopter – carry far less than their designated payload.
This is because these helicopters take off from Leh, Thoise and the Base Camp, all of which are located above 10,000 feet and therefore permit carrying only a substantially reduced payload in the rarefied atmosphere.
While Cheetah helicopters can fly up to those posts where makeshift helipads have been created, the much larger Mi-17 and Dhruv helicopters cannot land on these posts and have to mostly airdrop supplies. But most posts cannot be air-maintained since it is not easy to construct helipads at those heights. Soldiers here thus have no option but to trek up the spurs of the Saltoro range carrying supplies on their back.
Survival is the job
What mountaineers elsewhere in the world do as a novelty, the average Indian soldier does as a matter of duty on a routine posting living up to three to six months on icy heights with temperatures dipping as low as minus 40 degrees Celsius. The farthest post – Bana Post at 22,100 feet – takes a soldier up to 20 days of trek to reach.
Indeed, this is a cruelly unique part of the country where breathing is at a premium, bathing a dream, a change of clothes an impossible luxury, and where raging blizzards, sudden deep crevasses in the glacier and unforgiving avalanches devour soldiers like a hungry monster. Then there is always the danger of frostbite leading to gangrene and amputation of a limb and high-altitude pulmonary oedema and memory loss owing to the low content of oxygen.
It is a battlefield fit only for the Gods and not for mortal beings, some would say. Between April 1984 and August 2012, the Indian Army had lost 846 soldiers with many more wounded.
Both sides have deployed a brigade strength (about 5,000 troops) that costs about Rs 5 crore a day to maintain in the region and comprising Infantry battalions along with a host of supporting units. Siachen remains one of the Indian Army and Air Force's greatest story – of valour, grit, fortitude, logistics, manoeuvres, battles and skillful flying. Equally important, there would be scores of human interest stories for every soldier posted in the area. It would arguably surpass the stories of many if not all militaries in the world.
Men who mattered

Lt Gen ML Chibber: Then GOC-in-C, Northern Command, oversaw the conduct of Operation Meghdoot. He had also served as Director Military Operations and GOC of a strike corps.

Lt Gen PN Hoon: As GOC, 15 Corps, Srinagar, he planned and executed the operation. He later served as Director Military Operations and GOC-in-C, Western Command, Chandimandir.

Air Marshal MSD Wollen: A decorated fighter pilot and '71 war veteran, he was Air Officer Commanding-in-Chief, Western Air Command, and responsible for air support for the operation.

Col Narendra 'Bull' Kumar: He was Commandant, High Altitude Warfare School, and carried out mountaineering reconnaissance expeditions in Teram Kangri and Saltoro Range.
Lt Col DK Khanna: Commanding Officer, 4 Kumaon, which marched on foot with full equipment for several weeks across some of the world's toughest terrain and forbidding climate to occupy the glacier.
Capt Sanjay Kulkarni: Recently promoted as Lt General, he was the first person to land on Saltaro Ridge on April 13, 1984, and hoist the Indian flag at Bilafond La. He was awarded Shaurya Chakra.
Sqn Ldr Surinder S Bains and Sqn Ldr Rohit Rai: Posted with 114 Helicopter Unit, they undertook 17 sorties in the early hours of April 13, 1984, to air-drop troops from 4 Kumaon on Saltaro Ridge.
Pakistan's failed attempts
1984..
Pakistanis made their way up to the glacier in 1984 and found elements of 4 Kumaon already entrenched there. The area in question was about 2,300 sq km. After 1984, Pakistan launched several failed attempts to dislodge the Indian forces.
1987..
Another attempt was masterminded by then Brig Pervez Musharraf, who later became the Pakistan president. He was also the architect of the Kargil misadventure in 1999. Pakistan's aim was to capture Bilafond La. A bitter battle ensued, including hand-to-hand combat, and the Pakistani attack was repulsed.
1990-1999..
Further attempts were launched by Pakistan in 1990, 1995, 1996 and early 1999, just prior to the Lahore Summit. Under Operation Badr in 1999, Pakistan's infiltration across the LoC in the Kargil sector was undertaken to sever the link between Kashmir and Ladakh. The idea was to push the Indian Army out, thus forcing India to negotiate a settlement of the broader Kashmir dispute.
Roll of honour

As many as 26 decorations, including a Param Vir Chakra (PVC), five Maha Vir Chakra and 20 Vir Chakra have been awarded to 11 officers and 15 men. Among them nine are posthumous. There have also been a number of Kirti Chakra, Shaurya Chakra, Sena Medal and Vayu Sena Medal recipients.
Naib Subedar Bana Singh of 8 J&K Light Infantry is the only recipient of the PVC so far. In a daring daylight raid, he led an assault on and captured a Pakistani post, Qaid, atop a 22,000-ft-high peak after climbing a 1,500-ft ice cliff face, in 1987. The position was renamed Bana Post.
Op Meghdoot

Launched 30 years ago, Operation Meghdoot is the longest sustained military operation. After India learnt of Pakistan's intent to occupy the glacier, it beat Pakistan by a week to gain control over the area. Troops require arctic clothing and personal equipment, most of which is imported. They get special rations and dietary supplements. State-of-the-art shelters have been made available for them. Actual stay on the glacier does not exceed three months and on completion of 45 days' stay, troops are eligible for award of the Siachen Medal (above), distinguished by its grey and white ribbon.
The cost
Indian soldiers killed: Over 850 soldiers
Pakistani casualties: About 1,800
Annual operation cost: Rs 3,000cr
The glacier
Location: East Korakoram range, northern Ladakh
Length: 76 km
Width: 3 km
Height: Peaks up to 25,000 ft high
Coverage: 700 sq km
Average winter snowfall: 35 feet
Min temperature: Minus 50 degrees Celsius
Fauna: Rare species like snow leopard, brown bear and ibex
Battlefield: World's highest, coldest, most expensive
Since 2007, India has allowed limited civilian trekking expeditions
MANNING SIACHEN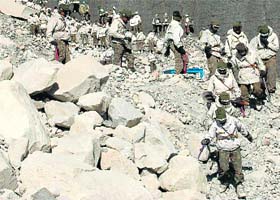 Troops during pre-induction training at the Siachen Battle School. File photo: Manoj Mahajan
The 102 Infantry Brigade, headquartered at Partapur near Thoise, is the principal formation tasked with occupying and defending the glacier. It is part of the Leh-based 14 Corps, raised after the Kargil conflict.
The brigade is supported by artillery, air defence, engineer and other logistic elements. Ladakh Scouts battalions are also deployed in Karu, Nubra, Leh and Partappur areas.
Infantry deployment in the region ranges between five and eight battalions. Troops man outposts and artillery observation posts; maintain helipads and carry out patrols.
The brigade maintains the Siachen Base Camp, which is the launchpad for inducting troops in the glacier and also runs the Siachen Battle School for pre-induction training, orientation and acclimatisation for fresh troops. The base camp is located at about 12,000 feet above sea level, with the highest posts on the glacier being Pahalwan (20,000 ft) and Indira Col.
IAF helicopters units in Leh, Thoise and Srinagar are deployed for air maintenance of forward posts and casualty evacuation. Airlifting troops and supplies to Leh, Thoise and advance landing grounds like Daulat Beg Oldie as well as para-dropping supplies is primarily undertaken by 12 Wing, Chandigarh. The IAF's latest transporters, C-17 and C-130, are also involved in logistic operations.
TIMELINE
1949: The Karachi Agreement demarcated the Ceasefire Line (now LoC) in J&K but stopped at NJ 9842 as both sides agreed it would be understood to extend "thence north to the glaciers". It was not delineated beyond this point after the armies restored status quo ante after the 1971 war.
1974: Pakistan opened the region for foreign expeditions to Baltoro Glacier, near Mount K2, and to explore the no-man's land around Siachen.
1977: Col Narinder Kumar, an ace mountaineer, approached by a German rafter keen to undertake the first descent of the Nubra. He shows a map depicting Siachen as part of Pakistan.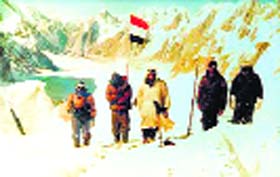 Troops from 4 Kumaon hoist the Tricolour at Bilafond La on April 13, 1984
1978: Col Kumar takes the map to the Army top brass and later leads a reconnaissance expedition to Siachen; tin cans and cigarette packs found with Pakistani names along with German, Japanese equipment.
1983: Both nations carry out several military expeditions to scan the glacier.
1984: Indira Gandhi orders Army to take control of the glacier; Operation Meghdoot launched; India occupies it.
1985: Pakistan attacks Bilafond La; fails to dislodge Indian troops.
1986: Two rounds of defence secretary-level talks resolve to seek settlement in accordance with Simla Agreement.
1987: Infantry battalion dislodges Pakistani troops; captures Qaid Post; talks suspended.
1988: Third and fourth round of secretary-level talks in Islamabad, New Delhi.
1989: Agreement reached on settlement based on troop redeployment; PMs meet in Islamabad, approve results of fifth round of talks; defence secretaries told to arrive at settlement; military commanders resume discussions in Rawalpindi; talks suspended.
1992: Foreign secretaries propose resumption of talks on Siachen; no progress made; talks suspended.
2004: Two rounds of talks in Delhi, but not conclusive.
2005: Ninth and 10th rounds of talks between defence secretaries in Islamabad.
2006: Defence secretary-level talks within the framework of the Composite Dialogue held in Delhi.
2007: Defence secretary level-talks on Siachen held in Rawalpindi.
2011: Defence secretary-level talks in New Delhi; both sides acknowledge ceasefire holding since 2003 and exchanged suggestions towards dispute resolution.
2012: Pak army chief Ashfaq Kiyani proposes demilitarisation of Siachen after avalanche kills 125 Pakistani army men; Indian Army opposes move.
Inputs: Vijay Mohan