Congress plays development card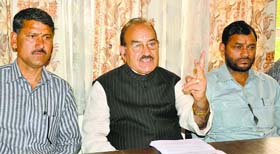 Mandi, April 12
Health Minister and senior Congress leader Kaul Singh Thakur has said the Congress is seeking votes on the basis of development carried by the Central and the state government.


Health Minister Kaul Singh Thakur addresses a press conference in Mandi on Sunday. Photo: Jai Kumar

Development key issue, says CPS
Sundernagar, April 12
Sohan Lal Thakur, Chief Parliamentary Secretary (CPS) and MLA, Sundernagar, has said the main issue during the election will be development by the UPA government.
BJP to sweep state: Shanta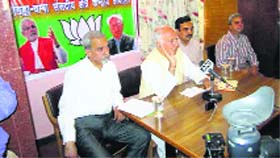 Palampur, April 12
Shanta Kumar, senior BJP leader, today said the BJP would win all four seats. He said public meetings of Congress leaders, including Chief Minister Virbhadra Singh, held in the district had failed to attract crowd, while BJP leaders were getting an overwhelming response from the public.


Shanta Kumar addresses a news conference in Palampur on Saturday. Photo: Ravinder Sood

UPA govt has cheated people: Dhumal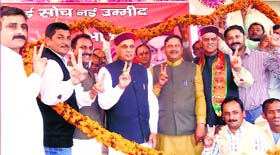 Solan, April 12
PK Dhumal, former Chief Minister, today said the UPA government had cheated people by failing to deposit subsidy in the bank accounts of LPG consumers and this was yet another scam in their 10-year rule.


Former CM PK Dhumal being welcomed at an election rally at Shillai in Sirmaur on Saturday.

3 file papers on day one
Shimla, April 12
Three candidates, two from Shimla (Reserve) and one from Mandi Lok Sabha seat, filed their nominations on the first day of filing of papers today.
BJP govt a failure, says Chander Kumar
Palampur, April 12
Chander Kumar, Congress leader and candidate from Kangra, today said the Congress was the only party which had a planned development agenda for the state, while the BJP had proved to be a failure and development of the state had suffered.
CPM an alternative for voters: Inderjeet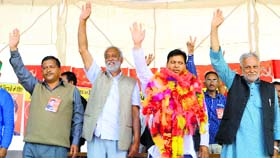 Mandi, April 12
Central Committee member of the CPM Inderjeet has said the Left is an alternative before voters as people are disenchanted with the policies of the Congress and the BJP.



CPM candidate Kushal Bhardwaj and other leaders of the party wave at a crowd in Mandi on Saturday. Photo: Jai Kumar

Find out Modi's source of funding: Virbhadra to EC
Una, April 12
Chief Minister Virbhadra Singh yesterday questioned the source of funding for the massive campaign in the media by BJP prime ministerial candidate Narendra Modi.
Namibia envoy for boosting mutual trade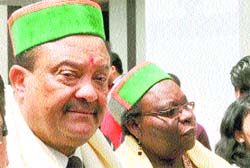 Shimla, April 12
Indians are the best salespersons in the world with outstanding entrepreneurial abilities as the huge population enforces competitiveness among the masses leading to extraordinary results.




Namibia High Commissioner Pius Dunaiski at APG University in Shimla on Saturday. Photo: Amit Kanwar

Baru's book reflects poorly on UPA govt's functioning: Dutt
Shimla, April 12
The BJP today took a dig at UPA chairperson Sonia Gandhi and Prime Minister Manmohan Singh, quoting excerpts from the book written by former media adviser to the PM Sanjaya Baru, where he has written that the "dignity of the Prime Minister's Office was degraded to the lowest ebb during the UPA regime".
'Economic uplift of women must'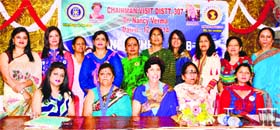 Una, April 12
Economic uplift of women is a must to ensure their overall empowerment, said Inner Wheel chairperson of Rotary District 3070, Dr Nancy Verma here today.


Inner Wheel chairperson of District 3070 Dr Nancy Verma with members of the Una Inner Wheel Club on Saturday. Photo: Rajesh Sharma

Ascetic arrested for raping minor
Una, April 12
The Una police yesterday arrested an ascetic from a village in Haroli block for allegedly raping a minor girl.