G R O U N D Z E R O
Nuclear doctrine not matter for fiddling
By loosely talking of "revising" the nuclear doctrine that Vajpayee's government had enunciated, the BJP raised an unnecessary controversy. Modi was wise to clarify that he was not for altering the 'no first use' posture.
Raj Chengappa

Tucked away towards the end of the Bharatiya Janata Party (BJP) manifesto for General Election 2014 was an innocuous sub-paragraph titled "India's Strategic Nuclear Programme", which has been the subject of much controversy since the BJP released the document a fortnight ago. After taking a pot-shot at the Congress for having "frittered away" the "strategic gains acquired by India during the Atal Bihari Vajpayee regime", the manifesto went on to state that the "BJP will study in detail India's nuclear doctrine and revise and update it, to make it relevant to the challenges of current times."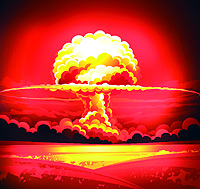 Any such statement coming from the party that ended the ambiguity over India's nuclear bomb capability by conducting a series of tests in May 1998 is taken seriously across the capitals of the world. For it was in 2003, four years after the tests, that the BJP government led by Vajpayee formally announced India's nuclear weapons doctrine. The salient points of the doctrine were that India would build and maintain a "credible nuclear deterrent", that it would observe a posture of "no first use", meaning that India would use its nuclear weapons only in retaliation against a nuclear, chemical or biological weapons attack on Indian territory or Indian forces anywhere and that India's nuclear retaliation to a first strike against it by any other country would be "massive" and designed to inflict "unacceptable damage".
Since then the Congress-led UPA governments have made no public announcements of changes in the nuclear doctrine. However, the BJP is unfair in stating that successive Congress governments had frittered away the gains. Prime Minister Manmohan Singh's crowning achievement in foreign policy during his 10-year rule was the signing of the Indo-US nuclear deal that saw India break free from its nuclear pariah status and be accepted as a responsible nuclear power. This was achieved without compromising India's strategic nuclear capability as the deal kept the weaponisation programme out of the ambit — a remarkable feat that became the envy of Pakistan and other countries.
The deal saw the international ban on exporting nuclear fuel and selling much needed nuclear power technology to India being lifted. The immediate benefit was that several nuclear power plants in India that were languishing because of a lack of fuel started functioning to capacity after India was able to import nuclear fuel. But the UPA government shot itself in the foot by yielding to pressure from both the BJP and the Left and passing a stringent nuclear liability Bill in Parliament that has dissuaded foreign civilian nuclear power corporations, including Russians, from setting up plants in India.
On the strategic front, the UPA's tenure saw India's nuclear delivery capability being extended to China with the range of the Agni series of missiles crossing 5,000 km. Under the UPA, the Arihant, India's first indigenously built nuclear powered submarine, went 'critical' and is now awaiting sea trials. When inducted next year, the Arihant would form the third leg of its nuclear triad of delivery vehicles — the other two being missiles and aircraft. Meanwhile, the Defence Research Development Organisation is perfecting a range of Submarine Launched Ballistic Missile (SLBMs) that are to arm the Arihant. Once commissioned, the Arihant, with its stealth prowess, would enhance the range of India's nuclear strike capability, pushing it even beyond China.
So the BJP's remark about the Congress' performance or the lack of it on the nuclear weapons issue is short-sighted. By and large, successive governments and prime ministers have maintained a rare continuity and consensus about India's nuclear weapons programme. Vajpayee would not have been able to order the 1998 nuclear tests just months after his second tenure had the previous Congress-led government headed by PV Narasimha Rao not kept India's nuclear option in a state of readiness. To Vajpayee's credit, he took the bold step of conducting the tests in the face of stiff international opposition and after that weathered the sanctions that were imposed on India. In fact, every government since Independence has done its bit to enhance India's nuclear programme.
By loosely talking of "revising" the doctrine that Vajpayee's government had enunciated, the BJP had raised an unnecessary controversy. There was concern that the BJP was planning to shed the "no first use" posture, thereby moving away from the national consensus that India's nuclear weapons were meant only as a tool of deterrence and were not to be used for an offensive first strike. The BJP's Prime Ministerial candidate Narendra Modi in a TV interview last week wisely clarified that if he came to power he would not alter the doctrine that Vajpayee had laid down, especially the 'no first use' posture. There is certainly scope to fine-tune India's nuclear policy and speed up programmes needed to keep its deterrent "credible". That is a valid exercise for any new government. But where India's nuclear weapons are concerned, political parties should avoid chest-thumping or knee-jerk reactions.