Betting racket thrives in the city
Ludhiana, April 19
Though the city police were patting their back for busting two betting rackets operating in different parts of the city, the fact remains the police are legally ill-equipped to check the menace.
DMCH team breathes life into 500 gm baby
Ludhiana, April 19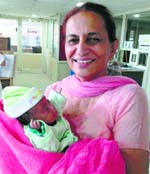 Paramjeet Kaur (54), a resident of Jaito, had no words to express her joy when she came to know that experts at the Dayanand Medical College and Hospital had successfully delivered her baby girl weighing only 500 gm on December 6 The baby was delivered after only six months of gestation period. After staying at the hospital for about three months, both the mother and the baby were discharged from the hospital a few days ago. The baby weighed 1.8 kg when she was discharged.

54-year-old Paramjeet Kaur with her daughter Angel at the DMCH. a tribune photograph
Educational institutions to remain closed on April 29
Ludhiana, April 19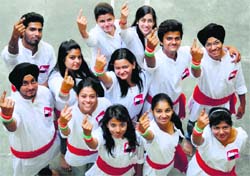 District Electoral Officer-cum-Deputy Commissioner of Ludhiana Rajat Aggarwal said in view of the Lok Sabha elections on April 30, all educational institutions of Ludhiana district (both private and government) will remain closed on April 29 (local holiday).




Students of the GNIMT, Ludhiana, show the ink marks during a promotional programme. Tribune Photo




ludhiana votes 2014
Bansal gives fillip to Bittu's campaign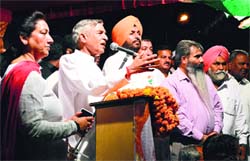 Ludhiana, April 19
Congress candidate for the Chandigarh Lok Sabha seat Pawan Kumar Bansal campaigned for party candidate from the Ludhiana constituency Ravneet Singh Bittu at ward number 55.


Congress candidate for the Chandigarh Lok Sabha seat Pawan Kumar Bansal campaigns for Ravneet Singh Bittu in Ludhiana. Photo: Inderjeet Verma
People fed up with SAD: Bains
Ludhiana, April 19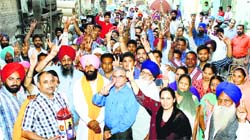 Independent candidate for the Ludhiana Lok Sabha seat Simarjit Singh Bains met residents and took out rallies at various places in the city. He inaugurated election offices in the Sidhwan Bet area and Circle Jodha of the Dakha. He also organised a road show.


Independent candidate Simarjit Singh Bains with supporters in Ludhiana. A Tribune photograph
Will tide over residents' problems: Ayali
Ludhiana, April 19
SAD-BJP candidate from the Ludhiana constituency Manpreet Singh Ayali today assured village residents of tiding over their problems. He rallied at Gill. He said providing basic facilities to the residents was his priority. He also addressed meetings at Himmat Singh Nagar, Karnail Singh Nagar and Basant Vihar.



SAD-BJP candidate Manpreet Singh Ayali canvasses in Ludhiana. A Tribune photograph
Flag march by Jagraon police personnel
Jagraon, April 19
The Jagraon police took out a flag march in the town today. The march started from the police lines and passed through Tehsil Road, Rani Jhansi Chowk, Kamal Chowk, Lajpat Rai Road and Railway Road.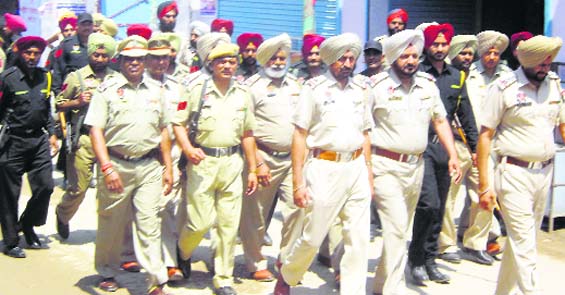 Police personnel met residents and sought their cooperation in Jagraon. A Tribune photograph
Criminal attempts suicide in police custody
Ludhiana, April 19
Criminal Munna, who was behind two overnight robberies, kidnapping of head constable Rakesh Kumar, attempted suicide by slitting his wrist in custody of the Sahnewal police.


Chess: Jalandhar emerge victorious
Ludhiana, April 19
Participants from Jalandhar stamped their supremacy in the boys' section clinching titles in the U-9 and U-15 categories during the Punjab State Chess Championship (girls and boys) that concluded at St Thomas Senior Secondary School, Brown Road, today.