Gender issues find space in manifestos
Through programmes like 'Know Thy Candidate' women's organisations are spreading awareness across the electorate on how different parties deal with gender issues. About 1000 NGOs working for women's rights have made a difference in the way manifestos have treated gender issues for the general election
Vibhuti Patel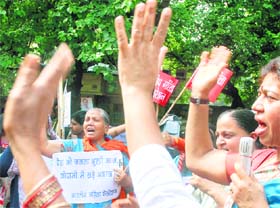 For close to 6 months, Women Power Connect (WPC), a decade old coalition of national level organisations with membership base of 1000 NGOs and individuals in 28 states, is making efforts to get gender concerns reflected in the manifestos of different political parties for the 16th Lok Sabha Election. WPC serves as the largest advocacy body for women in India, as women's groups and individuals under its umbrella are working together for formalising the process of legislative coordination by holding meetings, workshops and guided discussions with major political parties. They are also sensitising them on issues that deserve immediate attention, such as declining sex ratio, child marriage, migration and trafficking, child sexual abuse, domestic violence, safety of women, social security for women farmers, 33 per cent reservation for women in Parliament and Legislature, facilities for urban working women, land and housing rights of women etc.
WPC also alerts the political parties about the need for affirmative action for women in economic services, welfare services and social defense as well as translation of gender commitments to financial commitment, with the help of gender budgeting. Between November 2013 and April 2014, WPC organised innumerable issue-based workshops in Delhi and the rest of India involving women activists, elected representatives and office-bearers of Indian National Congress (INC), Bharatiya Janata Party (BJP), Janata Dal (JD), Rashtriya Janata Dal (RJD), Socialist Party(SP), and Communist Party of India(CPI) and others.
Womanifesto
The manifesto by women groups released in English and Hindi on March 8, 2014, is translated by women's rights groups into Hindi, Bengali, Marathi, and Kannada. It has been endorsed by thousands of women's groups across India and has provided a rallying point for 'Know Thy Candidate' programmes across country, in terms of making women conscious of how different parties deal with women's issues. Aam Admi Party (AAP) was the first political party to endorse it. All the national and majority of regional political parties have included 6 points of womanifesto; educate for equality, make laws count, put women in power, police for the people, swift, certain justice and support to survivors of violence in their declaration for the Lok Sabha Election and election speeches.
Women's Coalition for Change (WCC), a network of grassroots women's organisations in Tamilnadu headed by Fatima Natesan of Rural Women's Liberation Organisation has been actively lobbying for its manifesto with important concerns of women from marginalised communities — washerwomen, Dalit and tribal women, transgender people, the differently abled, commercial sex workers and agricultural labourers. WCC has acted as a catalyst for women voters in neighbouring states like Karnataka, Kerala and Andhra Pradesh.
We can see its impact in terms of incorporation of gender concerns in election manifestos of major mainstream political parties and regional parties as well.
Empowerment of girls: In the 16th Lok Sabha Election Manifesto BJP has promised to launch a national campaign to save the girl child and promote education of girls. INC and AAP manifestos have demanded strict implementation of PCPNDT Act to stop sex selective abortions of female foetuses. Trinamool Congress manifesto declares, "A special thrust will be given on empowering the 'girl child'."
Women workers: The Election Manifesto of Communist Party India Marxist Leninist (CPIML) has promised secure, dignified, remunerative employment for women and has given great emphasis on regularisation of contract labour and increase in minimum wages. CPIML has also stressed upon the long-standing demand of the women's workers employed in work of perennial nature to be regularised, the principle of equal pay for equal work to be upheld in every field, ASHA, Anganwadi, mid-day meal workers are to be treated as regular employees with proper pay scales and minimum wages are to be raised to Rs 15000 per month, as per its manifesto.
Social Security for women has been promised by a veteran feminist and founder of Women's Voice (WV), National Federation of Dalit Women (NFDW) and president of National Alliance of Women (NAWO) Ruth Manorama who is contesting Lok Sabha election on Janata Dal (Secular) seat of Banglore.
Implementation of legislations
INC, BJP, AAP and CPIM have proclaimed to implement women related laws to stop sex selective abortions by strict implementation of PCPNDT Act, 2002, Prevention of Domestic Violence Act-2005, Sexual Harassment of women at work-place (Prevention, Prohibition and Redressal) Act of April, 2013, Rape laws — the Criminal Law (Amendment) Act, 2013 that makes stalking and cyber stalking (Section 354 D), voyeurism (Section 354 C) and sexual harassment a crime and also provides for the death penalty for repeat offenders or for rape attacks that lead to the victim's death and Protection of Children from Sexual Offences Act, 2012, that covers offences of sexual assault, sexual harassment and pornography. INC has promised strict implementation of the Prohibition of Child Labour Act. The election manifesto of Socialist Party (India) for the 16th Lok Sabha Election promises to strive "to eliminate gender discrimination and will support affirmative action in favour of women in all legislative and other institutions."
Basic amenities
CPIML has highlighted access to clean toilets for all women, in homes as well as in public spaces, and access to regular, safe public transport to be ensured. Janata Dal (Secular) has also promised to stop manual scavenging in which women are predominantly employed. INC had made a declaration for eradication of open defecation, though not a gender specific issue, it robs women of their basic dignity given the cultural milieu.
Women's reservation
This has been the longest pending demand by women's organizations. INC has declared women's reservation as a top priority. While BJP, CPI (M), CPI (ML) have demanded 33 per cent reservation for women in Parliament and assemblies, Trinammol Congress has given a genenralised statement of empowering women in every walk of society, economy and polity. Bahujan Samaj Party (BSP) and Rashtriya Janata Dal (RJD) have asked for reservation within reservation for ST, SC and OBC women. In its agenda for immediate action, the Socialist Party has demanded passing of Women's Reservation Bill.
Safety for women
The INC has promised to pass Citizens' Charter for safety of women, special protection for Dalit women and fast- track courts to deal with crimes against women. Both, INC and CPIML have supported 24-Hour-One-stop Crisis centres to be established in the government hospitals. CPI (ML) has stated in its manifesto that safe shelters must be instituted in each police district for women survivors of violence, speedy justice, compensation and rehabilitation be ensured for survivors of rape and acid attacks and gender-sensitive police and prosecutorial procedures must be strictly followed, and the number of judges and courts should be expanded to ensure speedy justice in every case related to sexual violence.
BJP has promised strict implementation of laws related to violence against women. CPI (M) has emphasised enactment of laws against honour crimes and trafficking of girls and women, laws for joint matrimonial property rights and strengthening of maintenance Act to ensure safe survival of women and children. Janata Dal (Secular) candidate Ruth Manorama has focused in her election campaign on stringent implementation of laws for a safe and secure city for women –- violence free homes and a violence free community.INC manifesto asks for all police stations to have at least 25 per cent women staffers. Socialist Party has promised Special Tribunals to be set up to ensure justice in long-pending cases of custodial rapes. 
Controversial Uniform Civil Code
BJP is the only mainstream political party that has demanded UCC that has a history of bitter identity politics. Women's organisations support gender-just family laws governing marriage, divorce, property rights, maintenance, alimony, right to equal share in matrimonial or parental homes, guardianship of children etc. At the same time they believe that demand of UCC does not ensure gender justice, it only creates polarisation on religious grounds and divides women of different religious beliefs.
Honour crimes
AAP's declaration of Khap Panchayats in Haryana as 'informal social groups' has irked women's rights activists who are asking, how could AAP turn a blind eye to crimes committed in the name of honour by the diktat of Khaps and resulted in painful deaths of many young couples who opted for love marriage. The terrorisation, humiliation and intimidation faced by surviving victims and their relatives caried under Khap Panchayats observation has earned annoyance of the educated voter.
Proclamation and praxis
While talking about gender concerns in election manifestos of the national and regional political parties, we must remember that none of them has implemented a code of conduct to disqualify electoral candidates who have committed crimes of gender-violence, made misogynistic comments or shown such behaviour, nor have they ensured zero tolerance for moral policing by candidates associated with their party. Association of Democratic Reforms (ADR) based in Delhi has revealed hundreds of men accused of sexual violence towards women have been allowed to contest elections, including more than 32 candidates charged of rape. Last week, after massive public outcry, candidature for Lok Sabha Election of Pramod Muthalik of Sri Ram Sene in Manglore who had indulged in act of 'moral policing' against pub culture and had organised violent attack on young women visiting a pub in Manglore, was withdrawn by BJP.
It is a matter of deep regret that in the manifesto, none of the political parties has demanded 'code of conduct' of decent behaviour from their candidates and activists in their personal lives, while dealing with their women colleagues and in the rallies and political gatherings. Manhandling of Nagma by her own party MLA Gajraj Sharma in Meerut shamed the Congress party. Even while allocating seats to contest election, they have not promoted veteran women political activists of their own party. Most of the political parties have used their women workers only as foot soldiers.
The writer teaches at SNDT Women's University, Mumbai.
LGBT community
For the democratic rights of lesbians, gays, bi-sexual and transgender communities only INC, Trinamool Congress, CPIM and CPIML have come forward in support. The INC has supported gay rights and demanded consensual sexual relations between adults of the same sex should not be criminalised. They have criticised Section 377 of Indian Penal Code that states, 'Whoever voluntarily has carnal intercourse against the order of nature with any man, woman or animal shall be punished with imprisonment for life, or with imprisonment of either description for term which may extend to ten years, and shall also be liable to fine.' CPM in its manifesto has promised decriminalisation of Section 377 of the Indian Penal Code that deals with adult consensual relationships. CPIML manifesto demands revoking of Section 377.
Earlier, at the time of election of Delhi Legislative Assembly, AAP had declared Section 377 as 'an infringement of basic human right'. Now, for Lok Sabha Election, the AAP manifesto is silent on decriminalising of sexual relations between consenting adults of the same sex. Most of the regional parties are silent on LGBT rights while BJP is supporting Section 377 of IPC and it also favoured the Supreme Court verdict of December 11, 2013, that termed acts of homosexuality a criminal offense under Section 377.
Mind the gap
The manifestos of major political parties address gender issues with sensitivity. At the same time, Association of Democratic Reforms (ADR) found hundreds of men accused of sexual violence towards women have been allowed to contest elections, including more than 32 candidates charged of rape.
For the democratic rights of lesbians, gays, bi-sexual and transgender communities only INC, Trinamool Congress, CPIM and CPIML parties have come forward in support.
AAP's declaration of Khap Panchayats in Haryana as 'informal social groups' has angered women's rights activists. The party is perceived to be most radical among other political groups.
Samajwadi Party is perhaps the only political party that has openly opposed the new laws against rape and sexual crimes and promised to revive them, if voted to power.