Patiala ex-Mayor Vishnu joins SAD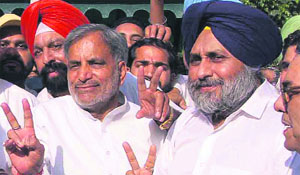 Patiala, April 23
Former Patiala Mayor Vishnu Sharma along with a few other Congress workers today formally joined the SAD in the presence of Deputy Chief Minister Sukhbir Badal. The development, on the eve of the elections, is seen as a coup of sorts by the SAD. At Sharma's house, Sukhbir said the former Mayor had a good rapport with the people in the Assembly segments.

Deputy CM Sukhbir Badal with Vishnu Sharma in Patiala on Wednesday. Tribune photo: Rajesh Sachar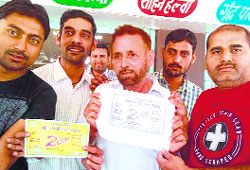 For Rs 1 cr lottery winner, it is life as usual
Abohar, April 23
Subhash Chander Sharma (45), for whom a search was launched yesterday as he had won a Punjab Government lottery of Rs 1 crore, finally turned up the stall concerned at Ghantaghar Chowk in Abohar. Subhash's friend Rupesh had purchased two tickets, one for Subhash and other for himself, from the stall.


The winner of Rs 1 crore prize money, Subhash Sharma (centre), with friends in Abohar. A Tribune Photograph

Notice to Capt, Jaitley for 'understating' poll expense
Amritsar, April 23
Both the SAD-BJP candidate Arun Jaitley and Congress candidate Capt Amarinder Singh have been issued notices for under-stating their poll expenditure.





creating awareness:

Students of Satya Bharti School, Phaguwala (near Sangrur), taking out a voter awareness rally on Wednesday. Tribune photo
BJP, RSS workers also involved in riots: Cong
Amloh, April 23
Shakeel Ahmed, AICC General Secretary and Punjab affairs in charge, today alleged that BJP leaders Arun Jaitley and LK Advani had tried to rescue 49 RSS and BJP workers named in an FIR on the 1984 anti-Sikh riots in Delhi.
from the war room
Bains relying on army of friends
Ludhiana, April 23
The indomitable Simarjit Singh Bains, Independent candidate from the Ludhiana Lok Sabha constituency, starts his day at 5 am. He meets his core team comprising his brothers and friends for an update on his poll campaign. After a hectic day, he returns home past midnight.
Kant no criminal, order CBI probe: Congress
Chandigarh, April 23
The Punjab Pradesh Congress Committee (PPCC) today demanded an impartial inquiry by either a sitting judge of the High Court or the CBI into the disclosures made by former DGP Shashi Kant regarding the involvement of powerful politicians in the drug trade.

Badal Govt anti-Dalit: Surjewala
Jalandhar, April 23
All India Congress Committee spokesperson Randeep Singh Surjewala has termed both the SAD-BJP government in Punjab and the BJP government in Gujarat "anti-Dalit."



Randeep Singh Surjewala in Jalandhar on Wednesday. Tribune photo: Malkiat Singh

23 candidates in state booked in criminal cases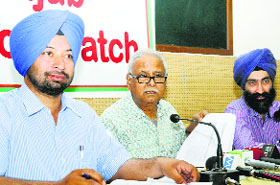 Chandigarh, April 23
As many as 23 out of the total 253 candidates contesting the forthcoming Lok Sabha poll in the state have declared that criminal cases are pending against them in the affidavits submitted to the Election Commission (EC). There are at least 20 candidates, who have cases of attempt to murder and criminal intimidation pending against them.


Jagdeep Chhokar, founder of National Association for Democratic Reforms, in Chandigarh on Wednesday. Tribune photo: Manoj Mahajan

Ramdev canvasses for BJP
Amritsar, April 23
Coming out in support of BJP candidate Arun Jaitley, Yoga guru Baba Ramdev today urged residents of the holy city to vote for BJP for a "stable, experience and honest government at the Centre".
Rahul rally faces another hurdle; Cong cries foul
Bathinda, April 23
The district administration has given permission to the district Congress committee (DCC) for AICC vice-president Rahul Gandhi's rally at the Model Town Phase III ground on April 28.
Harsimrat vows scheme for girl students
Chandigarh, April 20
Bathinda MP Harsimrat Badal today promised to establish more model and adarsh schools in her constituency besides initiating a scheme to upgrade skills of girl students.



Youths at CM's village seek jobs
Badal (Muktsar), April 23
Unemployment is a major election issue in the native village of five-time Chief Minister Parkash Singh Badal. Several youth in the village that has a population of nearly 3,000 people are jobless.
Upset with Maya, Kanshi Ram's village discards BSP
Khwaspura (Anandpur Sahib), April 23
This non-descript village on the fringes of Ropar is where the founder of the Bahujan Samaj Party (BSP), the late Kanshi Ram, was born and raised. It is here that his ambition of providing a political platform to the Dalits was born. But other than a water tanker in the shape of an elephant (BSP party symbol), atop the house of Kanshi Ram's brother, there is nothing to remind one of his legacy.
First-time voters in Gurdaspur firm on bringing about change
Gurdaspur, April 23
First-time voter Dr Aarushi Sharma is disgruntled with the system. She says she needs a change. In Gurdaspur, which has added 57,000 new voters to its electoral rolls, there are many like her who belong to a generation which is repelled to caste or religion-based politics.
Women resent poll duty in far-off areas
Abohar, April 23
Resentment prevails among more than a hundred women teachers of government schools as they have been directed to report for election duty in Jalalabad, the segment represented by Deputy Chief Minister Sukhbir Singh Badal.
Breach in canal damages crop
Abohar, April 23
A breach in the Panjawa minor sub-canal affected the standing wheat crop spread over 50 acres of land in Haripura village today.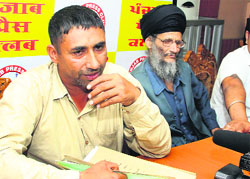 Police say can't cancel FIR against Orbit bus conductor
Jalandhar, April 23
Despite a compromise between the conductors of Orbit Bus Service and the Pepsu Road Transport Corporation (PRTC), the Jalandhar Police Commissionerate has been unable to cancel the FIR registered in the case owing to legal reasons.


Employees of Orbit Bus Service talking to the media in Jalandhar on Wednesday. Tribune Photo: Sarabjit Singh

Parents resent DEO's order to depute students at polling booths
Fatehgarh Sahib, April.23
Resentment prevails among parents as well as teachers against an order of District Education Officer (Secondary) for deputing students, including girls, at polling booths to help voters.
SAD nominee Gulshan faces series of protests in Moga
Moga, April 23
Akali candidate from the Faridkot (reserved) constituency Paramjit Kaur Gulshan is facing a tough time as protests continue to disrupt her election campaign. During her visit to the district today, the Valmiki community protested, raised slogans against the SAD-BJP Government and burnt the effigy of Gulshan in the city.

protests galore: Members of the Valmiki community burn the effigy of SAD candidate Paramjit Kaur Gulshan in Moga on Wednesday; (right) she confronts a 70-year-old man after he cornered her on the drug issue. Tribune photos
Inmates die cleaning sewerage, families blame jail officials
Patiala, April 23
A day after the death of two inmates of the Central jail here while cleaning a sewerage line, their families today demanded registration of a case against the jail authorities for making them do "life-threatening works".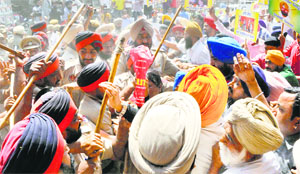 Anti-Congress riot victims protest
Amritsar, April 23
Even as a group of 1984 riot victims today burnt the effigies of Congress leader Jagdish Tytler and Congress candidate Capt Amarinder Singh here today, another group questioned BJP candidate Arun Jaitley's "double standards" on the issue.


on warpath: Protesters being stopped from marching towards Capt Amarinder Singh's election office in Amritsar on Wednesday. Tribune Photo: Vishal Kumar

EC restrictions on family functions
Chandigarh, April 23
Chief Electoral Officer VK Singh has said no family function will be allowed in the state from April 28 till April 30 without information to the Returning Officer concerned.
EC teams seize Rs 13 lakh
Phagwara, April 23
Two teams of flying squads formed by the Election Commission seized currency worth Rs 13,16,500 from two cars near Club Cabbana on the national highway. A sum of Rs 12,16,500 was recovered from a Nissan Sunny car number PB-10DP-5244 and Rs 1 lakh was recovered from a Swift car number DL-9C-9911. — OC


mustering numbers: People turn out in large numbers for BJP candidate Arun Jaitley in Majitha on Wednesday as his Congress rival Capt Amarinder Singh addresses a rally in Amritsar. Tribune photos: vishal kumar
wooing voters: An elderly woman blesses Congress candidate Partap Singh Bajwa at Nanowal village in Gurdaspur; and (right) Chief Minister Parkash Singh Badal addresses a rally in Mansa. Tribune photos

case against dgp saini
Prime witness to be examined
Chandigarh/Delhi, April 23
A trial in the wrongful confinement and abduction case against Punjab DGP Sumedh Singh Saini at Delhi has trudged a step forward.
HC Bar Association poll today, keen contest on cards
Chandigarh, April 23
A day before the Punjab and Haryana High Court Bar Association elections, one of the candidates for the president's post, Ranjan Lakhanpal, today virtually launched a crusade against the Bench for the "rights of advocates".
Moga bar association poll today
Moga, April 23
The elections of the district bar association in Moga will witness a contest between an old stalwart Nasib Singh Bawa and the sitting president Ramesh Grover, a young lawyer, on Thursday.
Liquor seized in Lehragaga
Sangrur, April 23
The district police today seized at least 1,600 cartons of liquor in Lehragaga. Sangrur Senior Superintendent of Police Mandeep Singh Sidhu said on a tip-off, a police team raided an old liquor vend. Its locks were broken in the presence of duty magistrate and excise officials.
Cop killed in accident
Tarn Taran, April 23
A Head Constable of the Punjab Police was killed in a road accident here today. Balwinder Singh (42) of Gaggobua village was posted at Amritsar district. After duty hours, he was going back to his village on his motorcycle when he was hit by a car. He received head injuries and died on the spot. The Chabal police have registered a case against the driver of the car, who fled from the spot. — OC