Jangi Paltan veterans visit 1971 Indo-Pak battlefields

Over 42 years after the First Battalion of the Maratha Light Infantry, also known as the Jangi Paltan, had played a decisive role to establish Indian dominance at Tangail, north of Dacca, during the 1971 Indo-Pak war, a handful of veterans from the battalion visited the battlefields earlier this month where they had linked up with paratroopers, repulsed Pakistani attacks and cut off their retreat routes.
Among them were Lt General Satish Nambiar, Brig BK Ponwar, Col Subhas Kulkarni, Lt Col Mahaesh Sachdev and Lt Col KS Puntambekar. The visit was coordinated by the Defence Adviser in the Indian High Commission at Dhaka, Brig PC Thimmaya.
The Bangladesh Army chipped in with liaison officers and all logistical and administrative arrangements.
The trip included visits to an ambush site at Kamalpur near the border with Meghalaya, where the unit had decimated a Pakistani heavy mortar battery and the bridge near Tangail that had been the centrestage of the para-drop operations.
The veterans also laid wreaths at war memorials and visited museums dedicated to the 1971 war, interacted with Bangladeshi war veterans and freedom fighters and called upon the Minister of Liberation War Affairs, AKM Mozammel Huq, and Chief of the General Staff Lt Gen Mohammed Mainul Islam.
First Gorkha Rifles turns 199
Indian Army's senior-most Gorkha regiment, the First Gorkha Rifles (1GR) is just a year short of 200.
Raised from the remnants of Gen Amar Singh Thapa's forces on April 24, 1815 at Sabathu in the Shivalik foothills near Shimla, the regiment has a long and chequered history with 31 battle honours, two Victoria Cross, one Param Vir Chakra and seven Maha Vir Chakra awarded to it during campaigns across the globe.
At present, 1 GR comprises five battalions. Captain Gurbachan Singh Salaria, the only recipient of the Param Vir Chakra during UN peacekeeping service overseas, belonged to 1 GR.
Another Gorkha outfit, the Third Gorkha Rifles, also traces its origin to April 24, 1815, but the unit was initially raised as a "Kemaoon' Battalion, with majority of the troops being drawn from Kumaon and Garhwal regions. It was re-designated as 3rd Queen Alexandra's Own Gorkha Rifles in 1907.
Online petition to save INS Vikrant
About 10,500 signatures have been received for an online petition launched to save INS Vikrant, India's first aircraft carrier, from being scrapped.
The petition has urged the President Pranab Mukherjee, Chief Justice of India P Sathasivam and Defence Minister AK Antony to order a stay on the breaking up of the ship. The petition contends that the popular sentiment of the people of India is that INS Vikrant should be converted into a maritime museum ship that can sustain itself through visitor fees as well as foreign exchange from foreign visitors.
The petition, launched by a Mumbai resident, states that the ship has great historical value and will be highly resourceful for students of history, military science and the general public.
Army's grand old lady turns 99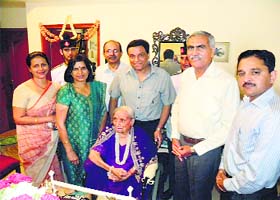 Rajkumari Shrinagesh (99) with Army Generals on her birthday.
It was a pleasant surprise for Rajkumari Shrinagesh, wife of the Army's third Indian chief, late General SM Shrinagesh, when on her 99th birthday she was felicitated by senior officers.
She was celebrating the event in Gurgaon this week with her close and extended family, children, grandchildren and great grandchildren when Army Chief General Bikram Singh and his wife Bubbles sent her a bottle of champagne, flowers and a cake with a card that read "From all officers of your army".
Kumaon regimental band played some nostalgic tunes and the Army's Quarter Master General, Lt Gen Om Prakash, Additional Director General Public Information, Maj General Bobby Mathews and National Security Guard IG (Operations) Maj Gen BS Das and Lt Col RS Pathania — all from the Kumaon Regiment — came to pay their respects to "a link to a glorious past" of their regiment.
The grand old lady, who has an agile mind, recalled her splendid association with the Army when she said that she remains wedded to the great institution. Her face lit up with joy when the five sparklers placed on the cake illuminated, celebrating her long association with the Army.
(Vijay Mohan and Vandana Shukla)