EC lifts ban on Amit Shah's campaign in UP
New Delhi, April 17
In a major relief to Narendra Modi's close aide Amit Shah, the Election Commission today lifted its ban on his participation in Lok Sabha poll campaign in Uttar Pradesh after he assured the poll body that he would not disturb the public tranquility and law and order. The Commission allowed Shah to hold public meetings, public rallies and roadshows and take out public processions in UP, an EC order said.
ULFA disowns its leader for contesting poll
Guwahati, April 17
The pro-talks faction of ULFA today called upon voters in the Kokrajhar constituency not to vote for former ULFA militant leader Naba Kumar Sarania (Hira), who was contesting the parliamentary elections as an Independent candidate. By participating in the elections, Sarania had belittled the "sacrifices" made by hundreds of ULFA men for their "national struggle", the outfit alleged.
SC: No legal hurdle for Prez to dissolve Delhi Assembly
New Delhi, April 17
The Supreme Court today said that there is no legal impediment for the President to dissolve the Delhi Assembly to pave the way for fresh election in the state. A Bench headed by Justice RM Lodha, however, clarified that it is not passing any direction in any manner in this regard and it is for the President to decide on the basis of the facts and circumstances.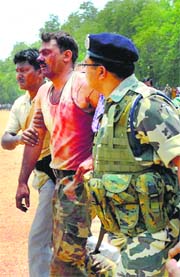 red terror raises its head again: An injured CRPF jawan being taken for treatment after an explosion triggered by Maoists at Bermo in Bokaro district of Jharkhand on Thursday. PTI
Many BJP leaders wanted not to make Modi PM: Mulayam
Etawah (UP), April 17
Samajwadi Party chief Mulayam Singh Yadav today claimed that several BJP leaders have "contacted" him to prevent Narendra Modi from becoming the Prime Minister.
Non-contact wars in future: DRDO chief
Chennai, April 17
As future combats are predicted to be 'non-contact wars', India was focussing on developing robotics, underwater vehicles and unmanned systems, a top Defence official said here today.
MMS of Dutt partying during parole goes viral
Mumbai, April 17
An MMS of actor Sanjay Dutt in high spirits at a party bitching about colleagues in the film industry has gone viral. The buzz in the industry is that the MMS clip was shot by a top actor who was among a handful of Dutt's friends who had gone to his home for dinner. The clip shows him clowning around, playing an imaginary guitar apparently after several drinks. Though the comments on some of other actors in the industry appear harmless, the clip being shared online is seen as embarrassing to the actor.
Cabinet allows Prasar Bharti vacancies to be filled as per existing provisions
New Delhi, April 17
The Union Cabinet is learnt to have given the green signal to an Information and Broadcasting ministry proposal which wanted key positions in Prasar Bharti to be filled as per the existing provisions. The ministry had sought the cabinet approval as a GoM had earlier recommended that the upper age limit of senior functionaries of Prasar Bharti be lowered to 55 years. —PTI
SC turns down plea against caste-based Army recruitments
New Delhi, April 17
The Supreme Court has dismissed another petition seeking to restrain the Army from recruiting personnel "on the basis of caste, religion and region.
Cong digs out VCD of Uma slamming Modi
New Delhi, April 17
Mining out fresh ammunition for a prospective slugfest, the Congress today released a three-year-old video clip in which senior party leader Uma Bharti has purportedly described Narendra Modi as an agent of destruction and his development claims of Gujarat as a 'sham'.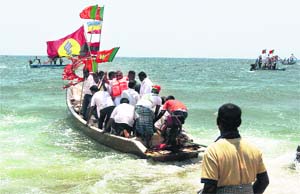 poll wave: BJP senior leader and South Chennai Lok Sabha constituency candidate L Ganesan and his supporters at an election rally at sea in Chennai on Thursday. pti
Use iron hand to deal with PIL misuse: SC to courts
New Delhi, April 17
The Supreme Court today advocated that the Judiciary should deal with "iron hand" the misuse of Public Interest Litigation (PIL) which is being exploited for the benefit of individuals.
Not allowed to vote, man commits suicide
Lucknow, April 17
A 40-year-old labourer, Hari Singh, committed suicide outside a polling booth in the Aonla Lok Sabha constituency in Bareilly district reportedly after he was not allowed to cast his vote.
PGI's neuro lab awarded for global research standards
Chandigarh, April 17
The Neuroscience Research Laboaratory at the Post Graduate Institute for Medical Education and Research (PGIMER) has won DL Shah Quality National Award of the Quality Council of India (QCI).