Sukhbir blames Centre for drug flow into state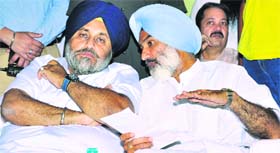 Rajpura, April 18
Deputy CM Sukhbir Badal today said the SAD manifesto would be released on Monday. He said his party would ensure a Common Minimum Programme with the NDA to safeguard the interests of the state.


Exchanging notes: Deputy CM Sukhbir Badal (L) with SAD candidate Deepinder Dhillon in Rajpura on Friday. Tribune photo

CM bats for Vinod Khanna
Mirthal (Patahnkot), April 18
Chief Minister Parkash Singh Badal today addressed a series of meetings in Pathankot district in support of SAD-BJP alliance candidate from Gurdaspur Vinod Khanna.


radical shift
She hopes to get sympathy votes
Patiala, April 18
She does not have a fleet of cars trailing her. Nor has she a star campaigner seeking votes for her. A few relatives by her side, Kamaldeep Kaur, foster sister of Balwant Singh Rajoana, convicted in the Beant Singh assassination case, has been trying hard to garner the support of the voters of the Patiala constituency.
Sathi accuses Moga DEO of helping SAD
Moga, April 18
Senior Congress leader and former MLA Vijay Sathi today alleged that Moga Deputy Commissioner-cum-District Electoral Officer (DEO) Arshdip Singh Thind was favouring the Akalis.
from the war room
Jakhar's army of relatives takes position
Abohar, April 18
A triple-storeyed shop in the heart of the old grain market here serves as the election office of Congress Legislature Party (CLP) Leader Sunil Jakhar. The latter is pitted against SAD's sitting Member of Parliament Sher Singh Ghubaya from the Ferozepur parliamentary constituency.
Not opposed to Ram Temple: Bhattal
Jalandhar, April 18
Punjab Congress Campaign Committee chairperson Rajinder Kaur Bhattal today said the Congress had no objection to the BJP constructing Ram Temple, if it formed the government at the Centre.
AAP's Bidlan keeps supporters waiting
Patiala, April 18
After the last-minute cancellation of Aam Aadmi Party (AAP) chief Arvind Kejriwal's visit to Patiala during his three-day campaigning schedule in the state, Rakhi Bidlan, former Cabinet minister of the 49-day AAP Government in Delhi, too.


Rain-hit farmers fight govt apathy

Baghria Mandi (Patiala), April 18
Farmers face a double whammy of unexpected rain delaying the harvest of wheat and tardy procurement of the produce by government agencies on the grounds of higher moisture content than the prescribed limit.



up in arms: Farmers protest in Sangrur on Friday. Tribune photo

Porters strike work at Attari ICP
Amritsar, April 18
The imports from Pakistan have come to a halt at the Integrated Check Post (ICP) in Attari with the porters proceeding on an indefinite strike, seeking increased wages. The export to the neighbouring country, however, continues as usual.
In Muktsar, almost all arms deposited with police
Muktsar, April 18
With 99.77 per cent of weapons having been deposited before the elections, the Muktsar police may have created a record in the state. Of the total 18,546 licensed weapons, only 40 have not been deposited.
Lord Paul unveils daughter's statue in hometown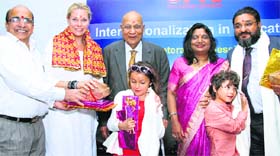 Kapurthala, April 18
It was an emotional moment for the family of steel magnate Lord Swraj Paul as it unveiled the statue of his deceased daughter at the reception of Ambika Paul School of Technology, the Punjab Technical University's (PTU) engineering college rechristened after her name, here today.

happy reunion: Steel magnate Lord Swraj Paul with his family in Kapurthala on Friday. Tribune photo: Malkiat singh

Now, amber beacons for new VIP category
Chandigarh, April 18
The state's elite just can't overcome their love for the red beacon. To appease VIPs affected by the Supreme Court judgment, the Punjab Government has decided to allow them amber beacons atop their official vehicles.
Seven suspended for Bathinda coop bank scam
Bathinda, April 18
Seven employees have been suspended for a Rs 2.5-crore scandal at the Cooperative Bank (Sangat branch) here. Despite farmers having paid their loans and got their mortgaged land released, the bank records continued to show them as borrowers.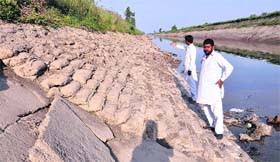 damage control:

Sand bags used to plug the breach in the Ferozepur feeder on Friday. A Tribune photograph
Can't prove Sehgal is guilty: Forensic lab
Faridkot, April 18
The state forensic laboratory did not corroborate the police's theory that Naresh Sehgal had incited Amritpal Singh (20) to commit suicide. Sehgal is a complainant in a 14-year-old criminal case against Deputy Chief Minister Sukhbir Singh Badal. Sehgal was arrested six months ago.
Arhtiyas, truck union resolve dispute
Sangrur, April 18
The arhtiyas ended their dharna today following a compromise between the local arhtiya association and the truck union. The arhtiyas then opened their shops at the grain market. Members of the Sangrur District Industrial Chamber (SDIC) had also participated in the dharna. A few members of the truck union had allegedly quarreled with the employees of two mills and taken away four of their vehicles from the grain market yesterday.
Seven persons killed in mishaps
Abohar, April 18
Seven people died in Abohar and the neighbouring state of Rajasthan in the past 24 hours. Veerpal Kaur (22) of Usmankhera village died after inhaling the insecticide being sprayed in her field. Jashanpreet Kaur (10) of Chak village died of food poisoning at Sriganganagar Civil Hospital. Her family said they had eaten wheat flour with rat poisoned mixed in it.