SAD-BJP banking on Modi to buck anti-incumbency
Amritsar, April 24


With the BJP's prime ministerial candidate, Narendra Modi, addressing a rally in favour of BJP candidate Arun Jaitley here tomorrow, the SAD-BJP alliance is hoping to overcome the anti-incumbency sentiment, particularly in urban areas.
Mustering support: Capt Amarinder Singh during a roadshow in Ajnala on Thursday; and (right) Revenue Minister Bikram Majithia shares a point with BJP leader Arun Jaitley while campaigning in Amritsar. Tribune photos

Issues that matter
Nominees ignoring woes of farmers hit by waterlogging
Abohar, April 24
Going by the issues that politicians are raising in the run-up to the Lok Sabha elections, it seems that waterlogging in the Fazilka district is not

their priority. Swathes of agricultural land in Khuyiansarwer and Abohar blocks of the district are inundated with water. With no government help, all farmers pray for is a dry spell.

Women share their woes with Congress nominee Sunil Jakhar; (right) land around a lift pump remains submerged in water at Bahawalbasi village in Fazilka district for a long time. Tribune photos

Cop 'kills' farmers over property dispute
Faridkot, April 24
The police were caught in an awkward situation when one of their officials allegedly killed two brothers in Sarawan village of the district today with his licensed weapon. With this, the district police's one-month exercise to collect the licensed firearms came to a naught.
Jaitley fights 'outsider' tag
Amritsar, April 24
With campaigning entering the last lap, BJP candidate Arun Jaitley has come out with a leaflet, dwelling on his Amritsar connection as also his agenda for the development of the constituency. These leaflets are being distributed among the voters by BJP workers at traffic points and roadsides. Two pages of the leaflet are devoted to tracing Jaitley's roots to the holy city. This is obviously a bid to shun the "outsider" tag.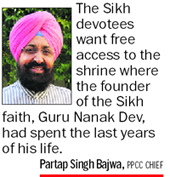 Bajwa woos Batala industrialists
Batala (Gurdaspur), April 24
The PPCC president, Partap Singh Bajwa, today proposed a corridor to Kartarpur Sahib Gurdwara across the Ravi in Pakistan, a few kilometres from Dera Baba Nanak. He said the Sikh devotees wanted free access to the shrine where the founder of the Sikh faith, Guru Nanak Dev, had spent the last years of his life. Bajwa said he took up the issue with Prime Minister Dr Manmohan Singh in May, 2012. The latter promised him that he would look into the matter. Campaigning in the steel township of Batala, Bajwa assured a delegation of industrialists that he would seek a special package for the town, if voted to power.
PM won't campaign in state
Bathinda, April 24

The All-India Congress Committee general secretary and Punjab election in charge, Shakeel Ahmed, today said Prime Minister Manmohan Singh would not be able to campaign in Punjab. Talking to the media during a visit to the city to review preparations for Rahul Gandhi's rally here on April 28, he said: "We wanted to invite the Prime Minister here, but due to his prior commitments to campaign in Assam and other parts of the country, he will not be unable to visit Punjab".

AICC general secretary Shakeel Ahmed with Congress-PPP candidate Manpreet Badal in Bathinda on Thursday. Tribune photo: Pawan Sharma

Ashwani in poll panel too
New Delhi, April 24
Congress president Sonia Gandhi today included former Union Minister Ashwani Kumar and former Punjab Ministers Sardul Singh and Rakesh Pandey in the Punjab campaign committee. The party also approved inclusion of Congress leader MM Singh Cheema, a confidant of Ambika Soni, in the election campaign committee headed by former Punjab Deputy CM Rajinder Kaur Bhattal. Gandhi also approved a proposal to include former Punjab Speaker Bir Devinder Singh and PPCC spokesman Sukhpal Khaira in the Pradesh Coordination Committee formed earlier. — TNS
More mud-slinging
Amritsar: While the DSGMC chief on Thursday asked Akal Takht to summon Amarinder Singh for "honouring" Gen RS Dyal, who had led the attack on Akal Takht, Congress' Bir Devinder Singh demanded that Bikram Majithia be summoned for "distorting a shabad". He alleged that Majithia, while seeking votes, had said: "Nischay kar Arun Jaitley ki jeet karu". — TNS
Man dies in mishap
Abohar, April 24
Kawaljit Singh (42) of Sangha village died in a road accident yesterday. The police have registered a case under Sections 304-A, 279 and 427 of the IPC. Singh, who was riding a motorcycle, was hit by another motorcycle near his village. He died on the spot. — OC


Eyeing votes, PSPCL buys power despite high cost
Patiala, April 24
Since the PANEM Coal has stopped the supply of coal to the Punjab State Power Corporation Limited (PSPCL) due to technical glitches, the PSPCL is buying "costly power" to avoid cuts. However, the PSPCL maintained it was not purchasing costly power.

None wooing 75,000-strong police force
Patiala, April 24
They are the first ones to arrive at a rally venue but there is no word about the 75,000-strong Punjab Police force in the manifesto of any political party. The Election Commission, though, has made special arrangements for them to vote through postal ballot irrespective of their place of duty.
Villagers in UT's periphery to have say in land grab case
Chandigarh, April 24
The villagers in the periphery of Chandigarh will now have a direct say in the land grab case. The Punjab and Haryana High Court today made it clear that the dwellers of 12 villagers in the city's periphery can now approach the Bench with their representations on the issue.
Officials shy away from poll duty, citing household work
Patiala, April 24
Taking care of an infant, cooking for parents, looking after a pregnant wife — These are some of the excuses government officials are citing to seek exemption from election duty. The voting in Punjab is slated for April 30. The Additional Deputy Commissioner and the DC-cum-District Electoral Officers are flooded with applications, seeking exemption from election duty.
No electricity bill for more than one lakh Bathinda consumers
Bathinda, April 24
Call it election effect or sheer laxity. More than a lakh consumers in Bathinda have yet to receive power bills this month. The contract of the company hired for spot-billing ended on March 31.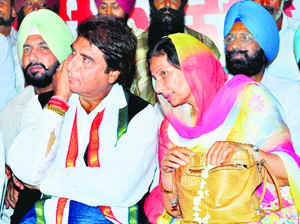 Anxious moments: Congress leaders Raj Babbar and Preneet Kaur in Patiala on Thursday. Tribune photo: Rajesh Sachar

Govt seeks EC nod to announce 12% DA
Chandigarh, April 24
The state government has sought permission from Punjab Chief Electoral Officer (CEO) to disburse 12 per cent Dearness Allowance (DA) among government staff. VK Singh, CEO, said: "Since the matter has financial implication, we are seeking a clarification from different quarters, including the Election Commission, before taking any decision". He said: "The DA pertains to the period from July 2014 onwards, so it could wait".
PU's technique to help identify Ajnala martyrs
Chandigarh, April 24
The state government has sought the assistance of Panjab University to identify the 282 human skulls discovered from the Kalianwala Khu in Ajnala near Amritsar recently. The university will use the forensic anthropologic technique to examine the mortal remains. The Institute of Forensic Science and Criminology Department at the PU had recently invented the technique.
Tardy wheat procurement angers farmers, arhtiyas
Fazilka, April 24
Resentment prevails among "arhtiyas" (commission agents) and farmers over tardy wheat procurement in rural purchase centres of the district. The Punjab Government allegedly failed to make arrangements for procurement.
ED attaches Raja Kondola's properties in Ropar, Samrala
Chandigarh, April 24
The Enforcement Directorate (ED) has started taking possession of properties of alleged druglord Ranjit Singh alias Raja Kandola. ED officials took possession of two properties belonging to Kandola, who was caught in a case of smuggling of methamphetamine worth Rs 200 crore in 2012, at Ropar and Samrala today.
Poll pot
Badal spends time with school kids
Muktsar: After hectic campaigning in favour of SAD-BJP candidates across the state, Chief Minister Parkash Singh Badal is now relaxed and confident about their victory. Badal on Thursday spent time at his fields in his native village and visited two schools. Villagers were surprised at his relaxed mood as Badal spent nearly one-and-a-half hour at his fields. He later met students at two village schools. Badal said he would receive Narendra Modi in Pathankot on Friday. He denied reports of "tussle" with Revenue Minister Bikram Singh Majithia.
Over 50% rise in young voters
Chandigarh, April 24
There has been a 50 per cent rise in the registration of young voters in the past one year. A scrutiny of the revised voter rolls, completed by the Election Commission (EC) on the basis of fresh applications (Form 6) received by March 9, reveals that 5,50,507 youngsters aged 18 or 19 have been enrolled as voters. Their number was 2,30,867 as on January 1, 2013.
Cops busy, sand mafia elated
Ludhiana, April 24
The visit of BJP's prime ministerial candidate Narendra Modi to the city tomorrow has turned out to be a boon for the sand mafia. As the police are busy with the security arrangements, the mining mafia is having a free run. There are nearly 25 sites where sand mining is being carried out full scale illegally. A mining contractor said: "We are dumping sand in godowns. After polling on April 30, the government will tighten its noose around us and the sand prices will go up further." Residents of villages on the banks of the Sutlej fear that the rising water level could erode the embankments during the monsoon and flood their villages. But they are too scared to raise their voice against the mafia. TNS
Badal breaks silence on issue of opium vends
Badal (Muktsar), April 24
Breaking his silence on the demand for poppy husk and opium vends in the state, Chief Minister Parkash Singh Badal today said the Centre should either close all such vends or allow these in all states. On Monday, Deputy CM Sukhbir Badal had rejected the demand for opium vends in the state. The demand was backed by SAD candidate Paramjit Kaur Gulshan. He had said that vends in Rajasthan should also be shut. On Saturday, Congress candidate from Amritsar Capt Amarinder Singh has said that the state government wanted to legalise the trade. TNS
Ramdev seeks votes for Vijay Sampla
Hoshiarpur, April 24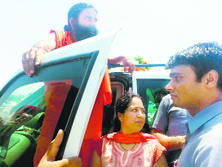 Yoga guru Baba Ramdev claimed that his visit to the city today was to make people aware of the "Rashtra Nirman" (nation building) through his "sabha". Notwithstanding his claim, he sought votes for the BJP candidate from Hoshiarpur Vijay Sampla. Baba Ramdev explained in detail his political agenda to the media outside the Press Club. He claimed that Sampla was his old disciple and he had come to seek his blessings. "He is the deserving candidate to represent the constituency in Parliament," Ramdev said. — OC

Baba Ramdev in Hoshiarpur on Thursday. Tribune photo

Undertrial escapes
Tarn Taran, April 24
An undertrial, Palwinder Singh of Sur Singh village, escaped from police custody from Goindwal Sahib bypass yesterday. Singh and three head constables have been booked under Sections 223, 224 and 34 of the IPC. The policemen have been identified as Sukhwinder Singh, Satnam Singh and Sarwan Singh. — OC


HC Bar Assn poll results today
Chandigarh, April 24
The results of the Punjab and Haryana High Court Bar Association will not be declared the same day. Nearly 80 per cent votes were polled to elect president, vice-president and other office bearers of the Bar Association today, but the counting of the votes will start at 10 am on Friday. The final results are expected to be announced by the afternoon. An increase in the number of members is being cited as a reason for the delay in the declaration of results.


BJP arhtiya cell president's brother held with opium
Patiala, April 24
The Sangrur police have arrested a Patran resident on charges of possessing opium. The car in which he was allegedly smuggling the contraband has been impounded. The arrested person, Shashi Pal (62), is the brother of BJP's Punjab Arhtiya Cell president Ramesh Kuku.
Undertrial gives police the slip
Moga, April 24
A hardcore criminal, facing a trial in eight criminal cases, escaped from the police custody on Thursday. The incident took place when the police party accompanying the accused, Hari Krishan alias Monu, stopped at an eatery on the Gandhi Road near the district courts complex in Moga where he was brought for a court hearing. Monu was lodged in the Kapurthala jail. Head constable Harmandir Singh and constable Harbhajan Singh have been booked. — TNS