Tight security ahead of Sonia's visit in Kullu
Kullu, May 1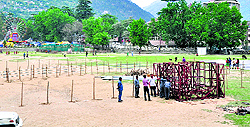 The security in Kullu-Manali has been tightened ahead of Congress president Sonia Gandhi's proposed rally on May 4 at the historic Dhalpur Maidan.



Sidelights of Rahul rally

A stage being prepared for AICC president Sonia Gandhi's rally scheduled on May 4 at Kullu

UPA blamed for Rs 12 lakh crore scams: Dhumal
Una, May 1
Former Chief Minister Prem Kumar Dhumal today ridiculed that the UPA, which has been responsible for scams worth more than Rs 12 lakh crore during the last 10 years, could even dream of coming back to power for the third time.
BJP demands removal of acting Chief Secretary
Shimla, May 1
The Himachal BJP today accused acting Chief Secretary P Mitra of being biased and openly advising officers to toe the line of the Congress. The party urged the Election Commission (EC) to immediately remove him.
AAP leaders lodge complaint against Shanta Kumar
Dharamsala, May 1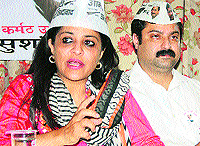 AAP candidate from Kangra Rajan Sushant, along with Shazia Ilmi, another senior AAP leader, today lodged a complaint against BJP candidate Shanta Kumar with the Vigilance. In a political drama staged at Dharamsala, both leaders went to the Vigilance office despite knowing the fact that it was a holiday.


AAP leader Shazia Ilmi addresses a press conference in Dharamsala on Thursday. Photo: Kamaljeet

Looks like it's anti-hail nets vs anti-hail guns
Shimla, May 1
Apple farmers are now training their guns on policymakers and local political big guns. It has turned into an "anti-hail nets versus anti-hail guns" affair in the apple belt. It has assumed political colour ahead of the Lok Sabha poll slated for May 7.
Himachal Swabhiman Party for legal rights to gram sabhas
Chamba, May 1
The Himachal Swabhiman Party, to weed out corruption at the village level, will plead for giving legal rights to gram sabhas if its candidate from the Kangra Lok Sabha constituency wins the elections.
Lack of package major poll issue in industrial belts
Solan, May 1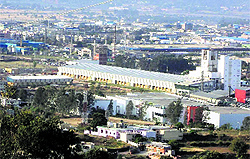 The lack of extension of the Central package has become a major poll issue in the industrial areas of the state where investors are facing decline in production and profitability. Since fewer investments have been witnessed after the lapse of the industrial package in March 2010, employment has also suffered as the existing units are either consolidating their operations or have put on hold their investment plans.
An overview of the Baddi-Barotiwala-Nalagarh industrial area

BJP in a tight spot in Hamirpur, says Rana
Hamirpur, May 1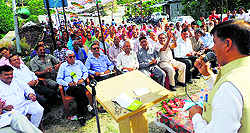 Congress candidate from Hamirpur Rajinder Rana said today BJP leader PK Dhumal had been confined to Hamirpur and did not attend Modi's rallies in the state.



Rajinder Rana addresses an election meeting at Ukhali in Hamirpur on Thursday

Anurag gave boost to tourism: Ravi
Palampur, May 1
Former IPH Minister Ravinder Singh Ravi today said Chief Minister Virbhadra Singh was playing dirty politics in the Himachal Pradesh Cricket Association (HPCA) affairs and causing extensive loss to the economy and tourism industry of the state.
Challenges posed by simians, stray cattle become poll issues
Palampur, May 1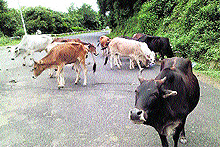 The man-monkey conflict and the challenge posed by stray animals have emerged as major poll issues in the ensuing parliamentary elections. Farmers raised the issues vigorously before political parties during election meetings and lodged a protest over failure of successive governments when it came to dealing with the challenges.


Stray cattle on a road in Palampur. Photo by writer
campaign trail: Kamal Kanta Batra
She doesn't believe in making tall claims
Hamirpur, May 1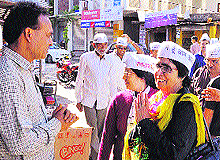 Still trying to find her feet on the unfamiliar path of politics she has chosen to tread, it is Kamal Kanta Batra's firm conviction that if her son could lay down his life for the nation, she should also do her bit by trying to cleanse the system that is plagued by corruption and rot.


Kamal Kanta Batra, AAP candidate, during her election campaign at Lumblu village in Hamirpur on Thursday. Photo: Amit Kanwar

Congress flags removed by authorities at Kangra
Kangra, May 1
The subdivisional authorities today removed Congress party flags hoisted by Congress workers in this town, particularly in the Dharamsala Road area during the night as a part of their poll campaign.
Illegal mining in Chakki rivulet a threat to Nurpur villages
Nurpur, May 1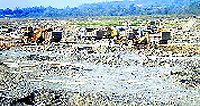 Mining, despite a ban, in the Chakki rivulet in this subdivision bordering Punjab has been posing a threat to 12 gram panchayats, leaving local residents and environmentalists worried.


Illegal mining on in late evening hours on the Chakki riverbed. Photo: Rajiv Mahajan

Power project comes up on govt land illegally
Palampur, May 1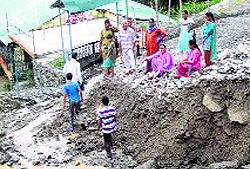 The functioning of the state Revenue Department has come under scanner following the construction of a power project illegally on government land near Baijnath. It is learnt that the power project has neither signed any lease deed with the state government nor has any letter of allotment been issued by the government for this project.


Houses damaged because of the reckless cutting of hills by a power company at Deol village in Palampur. Photo: Ravinder Sood

'IT can change lives of visually impaired'
Shimla, May 1
Information Technology (IT) has brought a ray of hope for visually-impaired persons as new innovations in the IT sector can provide them access to jobs and open the doors for employment.
Murder case: HC acquits life convict
Shimla, May 1
The High Court has set aside the conviction awarded by the trial court to a life convict and acquitted him in a murder case. The court passed this order on an appeal filed by the murder accused challenging the judgment of the trial court whereby he was convicted to life imprisonment in a murder case.
Educational tour to Kinnaur district concludes
Kangra, May 1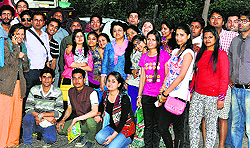 Educational trips are a part of school's pedagogy as they are expedient in providing practical knowledge to students and lead to their professional advancement. Dr Manukonda Rabindranath Dean, School of Journalism, Mass Communication and New Media, said this on the culmination of the five-day educational tour to Chitkul in Kinnaur.

Students of the School of Journalism, CUHP, in Kinnaur during their education tour