'Yeh dil maange more' irks Batra
Bilaspur, April 29
"Yeh Dil Maange More" remark of Kargil hero Capt Vikram Batra by Narendra Modi at his election rallies in the hill state today created a flutter with the parents of the martyr taking serious objecting to politicisation of the sacrifice of their son.
Kamal Kanta Batra urged all pseudo-patriots to leave the families of martyrs alone.

Students, employees stranded as buses hired for Mandi rally
Sundernagar, April 29
Thousands of students and employees in various parts of the district had to suffer a lot as most of the buses were either hired or used to carry BJP workers to the election rally, which was addressed by Narendra Modi at the Paddal Ground in Mandi today.
Modi only leader with BJP, says Virbhadra
Shimla, April 29
Chief Minister Virbhadra Singh today said former Chief Minister PK Dhumal and his MP son Anurag Thakur were chanting "Na Mo-Na Mo" as if Narendra Modi was God and there was no other leader other than the Gujarat Chief Minister in the BJP.
Dalits, parties up the ante against Baba Ramdev
Shimla, April 29
Dalit leaders, including the Congress, Bahujan Samajwadi Party and CPM, have raised their ante against Baba Ramdev for his reportedly anti-Dalit derogatory honeymoon and picnic remark made in reference to AICC vice-president Rahul Gandhi eyeing a surge in Dalit's vote bank against the BJP.
EC cancelled programmes under pressure: Ramdev
Chamba, April 29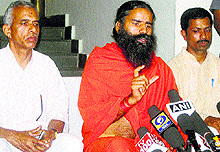 "All my programmes in Himachal Pradesh were got cancelled by the Election Commission under the pressure of the Congress," alleged Swami Ramdev while addressing mediapersons here today. He said it was a big conspiracy against him.



Ramdev addresses mediapersons in Chamba on Tuesday.

Effigy of Ramdev burnt
Shimla, April 29
Enraged over the reported derogatory remark of yoga guru Ramdev that "Congress vice-president Rahul Gandhi visits Dalits for picnic and honeymoon", members of the Sant Shri Ravidass Dharam Sabha today burnt an effigy of Baba Ramdev in front of the DC office.
Include Ramdev's campaign in BJP poll expenses: Bali
Dharamsala, April 29
Minister for Food and Civil Supplies, Transport and Technical Education, GS Bali, on Tuesday alleged Baba Ramdev was campaigning for BJP in Kangra parliamentary constituency. His official machinery was working for the BJP in the area, he stated.
BJP, Cong should let Kamal Kanta win unopposed: Gul
Bilaspur, April 29


Actor-turned-politician and Aam Aadmi Party leader Gul Panag today said if the BJP and Congress had genuine respect for martyrs, why could the two parties not let Kamal Kanta Batra, mother of Kargil hero Vikram Batra, win unopposed.



Gul Panag being welcomed by AAP supporters in Bilaspur on Tuesday.
AAP has no respect for soldiers, says Anurag
Shimla, April 29
Hamirpur MP and BJP candidate Anurag Thakur said the BJP was the lone party which respects soldiers and martyrs.
Mafia thrived during Dhumal's regime: Minister
Una, April 29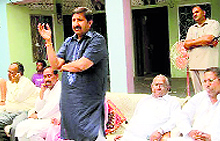 Industry Minister and Haroli MLA Mukesh Agnihotri today alleged that all types of mafias, including land grabbing, were active in the state when Prem Kumar Dhumal was the Chief Minister.



Industry Minister Mukesh Agnihotri addresses an election meeting at the Haroli segment in Una on Tuesday. Photo: Rajesh Sharma


Satti dares Agnihotri to debate on Swan
Una, April 29
State BJP president and Una MLA Satpal Singh Satti today challenged Haroli MLA and Industry Minister Mukesh Agnihotri to an open debate on various issues.

Satpal Singh Satti
'CM, kin avoid questions from Mandi people'
Hamirpur, April 29
Anurag Thakur, BJP candidate from Hamirpur, has accused CM Virbhadra Singh and his family members of camping in Hamirpur to avoid questions from people of Mandi regarding their development promise.
campaign trail: Virender Kashyap
Personal attacks not part of his speeches
Jubbal (Shimla), April 29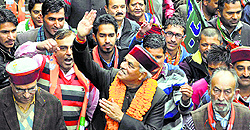 The day starts much before the dawn for Virender Kashyap, sitting BJP MP from the Shimla (reserved) constituency. He makes it a point not to miss his pranayam and kapal bhati in the midst of gruelling campaign in dusty roads in the remote hilly areas.

BJP Lok Sabha candidate Virender Kashyap with his supporters after filing his nomination papers at the DC's office in Shimla. A file photograph

NOTA a good option to show resentment, says Negi
Kalpa (Kinnaur), April 29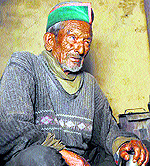 The None of the Above (NOTA) option on electronic voting machines (EVMs) may not make any difference in the outcome of the elections. But it will help the electorate to send a strong message to political parties and leaders that people want to exercise their franchise, but they are not worthy of people's votes.



Shyam Saran Negi
Anurag misleading people on MPLAD fund: Pratibha
Mandi, April 29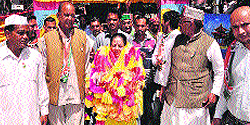 Congress candidate from Mandi Pratibha Singh has said BJP candidate from Hamirpur Anurag Thakur is misleading people by telling them that she has not spent funds received under the MPLAD fund.


Pratibha Singh during an election meeting in the Karsog Assembly segment in Mandi on Tuesday. Photo: Jai Kumar

Only Virbhadra wave in state, says Brakta
Cheog/Naldehra (Shimla), April 29
Congress candidate for the Shimla reserved constituency Mohan Lal Brakta claimed there was Virbhadra Singh wave in the constituency as the Congress government had four years in office, which had already sped up development work halted by the BJP during its rule in the state, as he put it.
BJP using money to woo voters, says Rajinder Rana
Una, April 29
Congress candidate from Hamirpur Rajinder Rana today alleged that the BJP was doling out money to woo voters in this segment. He was addressing a public meeting at Behdala village in the Una sadar Assembly segment.
SCA seeks removal of HPU VC
Shimla, April 29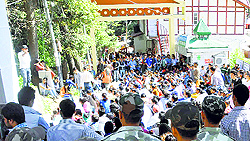 Up in arms against the alleged unconstitutional, anti-students and dictatorial attitude of the administration of Himachal Pradesh University (HPU) at the behest of the state government, the Students Central Association (SCA) today held Vice-Chancellor Prof ADN Vajpayee responsible for the present mess and demanded his resignation.
Activists of the SFI block the main gate of Himachal Pradesh University during a rally on Tuesday. Photo: Amit Kanwar

Officers resent pay anomalies
Una, April 29
The District Non-Gazetted Officers (NGO) Federation has said there was widespread resentment among their cadre due to pay anomalies and non-payment of arrears.
Major Udai Singh's bust unveiled at Army school
Solan, April 29
Lt Gen Philip Campose, AVSM, VSM, GOC-in-C, Western Command, today unveiled the bust of Late Major Udai Singh at the soldier's alma mater at Army Public School, Dagshai, today.