Time to shift focus on family farming
The year 2014 has been designated as The International Year of Family Farming by the UN. A peasant way of life has been relegated and neglected as an outdated concept of living. It has been marginalised as it does not conform to the logic of industrial manufacturing
Satvinder K Mann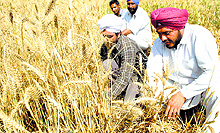 Farming is not an option favoured by the youth. In Punjab, over 2 lakh marginal and small farmers left farming between 1991 and 2005. A Tribune photograph

The United Nations high-level political forum on sustainable development, created during Rio+20 Conference (the short name for the UN conference on sustainable development that took place in Rio De Janeiro, Brazil, in June 2012), emphasised that the "practice of sustainability provides the only real bridge from our past to our present and our future, and from our planet to our peoples and our prosperity". The UN General Assembly endorsed the document, "Future We Want", in which the importance of farming, small /marginal farmers in sustainability was recognised stating, "We recognise that farmers, including small-scale farmers, fisherfolk, pastoralists and foresters, can make important contributions to sustainable development through production activities that are environmentally sound, enhance food security and the livelihood of the poor invigorate production and sustained economic growth".
In the 66th general session of the UN, 2013, the year 2014 was officially declared as the "International Year of Family Farming", (IYFF).
Most vulnerable population
By choosing to mark the year 2014, the FAO Director-General said that UN recognises, the "family farmers as leading figures in responding to the double urgency the world faces today: improving food security and preserving natural resources. But strangely enough, they are among the world's most vulnerable populations, remain highly susceptible to poverty and hunger andrequire genuine public support which is non-existent in most of the countries".
The definition of family farming is usually interchangeable with that of small and marginal holders. However, it is not about the size, but the way a family manages the multilayered characteristics of the land they own, primarily with the help of the family members, having limits of the possibilities to make a living, aspire to achieve a decent life by investing the family resources, work with dedication, passion and hard work to develop and improve the farm, ensure livelihood of the family and the farm continuity.
Inter-generational continuity
A family farm is not only a place of production, but also a home to the farming family, linking past, present and future through inter-generational continuity, embodying self-respect and pride as a way of life, a wider network of culture and agricultural practices evolved over the period, that contribute to conserving biodiversity and sustainability. Thus family farming is a linked and co-evolving unit that combines economic, environmental, social and cultural functions. (FAO, 2013) and is a predominant human lifestyle in the world.
Business model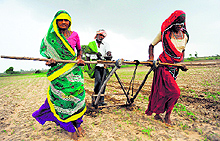 Agriculture contributes about 15 per cent to India's GDP. AFP

At present, due to lack of proper policies, family farmers are failing to make positive contributions even to themselves and the inter-generation link is collapsing. In addition, the development policies are propelling it towards a business-like model for better profits' as the only way to keep young people in agriculture. This is implying that it should be less "peasant like", more "entrepreneurial" and should be subjected to the process of modernisation that will, however, turn the family farm into a mere supplier of labour, compromising all other features of sustainability inherent in it.
But the underdeveloped countries continue to implement the industrial developmental model, for better economic returns from agriculture and the global integration, marginalise the family farmers. In Mexico, from 1992 - 2002, the number of agricultural households fell by 75 per cent, causing a significant increase in migration from rural areas by small and marginal farmers, depleting the rural countryside and the human resources. From 1994 - 2004, the labour force in the country grew approximately by one million annually. Today Mexico imports food from the USA and exports farmers and agricultural labour. In India, even in the agriculturally progressive southern and northern states, farming became economically unviable for small and marginal farmers.
The escalating input costs, cost of degrading natural resources (soil nutrients and water) and decreasing margins led to an increasing farm debt, resulting in farmers' suicides and a long-drawn agrarian crisis.According to the official data,16,6304 farmer committed suicides in India from 1997-2006, and the farmers declined by 9 million from 2001 to 2011, the first absolute decline of the agrarian population since 1971. This population had formed the backbone of Indian economy for centuries.
The Punjab story
In Punjab, over 2 lakh peasants (mostly marginal and small farmers), left farming between 1991 and 2005. The number of small farmers was around 5 lakh in 1991 and got reduced to around 3 lakh in 2005. About 22 per cent of those who left farming as profession, were working as daily-wage labourers in cities. The small and marginal farmers were unable to pay back even short-term loans, the mounting vicious web of the debt trap, leaving no alternatives but to sell or mortgage the land. The humiliation due to the distress exit from farming, at times forcing them to take the "extreme" step of suicides.These developments culminated in the loss of interest in farming among the rural youth and inter-generational continuity is the causalty.
Exodus from rural areas
The rural populations are abandoning their lifestyle in search of employment to the cities, this alienates them from creative survival and renders them destitute. In India this means about 50 per cent of its population. They are moving out of a situation where they were paid in kind, from a survival economy, ensuring food, nutrition and a home in the complex rural set-up.
In Punjab, the rural children devoid of skills and opportunity, are idle, taking to drugs, crime or wanting to migrate to foreign lands in search of greener pastures,wherein at times they get into worst situations.
The plight of the small and marginal farmers has also worsened even in developed countries. Those in the food business appear to be cashing in on the crisis. Douwe van der Ploeg, an agricultural engineer who specialised in agrarian sociology of non-western countries, in his book The Stolen Future, elucidated "The impressive and multi-dimensional heterogeneity of the traditional agriculture and how heterogeneous re-moulding of nature was expressed in fields, animals, plant varieties, food, and a complex inter-relationship developed between society at large and the farming population in particular".
Future of agriculture
Based on an extensive new line of research in rural sectors of Spain, Netherlands, Italy, Portugal, Mexico, Kenya and the United Kingdom, he postulated that "crop production has an endogenous development potential and rural development is not simply a question of political programmes or rhetoric, but a promising widespread phenomenon based on farmers practice". His vocal public debate on the "future of agriculture", gained momentum, for "developing (practical) new alternatives to the reigning model of ongoing scale-increase and further industrialisation of agriculture". In his next book, The Virtual Farmer, he argues that "farming knowledge as accumulated and that produced by modern expert systems was increasingly at odds with reality and not a true representation of the way forward.
At a very fundamental level this was a disastrous reshuffling of the inter-relations between past, present and future. Whereas the need to produce more food and the capacity to produce enough is an integral part of food sovereignty and the peasant agriculture has the best credentials for meeting this challenge and satisfy the (many) objectives of the society at large". The accumulated scientific knowledge and sociological analysis thus emphasise, that family and small-scale farming are inextricably linked to world food and nutritional security, traditional food products, agro-biodiversity and environmental sustainability.
Repositioning the farm
The goal of the IYFF is to reposition family farming at the centre of agricultural, environmental and social policies in the national agendas by identifying gaps and opportunities to promote a shift towards a more equal and balanced development. The IYFF aims to: Highlight the potential of family farming and its crucial role towards sustainability, environment, biodiversity, food/ nutritional security and reduction of poverty.
The goal is also to raise the profile of family farming by focusing world attention on its role in alleviating hunger, poverty, improving livelihoods, while protecting the environment and biodiversity. The belief is that family farming is more than a professional occupation, it is instead a "lifestyle based on beliefs and traditions about living and work family values of solidarity, continuity and commitment". In economic terms, family farming is identified with specific entrepreneurial skills, business ownership and management, risk behaviour, resilience and individual achievement. The goal is also to increase knowledge and public awareness about the vital role that family farmers play in sustainability, their potential and the constraints that they face and help in the development of policies that will foster the sustainable family farming. These aims have been detailed in the IYYF website of the FAO.
How to save the farmer
Small and marginal farmers are at an increased risk of disappearing in Punjab and intergenerational farming was at stake.
It is important to prevent their distressed exit from farming, in view of their role in harmonizing the social, environmental and economic sustainability,
To ensure their economic sustainability and also to prevent further degradation of natural resources in the state, innovative solutions like: integrate small and marginal farmers adopting, precision, and protected and other conservation agricultural technologies with MNREGA as has been done for sustainable rice intensification (SRI) farmers in the south for enhancing ecological services and by promoting direct marketing of their produce to the local consumers.
Family farms the world over
570 million agricultural farms in the world, of which 500 are family farms
74 per cent family farms are in East Asia & Pacific, 35 per cent in China, 9 per cent in sub -Saharan Africa, 7 per cent in Europe and Central Asia, 4 per cent each in Latin America and Caribbean.
95 per cent European farms are partly family owned and inherited over the generations.
Farmer population in USA is about 2 per cent, and 80 per cent of them are small and marginal, producing 27 per cent of the produce, sold mostly directly to the consumers.
24 per cent such farmers are in India, out of 138.35 million operational holdings in the country, 85 per cent are owned by small and marginal farmers, cultivating 0.5 to 2 ha, covering 44.58 per cent operational area (2010-11 Agriculture Census, Ministry of Agriculture GOI, 2014).
— The writer is Former Dean Postgraduate Studies, Punjab Agricultural University, Ludhiana