Ramdev faces FIR for hurting Sikh sentiments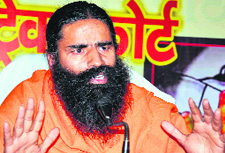 Jalandhar, May 5
Following protests by various Sikh organisations, the police today registered an FIR against yoga guru Ramdev for allegedly hurting religious sentiments. A case under Section 295-A (deliberate and malicious acts intended to outrage religious feelings of any class by insulting its religion or religious beliefs) of the IPC was registered against him at police station division number-4, Jalandhar.
Tardy lifting: Procurement agencies get notice
Faridkot, May 5
The Punjab Mandi Board has issued a show-cause notice to five procurement agencies in Faridkot as the tardy lifting of wheat has led to a glut-like situation in the markets of Faridkot, Kotkapura, Jaitu and Sadiq towns. In the show-cause notices, the District Mandi Officer (DMO) has threatened to slap a Rs 40 lakh penalty on the procurement agencies for the delay in the lifting of wheat.
Five killed in Amritsar road mishap
Amritsar, May 5
Five persons were killed in the intervening night of May 4-5 when their car hit a tree at Airport Road here. The car (HR-36-P-1728) was apparently being driven at a high speed. The deceased were identified as Sandeep Kumar (30) of Ajnala Road, Gauri Shankar (25), Prince Sethi (26), Rajesh Kumar (34) and Gaurav Joshi (28), all residents of the city's Islamabad area. As the police discovered the accident only in the morning, Police Commissioner JS Aulakh suspended Head Constables Harjit Singh and Harpreet Singh, deputed with the PCR teams, and ASI Kuldeep Singh, Civil Lines. Sukhwinder Singh Randhawa, SHO, has been shifted to the Police Lines. The bereaved families blamed the "faulty" road divider near the Kitchlew Chowk flyover for the accident. TNS



Cong: Majithia deserves harsher punishment
Amritsar, May 5
Sukhpal Singh Khaira, PPCC spokesperson, today appealed to Akal Takht Jathedar Giani Gurbachan Singh to award a stricter punishment to Revenue Minister Bikram Singh Majithia, such as 50 lashes or excommunication, for his blasphemous speech. In a statement today, Khaira said: "By awarding Majithia a mild punishment, the Jathedar has lowered the prestige of this august and glorious institution.
PPP protests police inaction
Hoshiarpur, May 5
Members of the People's Party of Punjab gheraoed the city police station for two hours this afternoon. They were protesting non-registration of a case into the attack on party spokesman Sandeep Saini 17 days ago. Saini was leading the protest.


Bains' appointment as police complaints body chief revoked
Chandigarh, May 5
The Punjab Government has revoked the appointment of DS Bains as the chairperson of the Punjab Police Complaints Authority. The state government has, in fact, issued a notification also revoking the appointments of Sube Singh and BR Garg as members of the complaints authority.
Coal shortage hits power generation in state
Patiala, May 5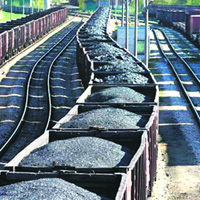 The management of the Punjab State Power Corporation Limited (PSPCL) is under the scanner for failing to take action against coal supplying firm PANEM. The firm has been irregular in supplying coal that has hit power generation at the thermal plants in the state. PSPCL officials said Chief Minister Parkash Singh Badal, who holds the power portfolio, might summon top officials to discuss the matter. He could even initiate action against them. As of now, no thermal plant has the mandatory 21-day coal stock. The PSPCL is saving coal by shutting units alternatively to ensure enough power generation during the paddy season which begins next month.
Dry fodder demand sees surge in manual wheat harvesting
Amritsar, May 5
A significant increase in manual harvesting of wheat to cope up with the high demand for dry fodder ('toorhi') has been witnessed in the district during the current season. The prices of toorhi during the past few months had been around Rs 600 per quintal and even touched Rs 850 days before the harvesting began. "A price of Rs 6 per kg is considered a high price as even potatoes are being sold for much less," says Kuljinder Singh, a farmer of Jhander village.
Hoshiarpur fire service lacks steam
Hoshiarpur, May 5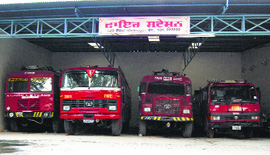 Hoshiarpur, which is one of the largest districts of the state with a population of about 16 lakh, depends on only four fire tenders of Punjab Fire Services under its Municipal Corporation. The district has 10 towns and 1,419 villages. Besides, the forest area in the district is 1,094 sq km. In the summer season, forests are prone to wildfires and many a times, these affect nearby colonies too.

Fire-fighting vehicles stationed at Hoshiarpur. Tribune photo
Report on note-for-vote scam at Kauni village delayed
Muktsar, May 5
The Muktsar district administration was to submit its inquiry report to the Chief Electoral Officer (CEO), Punjab, today regarding the note-for-vote scandal at Kauni village in Gidderbaha. It could not do so as the complainant did not turn up before the inquiry officer-cum-Additional Deputy Commissioner (ADC), Ramvir Singh.

Weak monsoon may mar irrigation
Chandigarh, May 5
The water level at the Bhakra Dam is 14 feet higher compared with the corresponding period last year. Nevertheless, if the poor monsoon forecast proves to be correct, there will not be sufficient water available from the dam for irrigation during the paddy season. The power generation, too, will be hit.
PPCB bears losses to 'favour' politician's ally
Faridkot, May 5
The shifting of the Punjab Pollution Control Board (PPCB)'s regional office to a new building, 4 km outside Faridkot town, allegedly to benefit a person having connections with a ruling party leader has stirred up a controversy.
Akali workers protest in Rampura Phul
Rampura (Bathinda), May 5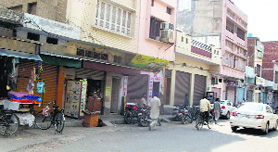 Tension escalated in the town today with SAD workers launching an angry protest after two prominent Akali leaders were booked for assaulting Congress workers. The local SAD leaders enforced a bandh in the morning and marched through the main bazaar. They threatened to step up their stir if the police failed to hold a fair inquiry into the Congress workers' allegations.

Bandh politics: Shops in Rampura Phul remained shut on Monday. The call for the bandh was given by the local SAD. A Tribune photograph

All work, no pay for cops guarding EVMs
Patiala, May 5
Thousands of security personnel guarding more than 24,300 electronic voting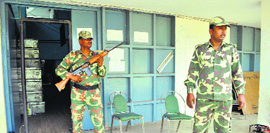 machines (EVM) in 13 constituencies of Punjab rue that the Election Commission (EC) has not made arrangements to pay them for their duty. They ask that if government officials were paid honorarium for just one day's duty on April 30 (the day Punjab went to polls), why can't the EC pay them for their fortnight-long job of guarding the EVMs?

BSF personnel guard EVMs at a government college in Patiala on Monday. Tribune photo: rajesh Sachar
Day after, Jalandhar victim's husband threatens suicide
Jalandhar, May 5
Angry at the police setting free Amritpal, one of those named by his wife Pradeep Kaur in her suicide note, Harvinder Singh today threatened to commit suicide. He accused the police of delaying a probe into the case. He said the other two accused, Davinder Kaur (44) and her husband Gurmej Singh (45), had been produced before a local court late Monday evening though they were arrested on Saturday.
Revised power tariff order by month-end
Chandigarh, May 5
The new power tariff order is likely to be delayed till the last week of May. A senior official of the Punjab State Electricity Regulatory Commission (PSERC) said: "We are preparing the order. It will take at least three weeks to accomplish the task."
Five water sources in Goniana sealed
Bathinda, May 5
Drinking water samples of the Civil Hospital at Rampura and several public water works have failed the purity test. Of the 143 samples collected by the Health Department so far, 28 have failed the purity test and the result of 16 is awaited.
Cops deployed at canter union office after clash
Abohar, May 5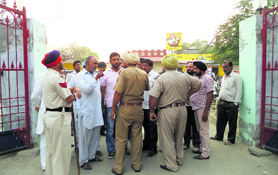 Police personnel have been deployed at the canter (mini truck) union office here, following a clash between two factions over taking control of the body. Union president Rakesh Setia, alias Bantu, who had been attacked last year too, alleged that the police did not act on his request to nab the "goons" who had damaged furniture etc in the office, besides forcing people to leave office premises.

Police personnel deployed at the canter union's office in Abohar. Tribune photo

Local bodies dept seeks funds for fire tenders
Abohar, May 5
The local bodies department has sought an allocation of Rs 45 crore from the state government out of the unused Central government funds worth Rs 91.09 crore under the disaster management programme to provide fire tenders to all the municipal councils in the state.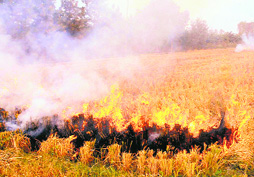 BLAZING FIELDS: A fire engulfs a field in Jalandhar. Farms and forest areas are prone to wildfires during the summer season due to dry weather conditions. A Tribune photograph

Funds sought in lighter vein, CM tells EC
Chandigarh, May 5
Chief Minister Parkash Singh Badal, in his reply to the Election Commission (EC), has claimed that he had sought money for Jalandhar candidate Pawan Kumar Tinu in a lighter vein and that humour must not be misinterpreted.
Liquor sales went up in run-up to poll
Muktsar, May 5
The liquor sales in Muktsar district witnessed a considerable rise in the run-up to the Lok Sabha elections in Punjab. Figures procured from the Excise and Taxation Department show that from April 17 to April 28, 7,466 litres more liquor was sold as compared to the corresponding period last year.
Devotees take out rally on Parshuram Jayanti
Abohar, May 5
Lord Parshuram Jayanti was celebrated in Abohar, Sriganganagar and Hanumangarh with fervor. Devotees took out a religious procession in border district town Sriganganagar. It passed through main areas of thr city. Tableaux depicting life and teachings of Parshuram attracted people.
People were seen showering petals on participants. Soft drinks and sweets were served on the route. Youth riding motorcyclists and horses added colour to the procession. Women danced to religious tunes, others chanted "shlokas". A havan was organized at Hanumangarh. Brahmin Samaj president Kanti Bhardwaj led devotees in garlanding the statue of Lord Parshuram at Abohar. OC

Devotees take out a procession in Sriganganagar on Monday. Tribune photo

Coach derails, none hurt


Passengers on board the Amritsar-Ambala train had a narrow escape when the last coach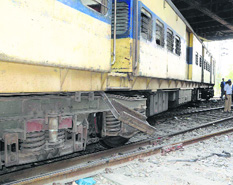 derailed minutes after the train had left the Amritsar railway station on Monday afternoon. None was injured


Traffic on the Amritsar-Delhi railway line was disrupted for more than two hours. Sources said the derailment had occurred because of a human error and a cabin man had been suspended


Among the trains that were delayed were Shatabdi, Shan-e-Punjab and the Amritsar-Chandigarh Superfast. The DRM, Ferozepur Division, Naresh Chander Goel, took stock of the situation

Off track: The derailed Amritsar-Ambala passenger train at the Amritsar railway station on Monday. Tribune photo: Vishal Kumar


Punjabis detained in Texas
US Congman assures to look into the matter
Chandigarh, May 5
To seek the release of more than 100 Punjabi youths, detained "illegally" in the El Paso processing centre (jail) in Texas, US, a delegation of the North American Punjabi Association (NAPA) met Congressman John Garamendi at his house in California and sought his support.
Punjabi man charged with murder in UK
London, May 5
A 48-year-old Indian-origin man has been charged with the murder of a British national, whose body was found in his flat. Surjit Singh Sidhu from Huddersfield in Britain's West Yorkshire was arrested on Friday and subsequently charged with the murder of Martin Ackroyd, 48.
Charges framed against 4 in drug case: State to HC
Chandigarh, May 5
Nearly a month after the Punjab Government told the Punjab and Haryana High Court about the arrest of 58 persons in the international drug racket case, the state today claimed that seven FIRs were registered.
Non-bailable warrants against Joshi


Amritsar, May 5
There may be more trouble for state Minister Anil Joshi. Non-bailable warrants have been issued against him for failure to appear before a local court in two defamation cases and a case pertaining to criminal trespass and damage to property filed by advocates Sandeep Gorsi and Vaneet Mahajan.


Police seize drugs, bust gang of thieves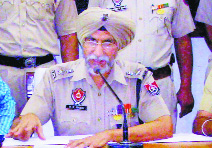 Patiala, May 5
The police have busted a gang of thieves allegedly involved in stealing copper wire from the electricity transformers. They have arrested five of its members and recovered 120 kg of copper wire. With this, the police claimed to have solved 60 cases of theft.

Patiala SSP Hardyal Mann talking to the media on Monday. Tribune photo

Jail clash leaves 1 injured
Barnala, May 5
In a clash between two groups of prisoners in the sub-jail here Sunday evening, Vishesh Kumar, an undertrial, was injured. He was admitted to the local Civil Hospital. Harpal Singh, Deputy Superintendent of Police (DSP), Barnala, said an altercation took place between members of the Dhilwan group and the Sherpur-Sanghera group.
6-yr-old raped by teenager
Moga, May 5
A six-year-old girl was allegedly raped yesterday by a 12-year-old boy, with whom she used to play, at Bilaspur village in Nihalsinghwala sub-division of Moga district. A case has been registered under Sections 376, 366-A of the IPC and Sections 8 and 10 of the Prevention of Children from Sexual Offences Act, 2012, against the minor boy. Nihalsinghwala police station SHO Jaswinder Singh, who is investigating this case, said the accused, Chinda Singh, the girl's neighbour, called her to his house while she was playing outside and then sexually abused her. The parents of the boy were reportedly not at home during the incident. — TNS