Expansion of IT Park
Acquire 272 acres, says parliamentary sub-committee
Chandigarh, May 5
While the Supreme Court had quashed the acquisition of land for Rajiv Gandhi Chandigarh Technology Park, a parliamentary sub-committee has now recommended the acquisition of another 272 acres for the expansion of IT Park.
A view of IT Park in Chandigarh. Tribune photo: Manoj Mahajan
Left in the dark by storm, 1,250 called up power helpline
Chandigarh, May 5
With the UT Electricity Department finding it difficult to restore the power supply to many sectors after the storm last evening, as many as 1,250 city residents called the department helpline during the past 24 hours.
Road rage: Youths thrash bus driver
Panchkula, May 5
In a case of road rage, a bus driver suffered serious injuries when he was allegedly thrashed by six youths after he applied sudden brakes near the Command Hospital, Chandimandir, here late last night, resulting in a collision.
Storm aftermath
Close shave for businessman's family
Chandigarh, May 5
A Chandigarh-based businessman, Gagan Chhabra, and his family had a miraculous escape when their Mercedes Benz SUV got stuck in a waterlogged underpass near the CTU workshop in the Industrial Area, Phase I, here last night.
Businessman Gagan Chhabra stands next to the SUV that got stuck at a waterlogged underpass (right) in the Industrial Area, Phase I, Chandigarh, after Sunday evening's storm. Tribune photos: S Chandan and Manoj Mahajan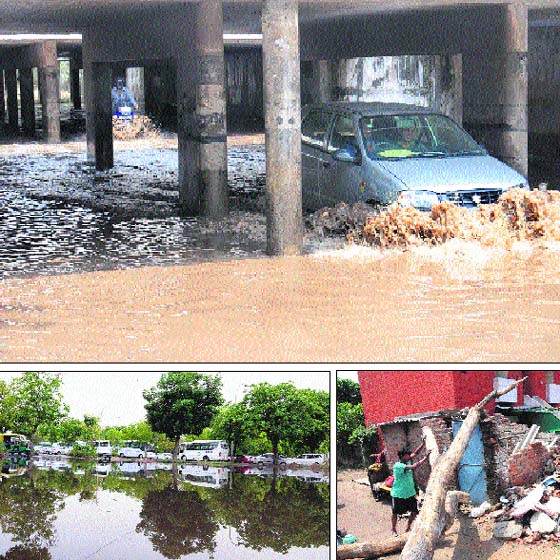 Nature's Fury: (Clockwise from top) Motorists wade through a waterlogged underpass dividing Sectors 11 and 15; a man tries to remove an uprooted tree that fell on the roof of his house in Sector 28; and water accumulated in the parking area opposite Hotel Taj in Sector 17, Chandigarh. Various parts of the city witnessed heavy rain on Sunday evening. Tribune photos: Manoj Mahajan and S Chandan

Better Chandigarh
Dispensaries only in name, say city residents
Chandigarh, May 5
The uneven distribution of powers — for managing a majority of civic dispensaries in the city — between the Municipal Corporation and the UT Health Department has affected health services at a majority of dispensaries.
Long wait: Patients at the dispensary at Ramdarbar Colony in Chandigarh. Tribune photo: Pradeep Tewari



Major relief for industrialists in city
Chandigarh, May 5
In a major relief to city industrialists, the parliamentary panel has agreed to the long-pending demand of converting industrial sites from leasehold into freehold. The Sub-committee on the Administration of Union Territories of the Department related Parliamentary Standing Committee on Home Affairs in its recent report submitted to the Union Ministry of Home Affairs has recommended the conversion of Industrial plots from leasehold into freehold.

An overview of the Industrial Area, Phase II, in Chandigarh. Tribune photo: Manoj Mahajan

Long queues irk power bill payers
Mohali, May 5
Electricity bill payers had a harrowing time standing in long queues in the sweltering heat at payment counters at the main office of Punjab State Power Corporation Ltd (PSPCL) in the industrial area here today.
Residents stand in a queue to pay their power bills at a counter of the PSPCL office in the Industrial Area, Phase 1, Mohali, on Monday. Tribune photo: Vicky Gharu


Mend your ways, Mohali DC tells govt officials
Mohali, May 5
Miffed over the lackadaisical attitude and growing complaints of shirking duty against several government officials, Mohali Deputy Commissioner Tejinder Pal Singh Sidhu cautioned the entire government staff to mend their ways.
world asthma day today
'Social stigma stops patients from using inhalers'
Chandigarh, May 5
Even as the inhalation therapy is considered most effective form to treat and cure asthma, affluent and educated classes shy away from using inhalers openly due to social stigma. The dependence on oral steroids instead has been resulting into side-effects, say pulmonary experts here.
Every 20th school-goer in tricity asthmatic: Expert
Chandigarh, May 5
To mark the World Asthma Day, Max Super-Speciality Hospital (MSSH), Mohali, held a health talk on "how to identify and control asthma" at Manav Mangal School, Sector 21, here today. Around 200 students of Class X and teachers of Manav Mangal School attended the session.
freezers in mortuary go out of order
Hospital tells kin to bring ice slabs to preserve cadavers
Panchkula, May 5
The General Hospital authorities are asking the kin of the dead to bring ice slabs to preserve the cadaver as all the four freezers at the mortuary were out of order. For the last five days, the freezers are lying non-functional causing the bodies kept there to decompose.
Nurse to get national award
Chandigarh, May 5
A staff nurse working with the Government Multi-Specialty Hospital (GMSH), Sector 16, has been selected for National Florence Nightingale Award -2014 for her exemplary services.


Villagers protest opening of liquor vend
Mohali, May 5
Residents of Jagatpura village today blocked traffic on the main road in protest against opening of a liquor vend at the entry point of the village. The protesters, including several women, sat on a dharna in the middle of the road and demanded that liquor vend should be shifted immediately.
Villagers block road in protest against the opening of a liquor vend at Jagatpura in Mohali on Monday. Tribune photo: Vicky Gharu
Incompatible kidney transplants done at Fortis
Chandigarh, May 5
Fortis Hospital, Mohali, conducted three kidney transplants wherein the blood groups of donors and recipients were incompatible.
Admn told to set up dog pound in city
Chandigarh, May 5
The Punjab and Haryana High Court was today told that not even a single case of rabies has been reported in the city in the last four years. Taking up the matter hovering around the presence of stray dogs in the city, the Bench meanwhile directed the Chandigarh Municipal Commissioner to seek instructions from the UT Administration on setting up of a dog pound in the city.
Bal Sadan in P'kula inspected
Panchkula, May 5
As part of their ongoing inspection at the homes for the destitute after the Chandigarh incident, District and Sessions Judge-cum-Chairman of the District Legal Services Authority (DLSA) RK Sondhi today visited Bal Sadan in Sector 12, Panchkula.
High drama at Sector 41 market
Chandigarh, May 5
A high drama was witnessed at the Krishna Market in Sector 41 here this evening when a team of UT officials, led by Deputy Commissioner Mohammed Shayin, reached the market on getting complaints that original allottees who had sold-off their booths had reached the market in the wake of an owner verification survey being done by the UT Estate Office tomorrow.
City records lowest maximum temperature in ten years
Chandigarh, May 5
The city recorded the lowest maximum temperature of 34.4 degree Celsius in the last 10 years today, which is three notches below the normal. As per the records of the Met Department the reported temperature is between 40 and 44 degree Celsius in May in the past 10 years.



Reappear ExamINATION
Students stage protest, seek re-examination
Chandigarh, May 5
High drama was witnessed outside the Director Public Instructions DPI (S) office, Sector 9, today as more than 100 students of Class IX — who did not clear a re-appear examination — demanded that they be given another chance to take the exam.


Students hold a protest outside the office of the Director, Public Instructions (S), Sector 9, in Chandigarh on Monday. Tribune photo: Pradeep Tewari
2 new courses to start at GGDSD
Chandigarh, May 5
Goswami Ganesh Dutta Sanatan Dharma (GGDSD) College will start two new courses from the academic session 2014-15. The college today received the UGC's approval to run new vocational courses, including Retail Management and Food Processing and Preservation under the National Vocational Education Qualification Framework (NVEQF) of the Ministry of Human Resource Development.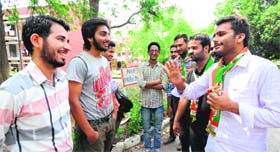 NSUI activists seek votes for Himachal Pradesh Congress candidates from students belonging to the state, at Panjab University on Monday. Tribune photo: Pradeep Tewari
10 Rayat & Bahra students clear GATE
Mohali, May 5
Ten students of the Rayat & Bahra Group of Institutes have cleared the Graduate Aptitude Test in Engineering (GATE)-2014. The scores achieved by these students ranged from 710 with 99.29 percentile to 392 with 90 percentile.
Hand Hygiene Day observed
Chandigarh, May 5
World Hand Hygiene Day was celebrated by the Department of Community Medicine, School of Public Health, PGIMER, at the Civil Dispensary and at schools here today.
Employees serve notice on Education Department
Chandigarh, May 5
The UT Cadre Educational Employees' Union has served a legal notice on the Director Public Instructions (schools) regarding teachers and employees of other states serving on deputation in the city.
FROM SCHOOLS
Phonics workshop for parents
Chandigarh: Tribune Model School organised a phonics workshop for the parents of the kindergarten section on its campus here today. The school authorities said the workshop had been organised to familiarise the parents with effective teaching and learning strategies associated with the concept of sound.