Money and criminality in elections
During the past 66 years since Independence, money and muscle power have grown from strength to strength in Indian politics. A large number of politicians with a criminal record continue to win elections to dictate their terms of democracy
Navin Chawla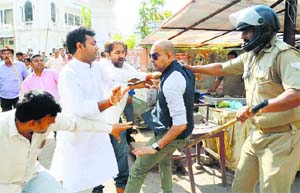 The violent way: Workers of the Bundelkhand Vikas Sena protest against the Congress manifesto in Lucknow. PTI
When I was Chief Election Commissioner in 2009-10, I ran into the leader of a major political party at an airport lounge. I asked him why his political party nominated candidates with criminal backgrounds and whether there was a solution to this growing problem. He replied, "When elections are on the horizon, our only mantra is "winnability". But if there is no election on the horizon, then I will attend any meeting on this issue convened by you and sign on the dotted line". I put the same question informally to other leaders. They cited similar reasons. "Winnability" triumphed, as is evident in the General Election in progress.
The abhorrence of criminality in politics is a common thread running through practically every audience I have addressed or seminars I have participated in during the last eight years. Students in particular are increasingly aware of the figures compiled by non-governmental organisations such as the National Election Watch (NEW) and Association of Democratic Reforms (ADR) from the affidavits submitted to the ECI by contestants. Two vital orders of the Supreme Court in 2002 and 2003 have made it compulsory for all candidates to file information regarding any and all criminal cases pending against them, as well as figures of their assets and their educational qualifications. With this information, the Court hoped that voters would make informed choices about whom to vote for or not. It is by now well recognised that in the present (outgoing) Parliament, as many as 30 per cent of sitting Lok Sabha and Rajya Sabha MPs have criminal cases pending against them. What is also available on the ADR websites is that the Bihar Assembly (2010) has a high of 58 per cent criminals among its MLAs, while the Uttar Pradesh Assembly (2012) has 41 per cent. Even more regrettably, the Jharkhand Mukti Morcha has 82 per cent criminals among its MPs and MLAs.
Across party lines
Criminality in politics, or more pointedly, persons with criminal charges against them sitting in our Parliament and legislatures, is an issue that has for long been debated in many forums and has also been at the forefront of reform proposals sent by the Election Commission of India (ECI) to the Government. Several Commissions on Electoral Reforms have offered solutions. But to no avail. Is it any surprise then that student audiences ask what is the point of clean election processes if the end result is to elect tainted men and women as our lawmakers?
Witness the percentages for candidates with criminal antecedents in the Assembly Elections to five states in late 2013. The figures posted by the ADR on their website are revealing. In Delhi, out of 796 candidate analysed, 129 (or 16 per cent) declared criminal cases pending against them. Of the 16 per cent, the party break - up had SAD with both its candidates having criminal cases against them (100 per cent), BJP at 46 per cent, INC at 21per cent, and JDU with 30 per cent. Even the Aam Admi Party gave tickets to 5 candidates with self declared criminal cases. In Rajasthan, the CPM led (41 per cent), BJP followed (16 per cent) and INC was third (14 per cent). In Madhya Pradesh, the INC led (40 per cent) followed by BJP (27 per cent). In Chattisgarh, the BJP led (17 per cent) and INC followed (11 per cent ). What also emerged from the trend is that the party in power was less prone to field criminal candidates than the party in opposition.
Futile efforts to reform
Is there a way out of this impasse? For long years the ECI had been writing to successive Governments that if a Court frames charges against someone for a heinous crime (punishable by five years imprisonment plus), this candidate should stand debarred until finally proven innocent. The ECI believes this to be a reasonable restriction. This was rejected by a Standing Committee of Parliament on the grounds that political parties often foist false cases against their political opponents when they come to power. The ECI thereafter amended its suggestion to include only such charges framed six months prior to an election. Parliament's Standing Committee rejected this and in turn offered to set up fast track courts. These too, were never set up.
The second major problem we need to combat is that increasingly our elections have become far too expensive .This has resulted in our 15th Lok Sabha comprising over 60 per cent crorepatis. There has been a growing tendency for all the established political parties to choose crorepatis as their candidates, obviously on the assumption that they would fund their own elections without overly burdening the party. This trend is also evident from the figures collated by ADR over the last several elections, both to Parliament and State Assemblies.
Unlimited spending
Although spending limits were recently raised from Rs 40 lakh to 70 lakhs for a Parliamentary election, and upto 16 lakhs for an Assembly election, it is widely recognised that candidates far exceed this statutory limit. They are, however, very careful not to be caught out, as this could lead to possible disqualification. In last year's Delhi Assembly election, the INC fielded 61 crorepatis for 70 seats; while the BJP fielded 58 for 68 seats. To the astonishment of the nation, the AAP demonstrated that big money could be defeated by the aam admi ( the common man) with practically nothing in his or her pocket.
In the ongoing General Election, the ADR and NEW have analysed that in the first five phases, 17 per cent of the 3,305 candidates have declared criminal cases pending against them in their affidavits. Of these 10 per cent face serious charges like murder, rape and robbery. Party wise, 23 per cent candidate fielded by INC and 34 per cent of the BJP, 38 per cent by the BSP and 10 per cent by AAP have self declared pending criminal cases. This trend continues apace into the 6th phase, again with an average 17 per cent of such declarations. Meanwhile a total of 921 candidates out of the 3305 are crorepatis. Of this, INC has 84 per cent, the BJP at 74 per cent and the AAP at 43 per cent. For the 6th phase alone, the INC has declared an average wealth for its 81 candidates at 15 crores, the BJP at 11 crores and the AAP at 3 crores.
Search for an ideal model
Surely this is now an urgent need to find some solution for the malaise of money power. For even if spending limits are doubled, will it make much difference when spending is already far in excess? Have we not already become a kind of plutocracy? In my view, one way to get the genie back into the bottle is to seriously deliberate the question of some form of full or partial State funding of elections. There are a number of global models to choose from.
It is fortunate that our founding fathers, with consummate wisdom, created institutions that have been able to withstand some of the distortions that have crept in. Over the years, the Supreme Court, the High Courts, the Election Commission and the CAG have, through a number of important judgments and orders strengthened our democratic framework. The Election Commission itself has introduced many more transparency measures to combat electoral fraud, and has effectively outlawed the strong-arm methods of yesteryear The Press has played a vital role, particularly in its reportage of election related news. The Supreme Court in a momentous decision (Lily Thomas vs Union of India10 July 2013), removed the protective shield that MPs and MLAs had hitherto enjoyed, which was that even upon conviction for an offence, they could continue to enjoy the shelter of Parliament/ legislature, if they simply filed an appeal within 90 days! And in a more recent and equally important decision, the Supreme Court has decreed that all cases involving politicians facing criminal cases must be completed within a year.
This General Election to elect the 16th Lok Sabha has arguably already proved itself to be the most expensive election in our Parliamentary history. Sadly, we are also witnessing the most vitriolic and communal utterances almost daily. Add to this, the malaise of money and criminal power at constituency levels. Yes, that leader who met me accidentally at an airport was at least truthful when he said "winnability'' was all that mattered. But at what cost to our nation is something that we need to do something about before we, too, become "the world's largest democracy'' only in name.
— The writer is a former Chief Election Commissioner and conducted the 2009 General Election. He is also the biographer of Mother Teresa.
The power structure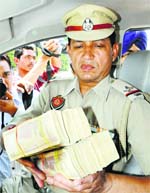 Police official displays money seized from liquor shops in Amritsar.
Apart from money and muscle power, Indian politicians are known for using the police force to their advantage. In Prakash Singh vs Union of India, in December 2006, the apex court had directed the States to de-poiliticise the police forces to ensure that they may discharge their responsibilities in accordance with the law of the land, rather than act at the behest of the politicians. The apex court found fault with four States, including UP, for not taking the issue of police reforms seriously, even after seven years since its landmark order.
Durga Nagpal, SDM, Gautam Budh Nagar, who took on the sand mafia of NOIDA in UP, rubbed the state government on the wrong side. In retaliation, the State's political executive ordered her suspension, accusing that she committed the rash act of demolishing the wall of a religious structure, which could have led to riots.
The Lokayukta report of 2011 on illegal mining in Karnataka details the methods in which miners, government officials and ministers colluded to defraud the government of mining revenues.
The Association for Democratic Reforms (ADR) scanned the affidavits filed by 62,847 candidates who have contested elections to the legislatures since 2004 and found that 11,063 of them faced pending criminal cases, 5,253 out of them faced 13,984 serious criminal charges including murder, rape, corruption, extortion, dacoity etc. ADR's analysis showed that many such candidates made it to the legislatures. Despite all the noise made by our politicians demanding honesty in our political system, none had the compunction to appeal to their legislators with criminal record to quit voluntarily.
Lucrative business of politics
Only in the business of politics one could enhance wealth a whopping 1000 fold from the time of joining the ruling caucus till its mandatory five-year term ends.
The rising trend of 'criminalisation' of Indian politics coincides with the advent of globalisation and the politics of coalitions.
JMM (Jharkhand Mukti Morca) bribery scandal ushered in the culture of 'horse trading' in Indian politics when 10 MPs of the JMM and Janata Dal were bribed to cast their votes to defeat a no-confidence motion in the Lok Sabha against the minority Congress Government, led by P.V. Narasimha Rao in 1993.
Following a sting operation which exposed on December 12, 2005 the MPs accepting bribes for raising questions, Parliament expelled the tainted members on December 23. An FIR was filed against the expelled MPs on June 9, 2007. A BSP MP Raja Ram Pal of the previous Lok Sabha, managed to win the 2009 general elections from Akbarpur on a Congress ticket despite the case.