I love the jungle, I always have. There is an unpredictability about it that is just beautiful. You never know where and when you will encounter the life you ought to live — untamed and feral. Everything is defined only by its own existence. Animals are what they are — unabashedly themselves," says Priyanka Gandhi Vadra in "Ranthambhore: The Tiger's Realm", a coffee table book she has co-authored with friends Anjali and Jaisal Singh.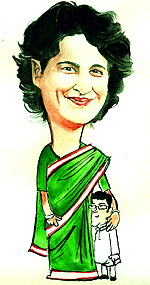 Sandeep Joshi
Priyanka was obviously not referring to the jungle of Indian politics, which, at the moment, she seems to be loving equally.
Congress star campaigner Priyanka is clearly the only person in the party fraternity who has been able to skilfully counter Modispeak consistently with clarity, connectivity and elan.
Sample this: "Yeh Bharat desh hai jise chalane ke liye chappan inch ka seena nahin, dariyadil chahiye, (To rule the country one does not need a 56-inch chest but a kind heart)" she said referring to BJP prime ministerial candidate's much-touted chest.
Taking on Modi, she retorted: "Kabhi ABCD, kabhi RSVP, kabhi 'd' se desh, kabhi 'k' se kaua. Kabhi 'b' se bas bhi toh kariye! Aap kisi prathmik pathshala ko thode sambodhit kar rahe hain! Yeh desh ki janta hai. Janta mein vivek hai (Stop using abbreviations like RSVP — Rahul, Sonia, Vadra, Priyanka. You are not a schoolteacher. You are talking to the people of the country who are discerning).
She reacted most sharply to the BJP's booklet and videotape titled "Damaad Shri" on her husband Robert Vadra: "Yeh (BJP) baukhlaye hue choohon ki tarah bhag rahe hain. Jitna karna hai kar lein. Main kisi se nahi darti. Main inki vinashak, nakaratmak aur sharmnak rajniti pe bolti rahungi (BJP is behaving like panic-stricken rats. I challenge you to do whatever you want. I am not scared and will speak up against their destructive, negative and shameful politics).
Chiding Modi for his childish rebukes, she asked him to uphold the dignity of the office of the Prime Minister that he was aspiring for. "Ek party hai uske neta mere bhai Rahul ko kabhi namuna kehte hain, kabhi shehzada kehte hain, kabhi mazaakiya keht hain. Arrey, PM banne ki aas rakhte hain toh bachpane mein kyon padte ho? Pad ki garima ko samajhiye."
Priyanka is determined to take on Modi's electoral rhetoric. Single-handedly, she is giving it back to the Modi brigade in a language understood by the common man, devoid of spite. Whichever way the country's politics goes post-May 16, one thing is clear that from now on, the question would not be Rahul or Priyanka, but Rahul and Priyanka in Congress circles.
Congressmen who have been observing her for many years say she is "dadihaali" (taking after the father's family) compared to Rahul who is "naanihali".
Like her grandmother Indira Gandhi, Priyanka emerges the strongest when pushed to the wall. She is protective towards her family and says she would go to "any extent" to help out her brother.
Old-timers recall an equally combative Priyanka in 1999, campaigning for loyalist Satish Sharma to defeat Rajiv Gandhi's cousin-turned-foe Arun Nehru. Addressing a rally, then 27-year old Priyanka had attacked Nehru: "Mujhe aap se ek shikayat hai. Mere pita ke mantri mandal mein rehte hue jisne gaddari ki, bhai ki peeth mein chhura mara — jawab dijiye — aise aadmi ko aapne yahan ghusne kaise diya? Unki yahan aane ki himmat kaise hui?" (I have a complaint against you [voters]. A man who committed treachery while remaining in my father's ministry, who stabbed a brother in the back, how did you let such a man come here? How dare he come here)?"
Proving once again that she was like her grandmother, she had remarked: "Yahan aane se pehle maine apni maa se baat ki thi. Maa ne kaha kisi ki burai mat karna. Magar main jawan hoon, dil ki baat aap se na kahun to kisse kahun?" (Before coming here I spoke to my mother who advised me against speaking ill of anyone. But I am young; if I do not share my feelings with you, whom shall I speak to?) Her gumption had sealed Nehru's fate forever.
In the 2014 elections, Priyanka has limited her campaigning to the twin constituencies of Rae Bareli and Amethi. Her hard-hitting retaliation has rescued the Congress campaign from derailing.
Ten years ago, Rahul, and not the more charismatic Priyanka, was Sonia Gandhi's choice when the time came to take up the family mantle. To why Priyanka was not taking on the responsibility, Sonia had asserted that she was fulfilling the most important duty of nurturing a young family. The hands-on mother to Raihan and Miraya, Priyanka is now less burdened with responsibilities as her son is in a boarding school and daughter is expected to follow suit.
Congressmen believe that now she would shoulder more responsibility in the party. In the face of an adverse verdict, they expect Rahul to take on the government inside Parliament and hope the party to rally around Priyanka as Sonia goes into retirement mode.