road mishap
Things will never be the same for Kirti's family
Chandigarh, May 3
The house that once echoed with Kirti Devi's guffaw and chitchats was not the same today, as the 16-year-old, who was the pride of her mother and two elder sisters, is no more among them. On Friday, the girl lost her life in an accident when her scooty was hit by a private school bus.

Victim Kirti's inconsolable mother flanked by her elder sisters at their residence in Sector 19, Chandigarh, on Saturday. Tribune photo: Manoj Mahajan
City's loss could be auctioneer's gain again
Chandigarh, May 3
The UT Administration may have discarded the old furniture designed by Le Corbusier's cousin Pierre Jeanneret, but Paris-based Artcurial Auction House is again set to earn thousands of euros from the auction of the heritage furniture.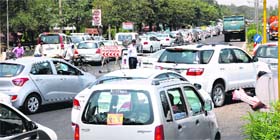 Chock-a-block: Traffic moves at a snail's pace near the Kalagram light point due to re-carpeting of the Chandigarh-Panchkula road on Saturday. Tribune photo: S Chandan
EO to hold fresh probe in booth scam
Chandigarh, May 3
The UT Estate Office (EO) will be holding a fresh investigation into the infamous booth scam. A team from the EO will visit the Krishna Market in Sector 41 on May 6 to check the ownership details of the booth allottees.
illegal vegetable market
Probe finds Market Committee, P'kula Admn, HUDA guilty
Panchkula, May 3
The local Market Committee, the Panchkula Administration and the Haryana Urban Development Authority (HUDA) have been held responsible for the illegal vegetable 'mandi' held in Sector 19 here.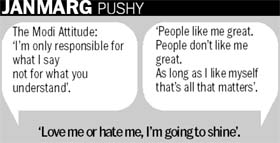 registration fee
From June, RLA to accept only demand drafts
Chandigarh, May 3
From June onwards, the Registering and Licensing Authority (RLA) will accept the registration fee for new vehicles in the form of demand draft (DD) only. At present, payment of fee for registration of new vehicles can be deposited either through cash or DD.
Leopard strays into Chhat Bir zoo, kills two barking deer
Chhat Bir, May 3
A leopard strayed into the Chhat Bir zoo here and targeted an enclosure for barking deer and killed two antelopes. The zoo staff, however, managed to trap the big cat safely after a struggle of over five hours. It is for the first time that a leopard strayed into the zoo and killed animals.


Harish Dhillon's 19th book unveiled
Chandigarh, May 3
Known for his larger-than-life middles in newspapers, Harish Dhillon, academician-cum-author, who has penned over 18 books, unveiled his 19th book "Of Cabbages and Kings" (a book of middles) at the CGA Golf Range here today.
Justice (retd) SS Sodhi (second from right) releases a book of Harish Dhillon (third from right) at the CGA Golf Range in Chandigarh on Saturday. Also seen in the picture are Rajan Kashyap (extreme left) and Capt Mohanbir (extreme right). Tribune photo: S Chandan
Development works
DC warns civic body officials of strict action
Panchkula, May 3
Tightening noose around the officials of the local civic body, the deputy commissioner (DC), at a meeting, today warned them of a strict action if deficiencies were found in the ongoing developmental works in the city.


Former addicts stage play on drug abuse
Chandigarh, May 3
A theatre group, comprising seven children who were drug addicts, staged a play titled 'Pata na tha' based on the role of panchayats in the prevention of alcohol and drug abuse.

Volunteers of SPYM stage a play, 'Pata na tha', to raise awareness against drugs at Panjab University in Chandigarh on Saturday. Tribune photo: Pradeep Tewari






All-India JEE (Mains) examination
Hardik Verma tops in Tricity
Chandigarh, May 3
Three friends - Hardik Verma, Gurkirat Singh Bajwa and Aryan Garg - clinched top three positions in the Tricity in the all-India JEE (Mains) examination. Surpassing last year city's highest score of 331, Hardik topped with 345 marks, followed by Gurkirat with 336 marks and Aryan with 335 marks out of a total of 360 marks.


(From left): Hardik Verma, Gurkirat Singh Bajwa and Aryan Garg share a light moment in Chandigarh on Saturday. Tribune photo: Manoj Mahajan

Hearing impairment no deterrent for this achiever
Chandigarh, May 3
Prashant Mittal, who was born with hearing impairment, never let his disability deter his dreams and zest to prove that he belonged to the league of achievers. The city lad scored 283 marks in the all-India JEE (Mains) examination.

Prashant Mittal, along with his parents, in a jubilant mood in Chandigarh on Saturday. Tribune photo: Parvesh Chauhan


Interactive session on cyber crime
Chandigarh, May 3
An interactive session between students and cyber crime experts from the Chandigarh police on how to prevent cyber crime was held at St Stephen's School in Sector 45 here today.
Bhavan Vidyalaya-27 wins inter-school quiz
Mohali, May 3
The Association of British Scholars (ABS), Chandigarh Chapter, organised an inter-school quiz competition at Manav Mangal Smart School here today. The focus of the quiz was on "education, lifestyle, language, sports and culture in the UK".
FROM SCHOOLS
Annual sports meet
Chandigarh: The annual sports meet of Government Model Senior Secondary School, Sector 37, was organised here on Saturday. Events such as sack race, bursting the balloons, hit and run, butterfly race, lemon and spoon race and peel the peas were held.