AAP sting shows Akalis buying votes
Muktsar, May 2
The Aam Aadmi Party's (AAP) Punjab unit has uploaded a 11.25 minute video on its official Facebook page showing some Akalis allegedly distributing money among the voters on the polling day.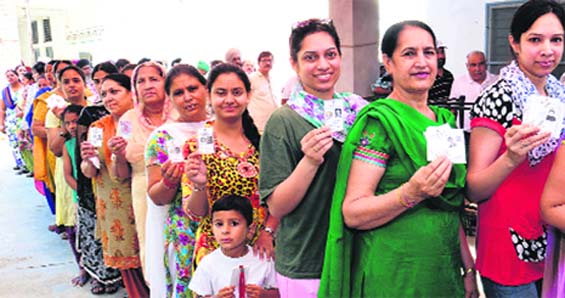 Top AAP leaders had alerted supporters against such attempts to buy votes. file photo
Will move SC against Akalis: Bajwa
Chandigarh, May 2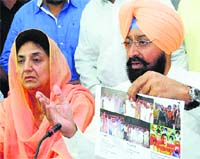 The Punjab Pradesh Congress Committee (PPCC) today said it would approach the Supreme Court to help uncover the growing clout of Shiromani Akali Dal (SAD) leaders and the role of Revenue Minister Bikram Majithia in the drug trade.




PPCC chief Partap Bajwa and former CM Rajinder Kaur Bhattal show photos of Akali leaders having attended functions allegedly with drug dealers, in Chandigarh on Friday. Tribune photo

SAD activists burn effigies of Cong leaders
Muktsar, May 2
Akali leaders today burnt the effigies of Congress MLA from Gidderbaha Amarinder Singh 'Raja Warring', PPP chief Manpreet Singh Badal and Congress candidate from FaridkotJoginder Singh Panjgrian, accusing them of delivering provocative speeches yesterday that were "aimed to divide Sikhs and Hindus."
AAP ends dharna as police promise action
Patiala, May 2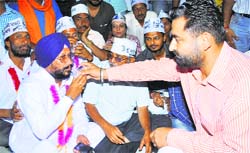 Workers of the Aam Aadmi Party (AAP) today ended their dharna when assured by the police that the safety of AAP workers would be ensured and action initiated against Akali workers accused of attacking AAP candidate Dr Dharamvir Gandhi and his supporters on April 30.



Jaskiran Teja, Patiala SP, offers water to an AAP leader on fast in Patiala on Friday. Tribune photo

Repolling in two Nabha booths today
Chandigarh, May 2
Owing to faulty electronic voting machines (EVMs), the Election Commission has ordered repolling at two polling stations in the Patiala parliamentary constituency.
15 booked for Tarn Taran poll violence
Tarn Taran, May 2
The police have booked 15 persons for election-related violence in the area.


Can't give funds to fight drug menace: Centre tells state
Chandigarh, May 2
The state government's attempt to wage a war against drug menace has hit a stumbling block. The Centre has made it clear that it was not possible for it to provide financial assistance to the government.
PTU notification to engg colleges scrapped
Jalandhar, May 2
As a major relief for thousands of aspirants for engineering colleges of Punjab, the Department of Technical Education and Training has cancelled a notification of the Punjab Technical University (PTU) which had empowered its 100-plus affiliated colleges to independently conduct admissions to B Tech.
DNA testing of Ajnala martyrs to begin soon
Amritsar, May 2
The DNA testing of the martyrs of the 1857 mutiny, whose remains were dug out from a well (Kalianwala Khu) near Ajnala, would begin soon. The aim would be to establish the identity of the martyrs of the First War of Independence.
BSF repatriates 2 Pak nationals
Amritsar, May 2
In a goodwill gesture, the Border Security Force (BSF) today handed over two Pakistani nationals who had inadvertently crossed into the Indian territory.
Nakai is IFFCO chairman
Chandigarh, May 2
Eminent cooperator and farmer Balwinder Singh Nakai has been elected as the Chairman of Indian Farmers Fertilisers Cooperative Limited (IFFCO). NP Patel has been elected its vice-chairman. The cooperative is one of the largest bodies in the country supplying fertilisers to farmers. It has around 45,0000 agricultural cooperative societies as its member.

PPSC chief Buttar retires
Patiala, May 2
Lt Gen (retd) MS Buttar, who took over the reins of the Punjab Public Service Commission (PPSC) on July 9, 2013, retired today. PPSC member Dalbir Singh Mahal may be given the officiating charge of PPSC chairman till the new appointment is made.
Farmer gets tube well connection after 23 yrs
Ropar, May 2
Following the directions of Permanent Lok Adalat, a farmer will get an electricity connection for his tube well after 23 years today. The adalat was headed by Jagroop Singh Mahal.
Farmers rejoice Nakai's elevation as IFFCO chief
Abohar, May 2
Locals residents and farmers were jubilant at the appointment of Balvinder Singh Nakai as chairperson of the Indian Farmers Fertiliser Cooperative Limited (IFFCO), world's top fertiliser producer cooperative organisation.
Short of staff, Faridkot civic body loses 'firepower' to Kotkapura MC
Faridkot, May 2
The Faridkot Municipal Committee (MC) has shifted its lone fire tender to the Kotkapura civic body. The reason: there's no firefighter in Faridkot to operate the machine that was bought for about Rs 1 crore recently.
Cong MLA Raja Warring's video clip 'abusing' kin goes viral
Muktsar, May 2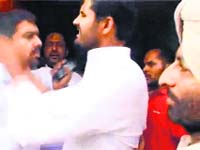 A video clip reportedly showing Congress legislator from Gidderbaha Amarinder Singh 'Raja Warring' abusing and slapping his relative while giving an interview to a news channel has gone viral on social networking sites.




A video grab of Congress MLA Amarinder Singh 'Raja Warring' slapping his relative in Gidderbaha on April 30.

Tankhah to Majithia too mild: SAD (A)
Fatehgarh Sahib, May 2
The Akal Takht Jathedar has played a cruel joke on the Sikh community by awarding Revenue Minister Bikramjit Singh Majithia a mild tankhah (punishment), the Shiromani Akali Dal (Amritsar) said today.


Sikhs object to headgear ban at American park
Washington, May 2
Sikh and Muslim groups have filed complaints alleging religious discrimination against a California amusement park after a couple of families wearing their religious headgear were denied go-karting because of "safety concerns".


HC to consider narcotic content to decide penalty
Chandigarh, May 2
The Punjab and Haryana High Court has decided to adjudicate whether the entire quantity of powder found in the possession of an accused is to be taken into consideration while calculating the quantity of narcotic drugs or psychotropic substance or just the actual quantity of pure contraband in the mixture found in his possession.
Frame norms for NGOs in 2 months, HC tells state
Chandigarh, May 2
The Punjab and Haryana High Court has set a two-month deadline for the states of Punjab and Haryana, along with Chandigarh administration, to frame norms for regulating activities of all non-government organisations dealing with the upkeep of people with mental disabilities.
Five years on, FIR against Jain preacher quashed
Chandigarh, May 2
Nearly five years after Jain "sadhvi" or preacher Brahamcharani Didi Chetna was booked by the Punjab Police on the allegations of passing derogatory remarks against "Bhagwan Valmiki", the Punjab and Haryana High Court has quashed the FIR against her.
Will frame scheme for deceased farmers' kin, state tells courts
Chandigarh, May 2
Less than three months after the Punjab and Haryana High Court directed the state of Punjab to frame an "appropriate scheme" for granting financial assistance to the cultivators, the government today said it would come up with the policy within three months.
Five get 10-yr jail for theft
Faridkot, May 2
The court of district and sessions judge Archana Puri today sentenced five persons to 10-year jail for stealing 7 kg of gold from a money lender about four year ago.


Heroin worth Rs 1.5 cr seized
Tarn Taran, May 2
The police have arrested two persons with 300 gram of heroin from a naka set up in the area on Thursday evening. The heroin was worth Rs 1.5 crore in the international market.