Parliamentary panel raps MC
Chandigarh, May 6
A parliamentary panel has rapped the municipal corporation for its failure to fully utilise the annual budget allocated to the civic body, affecting development of the city.
Estate Office teams detect 59 suspicious cases
Chandigarh, May 6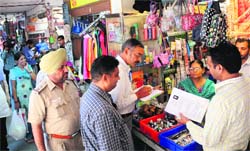 Teams of the UT Estate Office today detected 59 suspicious cases of illegal possession of booths in the Sector 41 Krishna Market here.




Officials of the UT Estate Office conduct an ownership verification drive at the Krishna Market, Sector 41, Chandigarh, on Tuesday. Tribune photo: Majon Mahajan
Parents allege murder; inquiry ordered
Panchkula, May 6
Panchkula Commissioner of Police Ajay Singhal today ordered a probe into the recent death of Saman Dhanak, grandson of former Haryana minister Amar Singh Dhanak, in an "accident" after the parents alleged it was murder. Saman Dhanak (26), an advocate, was killed after his car fell into a gorge in Morni while his friend (a girl) suffered serious injuries.


GMCH-32 to expand facilities
Chandigarh, May 6
In order to bring down the load of patients at the PGIMER, Government Medical College and Hospital (GMCH), Sector 32, is going to expand its facilities.
180 flats occupied illegally
Chandigarh, May 6
Even as the Chandigarh Housing Board (CHB) is yet to allot all 8,848 one-room tenements in the Dhanas Rehabilitation Colony, over 180 flats in the colony have been illegally occupied by slum-dwellers.
Civic body to take over maintenance
Chandigarh, May 6
Putting an end to the stinking issue of toilets' maintenance in the city, the Municipal Corporation has decided to take over the process.
Congress leader held for duping city resident of Rs 96 lakh
Mohali, May 6
The Mohali Police arrested a Patiala-based Congress leader Nawab Singh for defrauding a Chandigarh resident of Rs 96 lakh in a property transaction case. Accused Nawab Singh, a resident of Majithia Enclave, Patiala, has been arrested in a case registered under Sections 406, 420 and 506, of the IPC at the Phase 1 police station on the complaint of Virsa Singh Sandhu, a resident of Sector 21, Chandigarh.
Sant Footwear, Adidas told to refund cost of shoes
Chandigarh, May 6
Sant Footwear and Adidas India Private Limited have been directed to refund cost of Adidas shoes purchased by a complainant who allegedly found fault in the shoes bought from Sant Footwear. The District Consumer Disputes Redressal Forum has directed opposite parties to refund Rs 4,999 - the cost of shoes and also a compensation of Rs 3,000 for mental agony.
SSP seeks DC's comment
Chandigarh, May 6
Acting on a complaint about ADC Tanvi Garg holding still keeping a personal security officer (PSO) despite relinquishing the charge of the Additional District Magistrate (ADM) and the SDM (Central), the Senior Superintendent of Police (security) has sought comments from the Deputy Commissioner.
183 challans issued to violators
Chandigarh, May 6
Shop owners occupying more than the allotted space in the city markets were in for trouble today.
Food joints outside lal dora face closure
Chandigarh, May 6
The UT Administration will not issue food license to the restaurants, bakeries, dhabas and other food joints operating outside lal dora limits of the city.
Power lines snap due to digging work
Mohali, May 6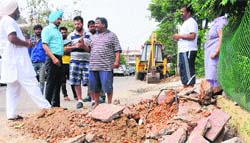 Certain residents of a locality in Sector 71 faced inconvenience when a contractor, assigned by the Mohali Municipal Corporation to construct pavement in front of houses there, dug out electricity cables of the area with his JCB machine.


Residents at the site in Sector 71, Mohali. Tribune photo
SIT officers depose before court
Panchkula, May 6
In the Jyoti murder case, the two main members of the Special Investigation Team (SIT) today deposed before the court.
Cable theft leaves 3,600 BSNL phones dead
Mohali, May 6
Thefts of BSNL telephone cables have taken place at three locations in the past about 10 days leaving thousands of telephones dead. Nishan Singh, senior SDO (cable maintenance), BSNL, said cable thefts were committed over the past many months, but not a single culprit had been nabbed so far. The incidents were recorded in the DDR by the police and that was the end of it. He said the theft of cables from BSNL points located underground was not a simple job. The culprits require at least two hours and proper light to commit the crime at night. He was of the view that adequate and effective night patrolling by the police could check such thefts.
Child rights panel puts police on notice
Chandigarh, May 6
Chandigarh Commission for the Protection of Child Rights (CCPCCR) issued another notice to the Chandigarh police for not appearing for hearing of the case involving visiting of the police officials in uniform at the children home for girls earlier known as Bal Niketan located in Sector 15.
Youth falls from bus, dies
Chandigarh, May 6
A 28-year-old youth died after he fell from a Haryana Roadways bus while alighting from it.
Police save youth's life
Chandigarh, May 6
Swift action by the police helped save the life of a youth who was threatening to commit suicide today.
No headway in post office robbery case
Dera Bassi, May 6 The district police have failed to make any headway in the post office robbery in which three armed robbers decamped with Rs 2 lakh.
Patient needs help
Chandigarh, May 6
While several kidney failure patients die every year in the wait for a kidney donor, a 30 year old patient is unable to undergo transplant despite having a donor. Unable to meet the expense of kidney transplant at the PGIMER, Akhil Kalita, has been surviving on dialysis by relying on his wife's meager income.
A day out for thalassaemic children
Chandigarh, May 6 In a bid to motivate children suffering from thalassemia, the Rotary Blood Bank Society, Sector 37, will organise a day out for recreation and motivation of 20 such children from across the city on Wednesday.
400 paper-checkers boycott work
Chandigarh, May 6
As many as 400 staff members of Panjab University — involved in checking of papers — today boycotted their work to protest the non-revision of the rates of remuneration.
AIPMT: 2 errors in chemistry section, six in biology
Chandigarh, May 6
The All India Pre Medical/Pre Dental Test (AIPMT) — held for medical aspirants across the country on May 4 — continues to be mired in controversy.
PU felicitates psychologist
Chandigarh, May 6
The Department of Psychology, Panjab University (PU), has felicitated eminent psychologist Prof Jitendra Mohan for having received the first-ever life-time achievement award by the Indian Psychological Association (IPA).
Teachers discuss demands with DHE
Chandigarh, May 6
A delegation of the Punjab and Chandigarh College Teachers Union (PCCTU), today met Sandeep Hans, Director Higher Education, (DHE), Chandigarh Administration, regarding their pending demands.

Expert sheds light on asthma
Chandigarh, May 6
On the occasion of World Asthma Day, Panjab University (PU), organised a talk on asthma today.



Prof Digamber Behera addresses the gathering during a talk on the occasion of World Asthma Day at Panjab University in Chandigarh on Tuesday. Tribune Photo: S Chandan