How much do Nigeria's schoolgirls matter?
The abduction of more than 200 schoolgirls by terrorists in Nigeria has had little media coverage as compared with the Malaysian airliner which went missing
Joan Smith
WHEN members of the Islamist terror organisation Boko Haram abducted more than 200 schoolgirls from the town of Chibok in north-eastern Nigeria last month, they disguised themselves in military uniform. The girls, who knew that many schools in the state of Borno have been attacked by jihadists, initially believed that the unexpected visitors had come to take them to a safe place. But as they climbed reluctantly into trucks and on to motorcycles, the men began firing into the air and shouting "Allahu Akbar". Some of the girls decided to make a run for it, but the majority were coerced into travelling to a bush camp. There the terrorists forced them to cook for their captors.
Mothers of the missing Chibok girls abducted by Boko Haram Islamists waiting to receive information from officials last week. Nigeria's President said Boko Haram's mass abduction would mark a turning point in the battle against the Islamists. AFP
To say that Boko Haram opposes gender equality is an understatement. The group's name is a Hausa phrase which translates as "Western education is sinful"; abducting teenage girls fulfils several of the group's aims, bringing the girls' education to an abrupt end and forcing them into traditional female roles. Of course, Boko Haram doesn't just target girls; in February, it carried out a massacre at a rural boarding school in the neighbouring state of Yobe, where most of the 43 victims were boys. But it was clear from the outset that the kidnapped girls were at high risk of sexual violence, a point made by the British Foreign Secretary, William Hague, in one of his first statements about the abduction.
Last week, these fears appeared to have been well-founded when unconfirmed reports suggested that the girls had been taken out of Nigeria and were being forced to "marry" members of Boko Haram. It should not need pointing out that "marriage" in this context means domestic enslavement and mass rape. The former British prime minister Gordon Brown, who is now United Nations special envoy on education, observed that the girls' desperate families still do not know "whether they're about to be murdered or used as sex slaves".
Nigeria is one of three countries which have just announced their endorsement of a Declaration of Commitment to End Sexual Violence in Conflict, an initiative by the British government which has been signed by more than three-quarters of UN member states. So what are the Nigerian authorities doing about this egregious example of sexual violence within their own borders? When I spoke to the Foreign Office recently, a spokesman told me that Mr Hague had offered assistance to the Nigerian Minister for Foreign Affairs, Aminu Wali, two weeks earlier – and was still waiting for a response.
Almost three weeks after the girls were seized, there is mounting anger in Nigeria about the government's failure to locate and rescue them. Officials tried to play down the gravity of the incident, claiming that just over a hundred girls had been taken but latest figures suggest at least 223 remain missing. Fifty-three escaped but the military, which claimed to have rescued most of the teenagers, has had to admit its failure to retrieve a single one. Distraught relatives went into the forest armed with bows and arrows but were warned to turn back by local people, who said they stood no chance against the heavily armed jihadists.
"We don't know where they are up until now, and we have not heard anything from the government," the father of one of the girls told The New Yorker last week. He is one of the lucky ones: his daughter Deborah Sanya, 18, took one look at the terrorists' camp and realised that her only chance was to run and hide in the forest. She persuaded two of her friends to go with her and they managed to get to a nearby village. But her cousins and many of her friends are still missing.
On last Friday's morning's Radio 4 Today programme, the Nigerian Nobel laureate Wole Soyinka described the abduction as an "atrocity". Soyinka has been critical of the Nigerian government's response almost from the start, previously accusing the President, Goodluck Jonathan, of insensitivity towards the girls' plight. But it has to be said that it is not just the Nigerian government which is open to this charge. Where were the international television crews and big-name foreign correspondents when so many teenage girls were abducted? Without intense scrutiny from the world's media, a weak government fighting an undeclared war with well-armed terrorists was never likely to mount the kind of search and rescue operation demanded by such dire events.
Anyone who doubts the power of the world's media to affect the actions of governments should consider the very different response to the disappearance in March this year of a Malaysian airliner. The unsolved mystery of Flight MH370 is a tragedy for the relatives of those on board, and it now looks as if they may not discover what happened to their loved ones for months or years. But the missing plane remained at the top of the international news agenda for weeks, long after any realistic hope of finding survivors had faded. Politicians held daily press conferences, despite having next-to-nothing to report.
There is a very good chance, by contrast, that the Nigerian schoolgirls are still alive – and could be rescued. Mr Brown has called for international military assistance, including air support. But the sluggish response of the international media speaks volumes about the low priority afforded to violence against women and girls.
Scouring thousands of miles of ocean for debris is much more appealing, it seems, than reporting on the abduction and probable enslavement of more than 200 female students.
What's Boko Haram
* Boko Haram regards the Nigerian state as being run by non-believers, even when the country had a Muslim president. Founded in 2002
* Official Arabic name, Jama'atu Ahlis Sunna Lidda'awati wal-Jihad, means "People Committed to the Propagation of the Prophet's Teachings and Jihad"
* Initially focused on opposing Western education
* Nicknamed Boko Haram, a phrase in the local Hausa language meaning, "Western education is forbidden"
* Launched military operations in 2009 to create an Islamic state
* Founding leader Mohammed Yusuf killed in same year in police custody
* Succeeded by Abubakar Shekau
* Military claims to have killed Shekau have turned out to be untrue
* The outfit has cells that specialise in bombings. Northern Nigeria has a history of spawning militant Islamist groups, but Boko Haram has outlived them and is far more lethal, with a global jihadi agenda.
At a glance, the rise and growth of a militant outfit that wages a global jihad
Nigeria's militant Islamist group Boko Haram — which has caused havoc in Africa's most populous country through a wave of bombings, assassinations and now abductions — is fighting to overthrow the government and create an Islamic state. Its followers are said to be influenced by the Koranic phrase which says: "Anyone who is not governed by what Allah has revealed is among the transgressors".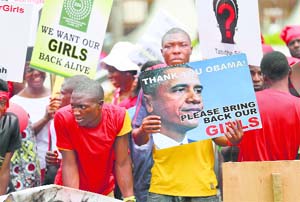 People carry signs as they attend a protest demanding the release of abducted secondary school girls from Chibok. Reuters
Boko Haram promotes a version of Islam which makes it haram, or forbidden, for Muslims to take part in any political or social activity associated with Western society.
This includes voting in elections, wearing shirts and trousers or receiving a secular education. Boko Haram regards the Nigerian state as being run by non-believers, even when the country had a Muslim president. The group's official name is Jama'atu Ahlis Sunna Lidda'awati wal-Jihad, which in Arabic means "People Committed to the Propagation of the Prophet's Teachings and Jihad".
But residents in the north-eastern city of Maiduguri, where the group had its headquarters, dubbed it Boko Haram.
Loosely translated from the local Hausa language, this means "Western education is forbidden".
Boko originally meant fake but came to signify Western education, while haram means forbidden.
Since the Sokoto caliphate, which ruled parts of what is now northern Nigeria, Niger and southern Cameroon, fell under British control in 1903, there has been resistance among some of the area's Muslims to Western education.
They still refuse to send their children to government-run "Western schools", a problem compounded by the ruling elite which does not see education as a priority.
Against this background, the charismatic Muslim cleric, Mohammed Yusuf, formed Boko Haram in Maiduguri in 2002. He set up a religious complex, which included a mosque and an Islamic school.
Many poor Muslim families from across Nigeria, as well as neighbouring countries, enrolled their children at the school.
But Boko Haram was not only interested in education. Its political goal was to create an Islamic state, and the school became a recruiting ground for jihadis.
In 2009, Boko Haram carried out a spate of attacks on police stations and other government buildings in Maiduguri.
This led to shoot-outs on Maiduguri's streets. Hundreds of Boko Haram supporters were killed and thousands of residents fled the city. Nigeria's security forces eventually seized the group's headquarters, capturing its fighters and killing Mr Yusuf.
His body was shown on state television and the security forces declared Boko Haram finished.But its fighters regrouped under a new leader, Abubakar Shekau, and have stepped up their insurgency.
In 2010, the US designated it a terrorist organisation, amid fears that it had developed links with other militant groups, such as Al-Qaida in the Islamic Maghreb, to wage a global jihad.
Boko Haram's trademark was originally the use of gunmen on motorbikes, killing police, politicians and anyone who criticises it, including clerics from other Muslim traditions and Christian preachers.
The group has also staged more audacious attacks in northern and central Nigeria, including bombing churches, bus ranks, bars, military barracks and even the police and UN headquarters in the capital, Abuja.
Amid growing concern about the escalating violence, President Goodluck Jonathan declared a state of emergency in May 2013 in the three northern states where Boko Haram is the strongest — Borno, Yobe and Adamawa. Deployment of troops has driven many militants out of Maiduguri, their main urban base. They have retreated to the vast Sambisa forest, along the border with Cameroon. The group's fighters have launched mass attacks on villages, looting, killing and burning properties in what appeared to be a warning to rural people not to collaborate with the security forces, as residents of Maiduguri had done.
Terror graph
* Despite its vast resources, Nigeria ranks among the most unequal countries in the world, according to the UN. The poverty in the north is in stark contrast to the more developed southern states. However, in the oil-rich south-east, the residents of Delta and Akwa Ibom complain that all the wealth they generate flows up the pipeline to Abuja and Lagos.
* Boko Haram has stepped up its campaign against Western education, which it believes corrupts the moral values of Muslims, especially girls, by attacking two boarding schools — in Yobe in March and in Chibok in April.
* It abducted more than 200 schoolgirls during the Chibok raid, saying it would treat them as slaves and marry them off — a reference to an ancient Islamic belief that women captured in conflict are part of the "war booty".
* A similar threat was made in May 2013, when it released a video, saying it had taken women and children — including teenage girls hostage in response to the arrest of its members' wives and children. Later on, there was a prison swap.
*n Boko Haram's urban bombing campaign, targeted the capital on April 14, when at least 70 persons were killed in an explosion near a car park and on May 2, when 19 people died.
—The Independent