State tops in drug seizures during poll
New Delhi, May 12
Punjab, a state that prides itself in being the granary of the nation, has topped in the seizure of drugs across the country. The Election Commission's teams seized 139 tonnes of drugs in the state during the recent Lok Sabha elections.
Poll losses: Ministers may bear the brunt
Chandigarh, May 12
Faced with dissidence in some seats during the Lok Sabha elections, the ruling Shiromani Akali Dal (SAD) would now assess the performance of each of its ministers and chief parliamentary secretaries in their respective Assembly constituencies.
Road outside CM's house in Badal village caves in
Badal/Muktsar, May 12
The recently constructed "VVIP road" outside Chief Minister Parkash Singh Badal's residence at Badal village caved in speaking volumes about the quality of work undertaken by the state government.
Bikram Majithia serves 'tankhah' at Akal Takht
Amritsar, May 12
Revenue Minister Bikram Majithia today started an "akhand path" at Akal Takht and washed utensils at the langar hall of the Golden Temple as part of "tankhah" (religious punishment) awarded to him.
Nanakshahi Calendar Row
Ahead of Gurpurab, all eyes on Pakistan gurdwara committee
Amritsar, May 12
With the martyrdom day of Guru Arjan Dev falling next month, it's to be seen whether or not the Pakistan Sikh Gurdwara Parbandhak Committee (PSGPC) will start following the amended Nanakshahi Calendar to observe Gurpurabs in Pakistani gurdwaras.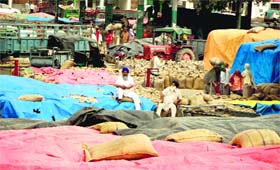 undercover exercise:

Farmers at a grain market in Jalandhar on Monday, seemingly concerned about weather conditions. Tribune photo: Sarbjit Singh
CVC probing 'anomalies' in water treatment project
Faridkot, May 12
The Punjab Government and the Central Vigilance Commission (CVC) are probing the alleged irregularities in the allotment of tenders worth Rs 17.78 crore for a water treatment project in Faridkot circle.
Reveal number of Bluestar victims: Dal Khalsa
Amritsar, May 12
Unveiling its programme to observe the 30th anniversary of the Operation Bluestar here next month, the Dal Khalsa today said the Punjab Government should reveal the number of casualties in the Army operation.
pseb class XII result
40 subjects score 100 per cent result
Mohali, May 12
The Punjab School Education Board (PSEB) saw 100 per cent pass percentage in 40 subjects of Class XII.
Farmers oppose WTO suggestions
Chandigarh, May 12
Farmers today warned the Centre against succumbing to the "diktats" of the World Trade Organisation (WTO) while implementing recommendations made by it in its ninth ministerial conference in Bali in December last year.
Cong to form panels to fight vendetta cases
Hoshiarpur, May 12
The legal cell of the Punjab Congress will set up a mechanism to protect party workers from being implicated in "false cases" by the SAD-BJP Government.
Won't part with Bhai Rupa land: SGPC
Bathinda, May 12
SGPC president Avtar Singh Makkar today said the committee would not leave an inch of the land over which controversy had erupted at Bhai Rupa village recently.
Ban on security guards inside counting hall
Chandigarh, May 12
The Election Commission of India today clarified that as per the provisions of Section 50 of the Representation of People Act 1951, a contesting candidate (whether he is sitting MP/MLA/MLC) has a right to be present in the counting hall along with counting agents. They, however, cannot take along their security guards in the counting hall.
Govt moves against IAS officer for graft
Chandigarh, May 12
The Punjab Government has proceeded to act against senior IAS officer Sumer Singh Gurjar on a complaint by state Transport Minister Ajit Singh Kohar, accusing the officer of seeking a commission for clearing bills of suppliers and employees.
Bar Assn seeks security for Gorsi, Mahajan
Chandigarh, May 12
Less than a week after two Amritsar-based advocates Sandeep Gorsi and Vaneet Mahajan dragged minister Anil Joshi to court in the dual vote case, the Punjab and Haryana High Court Bar Association today moved the High Court seeking adequate security for them. Gorsi and Mahajan have been made respondents in the petition.


HC: Self-financed varsities not on par with state institutes
Chandigarh, May 12
The Punjab and Haryana High Court has made it clear that self-financed universities not receiving grant-in-aid, and granted certain autonomy by the state legislature, cannot be treated on a par with state-funded universities, indicating that the fees charged need not be the same.


Shahi Imam receives threat letter
Ludhiana, May 12
The Shahi Imam of Punjab, Maulana Habib-Ur-Rehman Sani Ludhianvi, has received threats to his life, 10 days after he criticised the comments by Vishwa Hindu Parishad leader Pravin Togadia and BJP leader Giri Raj Kishore.
Woman, lover booked for husband's suicide
Tarn Taran, May 12
A woman and her paramour were among four persons booked for her husband's suicide. The deceased was identified as Surjit Singh (30) of Bath village. The accused are Rajwinder Kaur (Surjit's wife), her paramour Amritpal Singh of Kallha village, her mother Sarabjit Kaur and another relative Guno.