Dal Khalsa, Cong question 'VIP treatment' to Majithia
Amritsar, May 7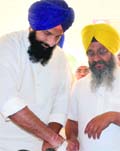 Senior Congress leader Sukhjinder Raj Singh Lalli Majithia today questioned the alleged VIP treatment being accorded to Punjab Revenue Minister Bikram Singh Majithia while he is undergoing 'tankhah' (religious punishment). The 'tankhah' was awarded to him by the Sikh clergy for his blasphemous speech during an election rally here.



Revenue Minister Bikram Majithia performs 'sewa' at Takht Damdama Sahib in Talwandi Sabo on Tuesday. A tribune File photograph
Congress seeks investigation into cases against its workers
Chandigarh, May 7
Alleging that the police were filing frivolous cases against its workers, six Congress MLAs, led by Congress Legislature Party (CLP) Leader Sunil Jakhar, today met the Director-General of Police. They demanded a fresh inquiry into these cases.


Leader of Opposition Sunil Jakhar and other Congress leaders after lodging a complaint at the Punjab DGP office in Chandigarh on Wednesday. Tribune photo
People will soon lose faith in AAP: Badal
Rakhra (Patiala), May 7
Appreciating the Election Commission for doing a commendable job in Punjab, Chief Minister Parkash Singh Badal today said that reports of money having been distributed in Bathinda to woo voters were false and part of the propaganda against the SAD. Nevertheless, his party would win big in Punjab, he claimed.
Book Akali MP for seeking votes in Panth's name: AAP
Faridkot, May 7
A day after the police arrested an advocate for sending an "offensive" SMS to Faridkot MP Paramjit Gulshan, advocates in the city are up in arms against the MP and the district police.
'Attacked' by Akalis, Cong polling agent writes to Akal Takht
Mansa, May 7
A Congress polling agent in Mansa district who was injured on the polling day (April 30) is yet to get an FIR registered against the Akali goons, including the son of the Rajya Sabha member from Sardulgarh, involved in the violence.


State told to consider setting up independent agency
Chandigarh, May 7
For applying the brakes to the process of re-carpeting roads at frequent intervals owing to the lack of quality control, the Punjab and Haryana High Court has called upon Punjab to consider the feasibility of setting up an independent agency.
Canada Post releases stamp on Komagata Maru
Jalandhar, May 7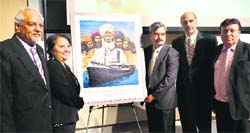 The Centre and the state governments have yet to acknowledge the significance of the Komagata Maru incident, but the Canada Post Corporation yesterday released a commemorative postal stamp on the incident in Ottawa on its 100th anniversary.

Canada Post CEO Deepak Chopra (right) releases the stamp on Komagata Maru in Jalandhar on Wednesday. Tribune photo
Pbi varsity staff not paid salary this month
Patiala, May 7
The delay in the release of grant worth ~15 crore by the Punjab Government has once again put Punjabi University on the back foot, as it has failed to release the salaries of all teaching and non-teaching employees for this month.
Ludhiana MC demolishes over 15 illegal structures
Ludhiana, May 7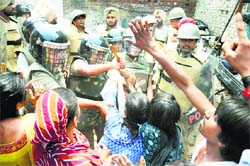 The Municipal Corporation conducted a demolition drive at the posh Ghumar Mandi area of the city today. More than 15 illegal shops and a few houses were razed.






Residents of Ghuman Mandi in Ludhiana protest demolition of their houses on Wednesday. Tribune photo
Majithia's name appears in plea filed by Patiala man
Chandigarh, May 7
Less than a year after Cabinet Minister Bikram Singh Majithia's name surfaced in a petition alleging harassment and implication in a false case because of his political links, petitioner Narinder Anmol Singh has again moved the Punjab and Haryana High Court, seeking directions for quashing the orders passed by a Tarn Taran court declaring him a "proclaimed person".
Batala industrialists want freight equalisation policy reintroduced
Batala, May 7
Industrialists rue that not even a single politician spoke about the need to reintroduce the Freight Equalisation Policy (FEP) during the election process. They said the withdrawal of the policy had "sounded the death knell" for hundreds of middle and small-scale industrial units of the "steel town".
Truck drivers protest faulty weighing machine
Muktsar, May 7
A large number of truck and tractor drivers today lodged a protest outside the godown of SOMA company on the Burj Sidhwan-Malout village road.
ADC wants clip checked by forensic lab
Muktsar, May 7
The inquiry officer in the alleged note-for-vote scandal at Kauni village today submitted his report to the Mansa Deputy Commissioner.
Undertrial escapes from GND Hospital
Amritsar, May 7
Guru Nanak Dev Hospital here seems to be a convenient escape route for jail inmates. Last evening, an undertrial escaped from the hospital. The three guards who were escorting him are absconding.



SAD leader Tota Singh chargesheeted
Mohali, May 7
Charges have been framed against former Education Minister Tota Singh and former chairman of the Punjab School Education Board (PSEB) Kehar Singh in the 2002 recruitment scam.
HC upholds state's right of land use for gas pipeline
Chandigarh, May 7
The Punjab and Haryana High Court has upheld the Punjab Government's right of land use for laying a pipeline to transport natural gas. The acquisition of right of user in land was part of the process to provide natural gas through the pipeline to the entire country.
HC attaches salaries of PRTC officers
Patiala, May 7
The Punjab and Haryana High Court has ordered to attach the salaries of senior officers of the Pepsu Road Transport Corporation (PRTC) following their inability to pay on time pension and others dues to its retired employees. The PRTC management has been drawing strictures from the High Court in this regard.


Nihangs attack TTE
Amritsar, May 7
A Travel Ticket Examiner (TTE) on the New Delhi-Amritsar Shatabdi, Pawan Mehta, was injured when two Nihang Sikhs allegedly attacked him at Manawala railway station where the train had halted for a few minutes, waiting to get a green signal.
Conman held in Abohar
Abohar, May 7
The Abohar police have arrested Amandeep Kamboj of Punnawala village (Fazilka), who was allegedly running a "Punjab Police recruitment" racket, under Sections 420, 506 and 120B of the IPC. The police reportedly intercepted his car with a "VVIP" number CH01AR0009 to nab him. His "VIP" mobile number has also come under the police scanner.
2 nabbed for duping Army aspirants
Ferozepur, May 7
The Punjab Police's CIA wing has busted a gang which duped youths aspiring to join the Army. This is the third such case this year. Sources in the CIA said these people used to charge up to Rs 5 lakh from these youths on the pretext of providing them a job in the armed forces. The accused also gave the victims fake appointment letters. Those arrested are Rajinder Singh, ex-serviceman, and Upkar Singh. Their third accomplice from Jalandhar managed to flee.
Murder convict flees from open jail
Abohar, May 7
Hakimuddin of Bharatpur district, who had been awarded life sentence in a murder for loot case, escaped from the open jail in neighbouring Sriganganagar in Rajasthan. Sources said the convict had been in the judicial custody during the hearing of the case for the past 11 years. The authorities shifted him to the open jail run in government agricultural farms in Jaitsar segment on April 28.