Shimla district registers lowest voter turnout in state
Shimla, May 7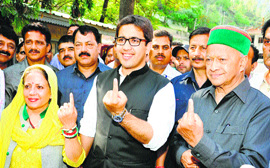 Living up to its reputation of being the district registering the lowest voter turnout Shimal district recorded a poll percentage of mere 59.24 per cent even though this is almost seven per cent higher than the last Lok Sabha election.

Chief Minister Virbhadra Singh, Congress candidate Pratibha Singh and Youth Congress president Vikramaditya Singh after exercising their franchise at Rampur Bushehar on Wednesday. A Tribune photograph

As Indian citizens, Tibetans vote for first time
Dharamsala, May 7
Tibetans who took up Indian citizenship today voted for the first time at McLeodganj to elect the 16th Lok Sabha of the country. Lobsang Wangyal, a Tibetan showman famous for organising the Miss Tibet contest, registered as Indian voter for the first time in these elections. After casting his vote at the Bhagsunag polling booth, Lobsang said: "My request for Indian citizenship was accepted recently and I was issued a voter slip.
More than 65% polling in Kangra subdivision
Kangra, May 7
More than 65 per cent polling was recorded in 197 polling stations of Kangra and Nagrota Bagwan Assembly segments of Kangra Chamba Lok Sabha seat today and there was no report of any untoward incident in any part of the constituency. Deputy Commissioner C Palrasu said there was no problem in any EVM machine in this district today.
Over 60% voting in Mandi
Kullu, May 7
The voting for the Mandi parliamentary constituency remained steady and peaceful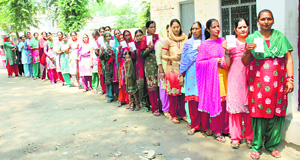 in all four Assembly segments of the district, which has 2,74,602 voters, including 1,33,299 women voters. Around 62 per cent voter turnout was recorded in Mandi district, while Kullu Assembly segment saw 60.49 per cent turnout, Banjar 60.25 per cent, Manali 64.24 per cent and Ani 64.98 per cent.

Voters stand in a queue to cast their vote at a polling station at Balh in Mandi on Wednesday. Photo: Jai Kumar

Kangra registers 65% voting
Dharamsala, May 7
About 65 per cent polling was registered in the Kangra parliamentary constituency till 6 pm. Officials said the polling percentage might go up as data from some remote stations was yet to the received.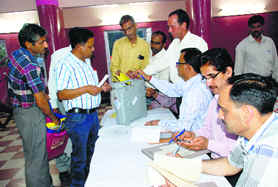 75% voting in Paonta Sahib
Solan, May 7
Sirmaur today registered 70 per cent voting for the Shimla Lok Sabha seat, where the voting process passed off peacefully with no untoward incident being reported. People turned out in large numbers in all five Assembly segments. There was an increase of nearly 11 per cent in voter turnover as compared to the 2009 Lok Sabha elections.

Polling officials with electronic voting machines in Nahan.
65% people cast vote in Palampur
Palampur, May 7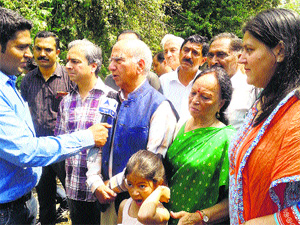 Over 65 per cent polling was reported from the Palampur region comprising four Assembly segments of Palampur, Sulaha, Baijnath and Jaisinghpur. In rural areas, the polling was heavy as compared to urban areas like Palampur, Baijnath and Paprola. Long queues of voters were seen at many polling stations early in the morning. However, in the afternoon there was less turnout and many polling stations wore a deserted look. In Sulaha and Jaisinghpur areas, women voters outnumbered their counterpart.

Senior BJP leader Shanta Kumar, along with his family members, at the Aima polling station near Palampur on Wednesday. Photo: Ravinder Sood

64% polling in Chamba district
Chamba, May 7
In Chamba district, the tentative voter turnout in the five Assembly segments was around 64 per cent, said Deputy Commissioner (DC) Kadam Sandeep Vasant, who is also the District Election Officer, here today. However, the final report about segment-wise polling percentage was yet to be compiled, the DC said.
Heavy polling in Kasauli, Solan
Solan, May 7
Solan district witnessed about 70 per cent voting for the Shimla Lok Sabha seat till 6 pm, witnessing a sharp increase as against 58.46 per cent voting in the 2009 General Election.
Hamirpur records 70% voting
Hamirpur, May 7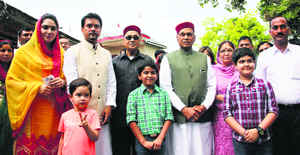 Seventy per cent polling was recorded in the Hamirpur parliamentary constituency today. Around 70.70 per cent polling was registered for the Sujanpur Assembly byelection. Former Chief Minister PK Dhumal, his son Anurag Thakur, who is the BJP candidate from Hamirpur, and other family members cast their vote at their ancestral Sameerpur village.

BP leader PK Dhumal, along with his family members, on his way to cast his vote at Sameerpur village. A Tribune photo

Promises not kept, voters boycott polls at 9 stations
Shimla, May 7
Saying 'no' to utilising the NOTA option on the electronic voting machines, the voters in as many as nine polling stations - seven located in Mandi Lok Sabha constituencies, and of these, four in tribal Lahaul-Spiti and two polling stations in Kangra constituency, boycotted the Lok Sabha polls today in the state. They cited that the successive governments did nothing to address their grievances over the years.
Discounts galore for voters
Shimla, May 7
While the Election Commission has launched an aggressive campaign for voting, people became part of the campaign and even businessmen contributed to it by offering discounts to the electorate who exercised their franchise. A leading restaurant, Ashiana Regency in Chhota Shimla, New Shimla and Sanjauli offered 10 per cent discount to voters for three days from today on sweets, eatable, bakery items and drinks.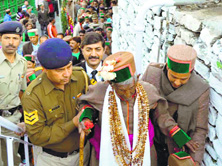 India's first voter gets grand welcome at polling station
Kalpa (Kinnaur), May 7
Independent India's first voter Shyam Saran Negi (97), who is also the brand ambassador of the Election Commission (EC) for creating awareness, today kept his date with the polling and was the first to cast his vote at a model polling station at Kalpa in Kinnaur district.

Ninety-seven-year old Shyam Saran Negi on his way to cast his vote at Kalpa in Kinnaur district on Wednesday.