BJP hardselling Modi's link with state to garner support
Shimla, May 4
Will Modi treat Himachal as his second home the way former Prime Minister Atal Bihari Vajpayee did? In charge of organisational affairs for Himachal for more than six years (till 2000), Gujarat Chief Minister Narendra Modi is familiar with every nook and corner of the state and knows most of the party leaders and workers.
Kinnaur to resonate with Shyam Saran Negi's jingles
Reckong Peo (Kinnaur), May 4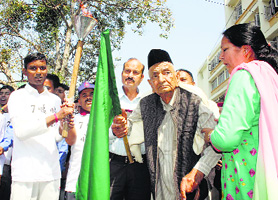 In a last bid to create awareness on the importance of voting, the Kinnaur district administration today launched its "Awareness rath". The rath equipped with audio, video gadgets will take the message of the Election Commission to masses and cover maximum places, including Reckong Peo, Powari and Bhawa Nagar, said DD Sharma, Deputy Commissioner, Kinnaur, while launching the rath in Rekong Peo.

Roshan Lal Vohra flags off a marathon race in Chamba on Sunday.

VIGNETTES
Six 'playful' evenings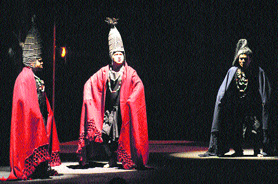 All roads for theatre lovers led to The Gaiety on the evenings of April 24 to 29. Shimla, during the British period, was known as the Mecca of Theatres. It turned out be true to that sobriquet when the Language and Culture Department organised what is probably the most stupendous "Manohar Singh Smriti Natya Utsav" by inviting the best of directors to exhibit their talent. The department honoured the son of that great stage actor, but failed to display a photograph of late Manohar Singh on the occasion.
In Kangra, leaders rely on caste equations
Dharamsala, May 4
Caste is playing a prominent role in election strategies of candidates in the elections for the Kangra parliamentary constituency. With the polling day on May 7 drawing closer, caste affiliations are being put to use by the contesting candidates and their supporters.
After BJP-Congress workers' clash, blame game begins
Una, May 4
The Bharatiya Janata Party and the Congress yesterday entered into a war of words and blame game over the incident on Friday night that led to a clash between workers of the two rival parties at Abada Barana village in Una sadar Assembly segment.
Shanta did not allow any leader to grow in BJP, says Sushant
Palampur, May 4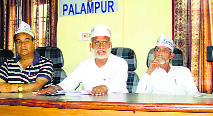 Aam Aadmi Party (AAP) candidate from Kangra Rajan Sushant levelled serious charges against BJP leader Shanta Kumar and said he did not allow any other leader to grow in the BJP and those who tried making their position in the party were politically eliminated by him.

Dr Rajan Sushant addresses mediapersons at the Press Club in Palampur on Sunday. Photo: Ravinder Sood

BJP has no achievements to list in state: Chander
Dharamsala, May 4
Congress candidate from Kangra Chander Kumar campaigned in the Dharamsala Assembly constituency today. While addressing public rallies here, Chander said most of development works in Kangra district were carried out either by the state government or the Centre.
BJP dubs CEO as Cong agent
Shimla, May 4
Narinder Chauhan, Chief Electoral Officer (CEO) in the state, has come under severe criticism from the BJP for allegedly ignoring the complaints of the violation of the model code of conduct against the Congress party and the state government. The BJP has dubbed him as a "Congress agent". Party spokesperson Ganesh Dutt said the CEO should have taken suo moto notice of the reported remarks of Congress vice-president Rahul Gandhi during his Solan rally, wherein he had said, "If Modi becomes the Prime Minister, there will be a massacre of 22,000 Muslims".
Shanta to be minister if NDA wins: Kamal Sharma
Dharamsala, May 4
Punjab BJP president Kamal Sharma today said the BJP candidate from Kangra Shanta Kumar would hold an important portfolio in the Cabinet if the NDA government was voted to power. Kamal, who was here to campaign for the BJP, said Shanta Kumar was the seniormost BJP leader. He was a visionary and among a few leaders of the country who enjoyed a clean image throughout their long political career.
Jasraj Jassi adds colour to AAP candidate's campaign
Shimla, May 4
Singer-turned-politician Jasraj Jassi, an Aam Aadmi Party (AAP) candidate from Bathinda, yesterday livened up an otherwise non-existent campaign of Shimla AAP candidate Subhash Chander by staging a roadshow in the city. Jassi warned BJP prime ministerial candidate Narendra Modi at a press conference that he was underestimating AAP convener Arvind Kejriwal in Varanasi in the way the then Delhi Chief Minister Sheila Dikshit had done in the Capital Assembly polls.
CM has promoted sports: Pathania
Kangra, May 4
Virbhadra Singh is a crusader for the development of sports in the state, said Himachal Pradesh Forest Corporation vice-chairman Kewal Singh Pathania while addressing a rally at the Shahpur Assembly segment today. He said the Congress government led by Virbhadra Singh had constructed 350 playgrounds in the state to boost rural sports, besides helping youth, to showcase their talent at the national and international levels.
Basic amenities at polling booths for voters
Chamba, May 4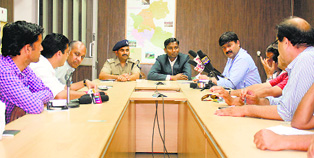 The Election Department has made all possible arrangements for providing basic amenities at polling booths. This was stated by Deputy Commissioner Kadam Sandeep Vasant, who is also the District Election Officer, while briefing mediapersons about the election arrangements in the district here today.

DC KS Vasant briefs mediapersons about election arrangements in Chamba on Sunday.

Two scooterists die in road accidents
Nurpur, May 4
Two scooterists were killed in two separate road accidents in the Nurpur area on Friday night. As per police information, in a hit-and-run case, Nishal Mankotia of Nagabari was coming from Raja Ka Talab to his village when a speeding tanker hit his scooter at Aghar Ka Talab. He was rushed to the Nurpur Civil Hospital by a car driver. He succumbed to his injuries on the way to hospital and was declared brought dead by doctors.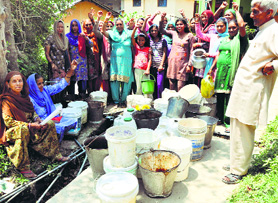 Villagers protest contaminated water supply
Dharamsala, May 4
Residents of Sakoh village near Dharamsala are up in arms against the supply of contaminated water. They alleged they were getting water infested with pests in taps. Kanta Devi, a local resident, said the village was without water supply for the past three days. Today, when the water finally came in taps, it was infested with pests.

Residents protest in support of their demands at Sakoh village near Dharamsala on Sunday. Photo: Kamaljeet

Thunder squall hits state
Shimla, May 4
Several areas of Himachal, including state capital Shimla, Solan, Mandi and Kullu, were hit by a thunder squall followed by mild showers. Dark conductive clouds overcast the sky and visibility was reduced to a few metres.
'Masses have shown support to BJP'
Kullu, May 4
Former BJP minister Jagat Prakash Nadda yesterday said that in the previous seven phases of the Lok Sabha polls, the masses had shown an outstanding support to BJP candidates and had decided to oust the UPA government. He held a roadshow at Dhalpur and later spoke to mediapersons.
Dhumals should give poll fund account: Rana
Nadaun (Hamirpur), May 4
Congress candidate from the Hamirpur parliament constituency Rajinder Rana has asked former Chief Minister PK Dhumal and his son Anurag Thakur to give a proper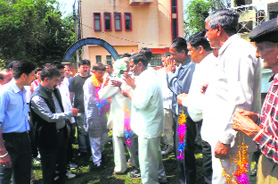 account of the money collected for the election fund. Addressing election meetings under Nadaun Assembly segments yesterday, Rana said, "During the five years of the previous BJP government in the state, several alleged scams took place and the interests of the state were ignored and irregularities were committed in the name of the cricket stadium."

Rajinder Rana addresses a public meeting in Hamirpur on Saturday. A Tribune photograph

Former Cong minister holds roadshow
Kullu, May 4
The 10-day campaign of former Congress state minister Satya Prakash Thakur in the Kullu Sadar Assembly constituency concluded yesterday with a roadshow from Shangri Bagh to Dhalpur. He was campaigning in favour of Congress candidate from the Mandi Assembly constituency Pratibha Singh.
4 killed as vehicle falls into gorge
Kullu, May 4
Four persons were killed and two others critically injured when a Mahindra Xylo (with nine occupants) rolled down about 200 m into a gorge near Banjar, 45 km from here, today. The passengers were returning to their home at Teel village after attending a rally of the All-India Congress Committee (AICC) president Sonia Gandhi at Dhalpur.
Work on Chamba bus stand to start soon: CM
Chamba, May 4
The state government will soon undertake the construction of a new bus stand for Chamba. The HRTC workshop functioning on the proposed site of the new bus stand will be shifted to a nearby place identified for it. This was stated by Chief Minister Virbhadra Singh while addressing mediapersons here late Friday evening. He said the medical college approved by the Centre for Chamba would be a boon for residents. "But for me Himachal Pradesh is one and I am consistently working for its progress and prosperity," Virbhadra maintained. Answering a query about Shanta Kumar who said Rajan Sushant was being used by him (Virbhadra), Virbhadra denied this and said Shanta was making such unfounded statements under the pressure of defeat in the elections. OC
Man gets one-year RI in sodomy case
Kangra, May 4
Kangra Additional Chief Judicial Magistrate Abey Mandyal on Thursday sentenced Rajinder of Nagrota Bagwan to one year and seven months' rigorous imprisonment (RI) and a fine of Rs 20,000 under different sections for sodomising an 11-year-old boy. Anil Awasthi, Assistant District Attorney, prosecutor in the case, said on March 3, 2007, the boy was returning home after attending tuition at Rajinder's house, when he was taken by him to nearby bushes and sodomised. Awasthi said the boy was threatened by Rajinder not to divulge the incident to anyone. The medical examination confirmed that the boy was sodomised and forensic reports indicated semen on the clothes. The police had registered a case against Rajinder at Nagrota Bagwan police station. OC
BJP will lead from Banjar: Khimi Ram
Kullu, May 4
Former state BJP chief Khimi Ram Sharma held public meetings in the Banjar Assembly segment of the district today. He said BJP candidate Ram Swaroop would secure a heavy lead from the Banjar segment and would ruin the Congress citadel in the Mandi parliamentary seat. He said the Congress had never striven for the development of the state and it was former Prime Minister Atal Bihari Vajpayee, who had provided a special package worth Rs 400 crore to Himachal for the first time. He said the government was busy in political vendetta and the development works were being jeopardised. — OC
One dies in road accident
Reckong Peo, May 4
One person was killed when the vehicle (Bolero HP-27A1095) he was travelling in went off the road near Leo in Kinnaur district yesterday. The deceased, identified as Vidya Chand of Chuling village, worked as a mate in the PWD. DC DD Sharma said Rs 10,000 was given to the bereaved family. — TNS