Locals refuse to bury dead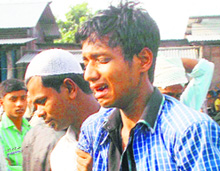 Salbari (Assam), May 4
Demanding that Chief Minister Tarun Gogoi should visit their area, the people of Salbari in Assam's violence-hit Baksa district today refused to bury their kin killed in attacks by NDFB-S militants. Angry protesters in Nankekhadrabari area today said they would not perform the last rites of the bodies of the 18 persons, including children and women, till Gogoi comes and personally assures to provide security to their lives and property.

An inconsolable relative of one of the people killed by Bodo militants in Baksa district, on Sunday. PTI

3 Bodo ultras killed; toll 34
Guwahati, May 4
Three NDFB(S) militants were today killed in two encounters and two bodies, both belonging to women, were found, taking the toll to 34 in the continuing violence in Assam's Kokrajhar and Baksa districts.
India successfully test-fires air-to-air Astra missile
NEW DELHI, MAY 4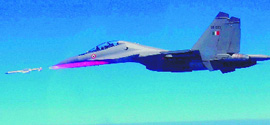 India today successfully test-fired its indigenous all-weather missile, Beyond Visual Range Air-to-Air Missile Astra, with an Indian Air Force Sukhoi-30MKI launching it. After having hit by setbacks in the over decade-old programme, the BVRAAM was successfully tested at a naval range in the western sector.

The beyond visual range air-to-air missile (Astra) being fired from SU-30MKI combat aircraft over a naval firing range in the western sector. PTI

Rahul may prefer rebuilding
New Delhi, May 4
The terse rejection by Congress vice-president Rahul Gandhi of any extension of support to a possible Third Front government at the Centre has embarrassed some senior leaders who had advocated such an approach in the post-poll scenario.
Saunders' killing: Bhagat Singh's name not in FIR, says Pak police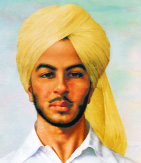 Lahore, May 4
Bhagat Singh's name was not mentioned in the FIR for the murder of a British police officer in Lahore in 1928, the local police have found. This lends credence to the theory of legendary freedom fighter's innocence in the case 83 years after his execution. Petitioner Imtiaz Rashid Qureshi, chairman of the Bhagat Singh Memorial Foundation, had filed a petition seeking an attested copy of the first information report (FIR) registered against Bhagat Singh, Sukhdev and Rajguru for allegedly killing then SSP John P Saunders. Bhagat Singh was awarded the death sentence for killing Saunders and he was subsequently hanged at Shadman Chowk in Lahore in 1931, aged 23.
Desert drill puts to test Army's fighting skills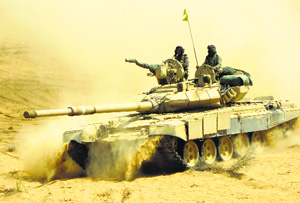 Abohar, May 4
Lt General Arun Kumar Sahni, GOC-in-C (Army Commander), South Western Command, today reviewed the "Sarvada Vijay" exercise in West Rajasthan. The Army Commander was briefed by Lt General Ravi Thodge, Corps Commander, Strike Corps, on the training aspects. "Sarvada Vijay" is being conducted as part of regular training where a large Army formation is practising and honing war fighting skills braving 45 °C heat and dust storms.

A tank in action during "Sarvada Vijay" exercise in west Rajasthan. A Tribune photo

ISI plan to attack US, Israeli consulates in India thwarted
New Delhi, May 4
Central security agencies have claimed that Pakistan's ISI had plans to carry out terror attacks on two foreign consulates in India with evidence for this reportedly given by a Sri Lankan national, arrested from Chennai, during his interrogation.
2G case
Ready to go to jail if proven guilty: Raja
New Delhi, May 4
Former Telecom Minister A Raja, accused in the 2G spectrum case, has said he is ready to live his entire life in jail if any ill-gotten money is found with him. Raja, who is contesting the Lok Sabha Elections from the Niligiris in Tamil Nadu, cited a report published an English daily in 2011 quoting CBI sources that he had kept Rs 3,000 crore abroad.