Exercising the right to vote, and how
The Indian electoral system has improved with every election and has won world-wide appreciation, but there are certain lacunas that need to be addressed
Kanwar Sandhu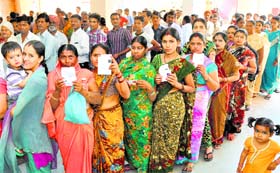 Despite the low level of awareness, the voting percentage in India is still much higher than in many developed countries. Tribune photo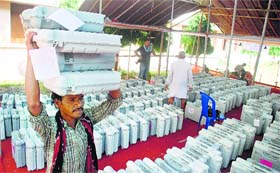 From ballot papers to EVMs, the gigantic poll exercise is a test of the strength of India's democratic process
Our electoral system, which cut its teeth during the first Lok Sabha election in 1951-52 has come a long way. From just 176 million voters then, a record 814 million people were eligible to cast their votes in the recently concluded polls. Far-reaching changes have taken place since the first Lok Sabha polls, which first experimented with multi-seat constituencies; in 1951, for example, there were 489 seats in 401 constituencies. This system was abolished during the 1962 polls.
Paper ballots have been replaced by electronic voting machines which, despite occasional hiccups, have come to be fast, efficient and trustworthy. Voter identity cards with photographs, introduced way back in 1993, are here to stay. The voting age has been lowered from 21 to 18 years, which is in line with most other countries.
Room for improvement
Although the Indian electoral system, which has improved with every election, has won world-wide appreciation, there are certain lacunas that still need to be addressed. Article 324 of the Constitution vests the powers of superintendence, direction and control of conducting the elections to both Houses of Parliament and the State Legislatures to the Election Commission of India (ECI). The ECI, which was a single-member body till 1993 is now a three-member Commission. Although the Lok Sabha and Vidhan Sabha polls in states are held under the overall supervision of the ECI, as per the Representation of People Act, 1951, the Chief Electoral Officers (CEOs) conduct the polls.
Since the CEOs are and remain officers of the state government, which has the powers to post them elsewhere after the polls, they have often drawn flak from opposition parties. A CEO may be accused of toeing the line of the party in power in the state where he serves. Same is the position of the District Election Officers (DEOs).
Either the post of CEOs, like the Chief Election Commissioner, should be made autonomous or a provision should be made in the Representation of People Act to second the officers of the state government who are to act as CEOs and DEOs to the ECI for a fixed tenure of at least 10 years.
Curbing political pressure
State Election Commissioners, who conduct the elections to the Corporations, Municipalities, Zila Parishads, District Panchayats and other local bodies also needs to be insulated from political pressures. Contrary to their nomenclature, they are independent of the Election Commission of India. They are appointed under the 73rd and 74th amendments by the state governments from among the retired officers. Yet, by virtue of their appointment, there are chances of their being swayed by the state governments of the day.
Since elections to the local bodies are pivotal to taking electoral democracy to the grassroots, there is need to make the State Election Commissions also Constitutional bodies on the lines of the ECI. Alternatively, elections to the local bodies could be placed under the CEOs and DEOs in the new avtar that is suggested.
Make NOTA relevant
The other issue is to provide greater relevance to the provision of None Of The Above (NOTA) in the electoral ballot. The system as it exists today remains only a half-way house. While the votes registered as NOTA are counted, they don't change the outcome of the election process even if they number more that the winning tally.
It is suggested that if NOTA votes account for more than the votes gained by the winning candidate in a particular seat, fresh polling should be ordered. In fact, many countries have experimented with different forms of NOTA, which is also referred to as "against all" or "scratch vote" in some places. In the erstwhile Soviet Union, for example, way back in 1991, NOTA led to re-polling in a number of seats.
Since Indian elections today are estimated to be a Rs 30,000-crore extravaganza, and when a sum of that magnitude is involved, the presence of black money is a very strong possibility. The ECI is well aware of this and in the just-concluded General Election it has done its best to intercept unaccounted money. In fact, from the point of view of the Income Tax Department, nothing is better than an election for flushing out black money and exposing those who have been hiding their wealth to avoid taxation. The issue of campaign funding and the expenses of political parties also needs wider consideration. During the 2009 polls, as per the estimates submitted by the political parties themselves, BJP spent Rs 450 crore and the Congress Rs 380 crore. In the recently concluded polls, the expenditure amount is expected to be much more as money spent on media campaigns alone is estimated to be astronomical.
Clean money, clean politics
We need to emulate countries like the US, where "clean money, clean politics" as a slogan is gaining ground. The US Congress banned corporate funding in federal polls way back in 1907. In 2004, unlimited soft money contributions (money a corporation or union could give) were limited by law through the Bipartisan Campaign Reform Act (BCRA). However, limit on contributions by individuals was raised.
In our country, the reverse is the norm and corporate funding is on the increase. Nobody gives money for nothing. It is no secret that corporate houses give money to all parties — a greater amount to the party expected to win, but even those parties whose chances are slim will not be sent away empty-handed. Call it their political hedge fund or a recognition of how swiftly things and unpredictably situations can change in politics.
In US, there is also a provision of candidates raising funds through public finance which is strictly regulated. The public finance is directly proportionate to contribution received from individuals.
Poll expenses
Another lacuna involves expenditure limits during polls. While the Election Commission has fixed limits on individual candidates (Rs 70 lakh for a Lok Sabha candidate), there are no limits on expenses incurred by political parties. Not only should the expenses of a party be directly proportionate to the number of candidates of that particular party in the fray, the parties should be asked to explain the source of such funding.
One of the problems which is becoming more noticeable is of efforts to influence the voter through money, liquor, drugs and muscle power. These practices are continuing since the punishment is not harsh enough — such offences are punishable by imprisonment between one to five years. Since booth capturing is tantamount to an attack on the democratic process itself, it should invite much harsher punishment — possibly at least 10 years imprisonment in order to act as deterrent. Besides, political parties should be brought under the Right to Information Act.
Similarly, the punishment for bribing a voter or for impersonation is just one year's rigorous imprisonment under Section 171 of the Indian Penal Code. In order to have a deterrent effect, this should be enhanced to at least 10 years, with a proviso that if the involvement of the candidate is proved, not only would his candidature be cancelled, he would also be booked for conspiracy to bribe voters.
Postal ballot
Postal ballot system or the "vote by mail" too needs to be further fine-tuned. Although this facility is available to six different kinds of voters, it is most frequently used by the serving defence personnel. It should be made mandatory for military commanders to ensure that each and every individual under their command exercises his or her voting right. Serving personnel could be asked well in advance on whether they would exercise their right in their home town where they have a vote or in the place of their posting. Accordingly, provisions should be made for their voting.
In some states like Punjab, Gujarat and Kerala, a very large number of people live or work abroad. They should not be deprived of their right to vote and it would not be difficult to make it possible for them to exercise their voting right through the Indian embassies. Obviously for this and also the postal ballots, a lot of ground-work will have to be done much before the polling date.
One of the weaknesses of the Indian electoral system is the failure to get most people to exercise their vote. From 59 per cent people exercising their right in the 1951 polls, even now the national polling average is hovering around 66 per cent. This is surprising given the fact that we are now living in the digital age where social media alone influences voting to the extent of 10 to 15 per cent. Moreover, the young voter, whose level of awareness is very high, forms a sizeable percentage of the electorate. Though it must be admitted that despite our poor literacy and awarensss levels, our voting percentage is higher than many countries (in USA it was just 57 per cent in 2012 polls).
Compulsory voting
Many political pundits have even suggested introducing the compulsory voting system that exists in some countries, including Belgium, Greece and Australia, in one form or another. In these countries, those who don't exercise their votes are either fined or face problems in getting or renewing their driving licenses and passports.
In India, Gujarat was the first state to pass a bill for compulsory voting in local body elections but the bill is yet to take the form of law.
While compulsory voting sounds undemocratic, there is definitely need to create still greater awareness. As a first step, it may be in the fitness of things to make voting not just a right but a duty.
Surging poll expenses
Initial findings of an election expenditure tracker by the Centre for Media Studies, three times more is being spent on the 2014 polls than was spent in the last General Election in 2009. The first Lok Sabha polls in 1952 had cost just Rs 10.45 crore. An estimated cost of this election is Rs 3,426 crore.
During the last General Election in 2009, the social media presence was minuscule. Today, however Facebook has 93 million users and Twitter an estimated 33 milion accounts in the country.
The lacunas
In order to insulate the Chief Electoral Officers from political pressures in the states, there is need to make them autonomous on the lines of the Election Commission of India.
The provision of None Of The Above (NOTA) should be made more relevant in the electoral ballot. If more people opt for NOTA than the winning candidate, fresh polls should be held.
Like individual candidates, political parties too should have a limit on the poll expenses during the campaign. Besides, they should be asked to explain the source of their funding.
Highest voter turnout
The 2014 Lok Sabha has earned the distinction of recording the highest voter turnout ever at 66.4 per cent.
The 64 per cent polling witnessed in the 1984 polls, following the assassination of then Prime Minister Indira Gandhi, has been surpassed.
The voter turnout in absolute terms soared to 55.1 crore from 41.7 crore in the last parliamentary polls.
Fifteen of the 35 states and Union territories recorded their highest-ever turnouts
Thirty two states witnessed higher turnouts than the last poll in 2009.
Smaller states and UTs had higher turnouts. Nagaland (88.6 per cent), Lakshadweep (86.8 per cent), Tripura (84.3 per cent), Dadra and Nagar Haveli (84. 1 per cent) and Puducherry (82.2 per cent).
West Bengal with 81.8 per cent turnout, Odisha (74.4 per cent), Andhra Pradesh (74.2 per cent), Kerala (74.0 per cent) and Tamil Nadu (73.7 per cent) were the bigger states with high turnouts
Politically crucial Uttar Pradesh and Bihar were among the lowest-ranking states. UP recorded 58.6 per cent overall turnout, Bihar 56.5 per cent and militancy-hit Jammu & Kashmir recorded 50.1 per cent polling — a major improvement on the 39.7 per cent turnout of 2009.