No trace of prisoner 'kidnapped' by cops
Amritsar, May 13
There is no knowing yet about the whereabouts of jail inmate Bikramjit Singh, allegedly kidnapped from Guru Nanak Dev Hospital by a police team. Bikramjit's family members suspect that he may have been killed. They say the police team that took him away was headed by inspector Naurang Singh, who was "tainted." The family has now filed a writ petition in the Punjab and Haryana High Court, seeking a CBI probe into Bikramjit's mysterious disappearance.
ED probe into drug racket hits roadblock
Chandigarh, May 13
The Enforcement Directorate's investigation into the Rs 6,000 crore synthetic drug case, involving alleged druglord Jagdish Bhola, has hit the Income Tax wall. With the latter refusing to share the data recovered from the premises of industrialist Chunni Lal Gaba during a raid, the ED has now knocked at the doors of the special PMLA (Prevention of Money Laundering Act) court in Patiala.
Govt refuses to clear Rs 1,796 crore atta-dal bill
Chandigarh, May 13
The Punjab procurement agencies, which ran the much-touted Atta-Dal Scheme for six years, have been left in the lurch by the cash-strapped state government. The Finance Department has refused to clear the bill of Rs 1,796 crore raised by the four state corporations. Official sources said other than the provision of Rs 350 crore made in the budget for running the scheme in 2013-14, there was no other source from where they could release the money demanded by the corporations.

Rusted barbed fence along border losing its strength
Chandigarh/Gurdaspur, May 13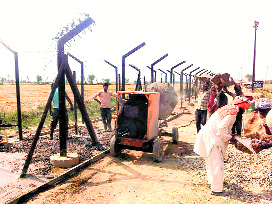 The barbed wire fence along the border with Pakistan in Punjab, one of the world's largest counter-infiltration infrastructure, has rusted over the years. Also a shield against smuggling of narcotics from across the border, the wire's standard 20-year life had expired about five years ago. The fencing covers an area of about 450 km, of the total 553-km international border on the Punjab frontier. The rest is covered by rivers.

Facing neglect: The rusted fencing along the border in Gurdaspur being repaired; (below) naked wires and (below-left) a floodlight pole supported by iron angles. Tribune photos

Farmers move to Rajasthan to sell wheat
Abohar, May 13
A lucrative offer for bonus amounting to Rs 150 per quintal and poor arrangements by the state government agencies in the Abohar sub-division has prompted farmers to transport wheat produce to the neighbouring grain markets in Rajasthan. Scores of labour union members, who organised a protest at Panjkosi, the native village of Leader of Opposition Sunil Jakhar, today said 70,000 bags of wheat were deliberately allowed to perish in the open rural yard for want of lifting.
Potable water a distant dream in Muktsar
Muktsar, May 13 Muktsar boasts of being the home district of former Chief Minister Harcharan Singh Brar of the Congress and the present incumbent Parkash Singh Badal of the SAD-BJP Government but potable water is still a distant dream for residents here.
Fazilka commuters left high and dry
Abohar, May 13
The railway authorities have decided to end Delhi Sarai Rohilla-Sriganganagar super fast train's stoppage at Abohar from July 1, giving a setback to hundreds of local commuters. The reservation counters here have stopped advance booking accordingly. The train was inaugurated in the national capital by Delhi Chief Minister Sheila Dixit on January 5, 2011. Former MP Virendra Kataria travelled on the trial run and flagged it off ceremoniously the next day at Sriganganagar.
Harassed, woman constable wants SHO booked
Mansa, May 13
A young woman constable posted with the women's cell here has been running from pillar to post to get justice. Despite all efforts, she has been unable to get an FIR registered against a station house officer (SHO) for "sexual harassment".
Assault on lawyer


Cong leaders court arrest in Amritsar
Amritsar, May 13
Congress workers led by party legislators OP Soni, Rajkumar Verka and Sukh Sarkaria today courted arrest after a dharna near the residence of state Local Bodies Minister Anil Joshi at Medical Enclave here. They demanded that Joshi be arrested for the murderous assault on advocate Vaneet Mahajan and that the "false" attempt to murder case against advocate Sandeep Gorsi be cancelled.

Anil Joshi
Traders importing wheat from MP
Faridkot, May 13
Despite a bumper crop and the state facing storage problems, traders in Punjab are importing wheat from Madhya Pradesh, that too at a higher price. While in the Punjab market, wheat is available at Rs 1,400 per quintal , the imported wheat is being sold at Rs 2,600 - Rs 3,100 per quintal in the Faridkot area. The reason is simple. It is believed that the wheat from MP contains less pesticides and fertilisers. Punjab is known to use excessive pesticides, insecticides and fertilisers.

'Snooping' on granddaughter
CEO in dilemma over notice to CM
Chandigarh, May 13
The office of the Chief Electoral Officer (CEO) is undecided on sending a notice to Chief Minister Parkash Singh Badal for allegedly snooping on his granddaughter while she cast her vote on April 30. The office does not know under which provisions of the People's Representation Act ,1951, should he be charged.
Posts lie vacant at employment office in Sangrur
Sangrur, May 13
The vacant posts of an Employment Officer (vocational guidance) and a Statistical Assistant for the last few years in the District Employment Generation and Training Office in Sangrur has adversely affected work related to these jobs. In the absence of the Employment Officer (vocational guidance), work related to delivering lectures to students about job careers in government high and senior secondary schools and guidance to unemployed youths at job fairs etc has been suffering. As a temporary arrangement, these works are now being done by the District Employment Officer.
Banda Bahadur museum nowhere near completion
Sirhind, May 13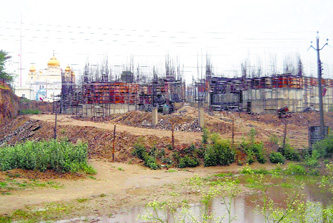 Baba Banda Singh Bahadur Memorial Museum, the foundation stone of which was laid by Chief Minister Parkash Singh Badal during the tercentenary celebrations of Sirhind Fateh Diwas in 2010, is yet to see the light of the day. Spread over 12 acres near the historic Gurdwara Fatehgarh Sahib, the multi-storey museum was to be constructed for Rs 7 crore.

Baba Banda Singh Bahadur museum's construction has been held up for the past two months. Tribune photo

EC cautions Badal on funding remark
New Delhi, May 13 The Election Commission today asked Punjab Chief Minister Parkash Singh Badal to be "careful in future" while letting him off the hook for his remarks that while crores of rupees are spent on elections, only little is disclosed and that people should not give funds "openly".
4 lakh wheat bags yet to be lifted in Moga district
Moga, May 13
More than 4 lakh bags of wheat, purchased in the past four weeks, are lying in various grain markets of the district. Moderate to heavy rainfall in the district yesterday has added to the woes of the labourers and commission agents. A visit to the grain market at Lopo village revealed that most of the wheat purchased by the Punjab Agro Food Grains Corporation was lying in the open. Soaked in rainwater, there was a danger that it could be damaged.
Voter turnout declines in Lambi
Muktsar, May 13
The Lambi Assembly segment witnessed a decline in voting percentage, bucking the statewide trend. It is part of the Bathinda parliamentary constituency where Harsimrat Kaur Badal and her estranged brother-in-law Manpreet Singh Badal are locked in a tough fight.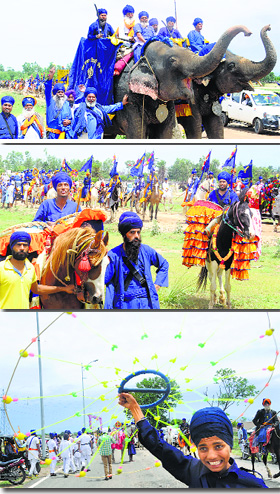 March of the faithful

People in large numbers lined up both sides of the Sirhind-Chandigarh road to welcome a 'nagar kirtan' to mark the 304th anniversary of Sirhind Fateh Diwas on Monday




The Sirhind Fateh March started from historic Chappar Chiri near Mohali




The palanquin carrying Guru Granth Sahib arrived in Chunni at 2.30 pm




SGPC president Avtar Singh Makkar received the procession that was led by five priests and 'nihang jathas' at Jyoti Sarup Gurdwara




Two elephants and as many camels, all bedecked, besides 50 to 60 horses were part of the procession that reached Fatehgarh Sahib around 5 pm

Brick kiln workers block traffic
Sangrur, May 13
Members of the Lal Jhanda Bhatha Worker Union (CITU) took out a protest march from the Assistant Labour Commissioner's office to the traffic light chowk, near the main bus stand here. They also blocked traffic at the chowk. The workers were demanding 25 per cent bonus on minimum wages of Rs 484 fixed for moulding 1,000 bricks. Their protest entered the ninth day today. Earlier on May 8, their talks with brick kiln owners had failed as brick kiln owners were ready to give 19 per cent bonus on minimum wages from January 1, 2014, while the labourers were demanding 25 per cent bonus from September 1, 2013. — TNS


New York cabbie gets jail for rape
New York, May 13
A Sikh taxi driver in New York has been sentenced to 20 years in prison for kidnapping and raping a women passenger three years ago, a media report said. Gurmeet Singh (42) was sentenced after the victim, who took the stand against him, described feeling triumphant, but still traumatised, the New York Daily News reported on Monday.
Punjab-born councillor becomes mayor in Britain
London, May 13
An India-born councillor has been elected mayor in Erewash ward in Britain's Derbyshire, a media report said. The Conservative Party's councillor for Wilsthorpe, Kewal Singh Athwal, became the first Erewash mayor to be elected by a casting vote at a meeting at Long Eaton Town Hall in Derbyshire, Nottingham Post reported on Tuesday.


Patricide not heinous crime, rules court
Chandigarh, May 13
Patricide is not a heinous crime, the Punjab and Haryana High Court has held. The ruling came in a case of a convict sentenced to life imprisonment for murdering his father after he refused to part with his share of land. Justice M Jeyapaul made it clear that the convict had targeted one of his family members and the crime was not against society at large; and the possibility of rehabilitation could not be ruled out.
Court summons case record
Chandigarh, May 13
Less than a week after a stay was ordered on a Punjab Government's decision to terminate the services of six Additional Public Relations Officers (APROs) and appoint new officers in their place, the Punjab and Haryana High Court today summoned the record concerning the appointments.


4 booked for kidnapping
Tarn Taran, May 13
Four persons have been booked under Sections 363, 366-A and 34 of the IPC by the Verowal police for abducting a 17-year-old girl. The incident happened when the victim, a student of Class XII, was on her way to school four days ago. However, the case was registered on Monday evening on the complaint of the girl's father.
4 booked under Excise Act
Tarn Taran: The police recovered 1,400 litres of alcohol loaded in a canter on Tuesday. Four members of a gang have been booked under Sections 61,1,14 of the Excise Act. Tejbir Singh of Hoshiar Nagar (Amritsar) was arrested. — OC