Doctor's house set ablaze in Mansa after schoolboy's death
Mansa, May 14
Furious over the death of a 14-year-old boy at Akashdeep Hospital here today, local residents set afire Dr Akashdeep's house and ransacked the hospital.



An angry protester ransacks Dr Akashdeep's hospital in Mansa on Wednesday; and (right ) the hospital's furniture put on fire by the victim's relatives. Tribune photos: Pawan Sharma

Government told to begin probe against retired officer
Chandigarh, May 14
The Department of Personnel and Training (DoPT) has asked the Punjab Government to initiate an inquiry against retired IAS officer GS Grewal, who, as Divisional Commissioner at Patiala, allegedly helped in the "sale" of prime government land to a private party.


Nine counting centres for Fatehgarh Sahib
Fatehgarh Sahib, May 14
In all, nine centres will be set up for counting of votes for the Fatehgarh Sahib (reserved) parliamentary constituency. Sri Guru Granth Sahib World University (SGGSWU) here will have four counting centres, while Guru Nanak Engineering College (GNEC), Ludhiana, will have five counting centres.
Capt warns EC against possible mischief
Amritsar, May 14
With less than 48 hours to go for counting, Congress candidate Capt Amarinder Singh today warned the Election Commission of India against possible mischief by SAD-BJP leaders in Amritsar "aimed at countermanding the counting in a desperate bid to pre-empt or delay the poll outcome ".
Cong seeks judicial probe, says has no faith in police
Amritsar, May 14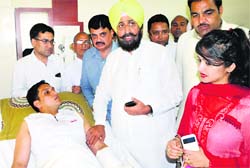 Punjab Congress president Partap Singh Bajwa today demanded a time-bound judicial probe by a sitting judge of the Punjab and Haryana High Court into the murderous assault on advocate Vaneet Mahajan and registration of a "false" case against advocate Sandeep Gorsi, both of whom are complainants against Local Bodies Minister Anil Joshi in the dual vote case.


PPCC chief Partap Singh Bajwa visits advocate Vaneet Mahajan in an Amritsar hospital on Wednesday. Photo: Vishal Kumar

Rain hits cotton crop in Bathinda, Fazilka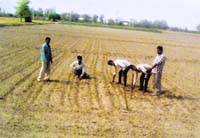 Bathinda, May 14
Nearly 15 per cent cotton crop has been affected due to rain that lashed the regions last night. The areas in which crop loss have been reported are Sangat, Nathana, Bathinda and Talwandi blocks in the district.



Farmers re-planting BT Cotton seed at a village in Fazilka district. Tribune photo
CM inspects works to check waterlogging
Muktsar, May 14
Chief Minister Parkash Singh Badal today started his two-day tour to inspect ongoing works of the state government to tackle water logging in Muktsar and Fazilka districts.
Open sewage drain claims life in Faridkot
Faridkot, May 14
A 40-year-old woman died in Faridkot after she fell into an open sewage drain in the main market of the town on Tuesday evening.
Bridge collapses on Muktsar-Malout road
Muktsar, May 14
The traffic on the Malout-Muktsar highway was diverted today after a bridge on the Abohar branch minor canal caved in at Mehrajwala village.
Storm, rain wreak havoc in Abohar
Abohar, May 14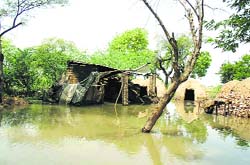 The fresh spell of high velocity storm and rain resulted in breaches in the sub-canal near the Hindumalkot road and the Bazidpur sub-canal inundating about 100 acres of land, besides small-scale coal manufacturing units. Electricity and communication network at Government Senior Secondary School in Choohriwala Dhanna village was completely damaged as old trees fell down.
Breaches in the Abohar sub-canal have affected small-scale units in the vicinity. A Tribune photograph
Storm damages transformers in Mansa
Mansa, May 14
A heavy storm that lashed the region late last evening destroyed around 125 electricity poles and damaged 10 transformers in Mansa district, mainly in the district's Joga block.
SGPC to set up Sikh Mission in Nepal
Amritsar, May 14
The SGPC has decided to set up a Sikh Mission in Nepal to propagate Sikhism in the Himalayan nation. Prior to this, the SGPC had announced to establish a Sikh Mission at Yuba City in the US.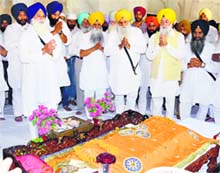 Majithia completes 'tankhah'
Amritsar, May 14
Revenue Minister Bikram Majithia today completed "tankhah" (religious punishment) awarded to him by the Sikh clergy for his blasphemous speech during an election rally in support of BJP candidate Arun Jaitley here last month.



Revenue Minister Bikram Singh Majithia performs 'ardaas' at Akal Takht in Amritsar on Wednesday. Tribune photo
PSPCL 'agrees' to pay high coal price
Patiala, May 14
To resolve the matter of coal shortage, the Punjab State Power Corporation Limited (PSPCL) has reportedly agreed to accept certain "unreasonable" demands of fuel supply firm Panem.
SGPC flays burning of 'Nishan Sahib' in AP
Amritsar, May 14
The SGPC today condemned a reported incident in which a "Nishan Sahib" was burnt in Hyderabad and sought stringent action against those involved in it.
Highway blocked in Moga
Baghapurana, May 14
Hundreds of Congress workers today blocked the Moga-Bathinda-Ganganagar highway at Baghapurana in Moga district, disrupting traffic for more than two hours. Vehicles going towards Kotkapura, Faridkot, Bathinda, Sri Ganganagar and Muktsar were diverted via the Talwandi Bhai-Mudki route.
Fateh Diwas concludes
Fatehgarh Sahib, May 14
The celebrations of Sirhind Fateh Diwas (Victory Day) concluded here today with religious ceremonies. Giani Harpal Singh, head granthi, Gurdwara Fatehgarh Sahib, performed the "ardaas". Devotees, including political and religious leaders, were in attendance.
Statewide strike by lawyers today}
Zira, May 14
Lawyers in all the district and sub-divisional headquarters in the state will go on strike tomorrow. The Bar Association of Zira town in Ferozepur district called for a strike in protest against the shifting of sub-divisional judicial courts to the new judicial complex. The lawyers alleged the new complex had few chambers and lacked basic amenities.
Secy seeks action against Dy CEO for harassing officer
Chandigarh, May 14
The Chief Secretary has sought appropriate departmental action against BS Malik, Deputy Chief Executive Officer (CEO) of the Animal Husbandry Department. A departmental inquiry had found him guilty of sexually harassing a veterinary officer in December last year.
Drug trade: Rights body urges Kant to reveal more names
Chandigarh, May 14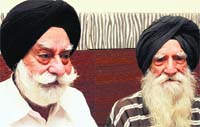 The Majha Ex-Servicemen Human Rights Front today asked former DGP (Jails) Shashi Kant to name all politicians, civil and police officials involved in illegal drug trade. During his tenure, Kant reportedly found 98 such people involved in drug trafficking.

Retired Col GS Sandhu, chairperson, Majha Ex-Servicemen Human Rights Front, and (retd) Justice Ajit Bains in Chandigarh on Wednesday. Tribune photo: Manoj Mahajan
150 schools not to have classes XI, XII
Chandigarh, May 14
In a decision which could affect a number of government schools, DPI (Senior Secondary) Kamal Garg has ordered to discontinue Classes XI and XII in schools having less than 15 students in one class.
Controversy over surrogate advertising of beer brand
Faridkot, May 14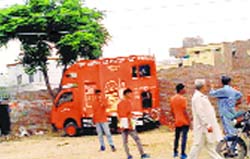 Advertising by India's largest selling beer brand on four-wheelers has stirred a controversy in Faridkot. Local Akali MLA Deep Malhotra, who is a liquor baron, said he and his business associates had nothing to do with these advertisements.




A vehicle carrying billboards of a beer brand in Faridkot. Tribune photo



HC raps institute for halting PhD admissions
Chandigarh, May 14
Admonishing the Dr BR Ambedkar National Institute of Technology, Jalandhar, for acting in an arbitrary manner by not admitting a scholar to a PhD course after setting the wheels in motion, the Punjab and Haryana High Court has ruled that the process could not have been halted due to "internal wrangling".
Some relief: Soon, cases in HC can be filed online
Chandigarh, May 14
The Punjab and Haryana High Court today announced the forthcoming launch of a facility for e-filing of cases. Once in place in the "coming months", the lawyers and litigants will not be required to visit the High Court for filing cases.
HC orders security for 2 Amritsar lawyers
Chandigarh, May 14
About a week after two Amritsar-based advocates Sandeep Gorsi and Vaneet Mahajan were allegedly targeted for exposing the "dual vote"scam allegedly involving state Cabinet Minister Anil Joshi, the Punjab and Haryana High Court today directed the Director-General of Police to file a status report on the two FIRs in the matter.


Firing accused nabbed
Abohar, May 14
Kuldeep Singh Brar of Thandewala village (Muktsar district) has been arrested by the Abohar police in connection with a firing incident.