Fee hike by schools
Submit reply by tomorrow or face action: Education Dept
Faridabad, May 14
The district Education Department has directed over 400 private schools in the district to submit their reply regarding the alleged fee hike and its structure by May 16. Some of the parent bodies have alleged indiscriminate fee hike and had submitted a memorandum to the authorities recently.
Hooda govt ignored north Haryana: Venod Sharma
Kurukshetra, May 14
Former Union and State Minister Venod Sharma today accused the government of not taking serious steps for development of north Haryana and termed it as a "well-planned strategy". He was here in Kurukshetra to open an office of his new outfit, Loksewa Panchayat.
Samples of damaged road pass test
Rewari, May 14
The samples of construction material used in laying a road in Jeewali Bazar, located in the heart of the city, have passed laboratory test despite the fact that the road got damaged within a fortnight. The district authorities are already carrying out a departmental probe into the matter while Power Minister and local MLA Capt Ajay Yadav has also ordered police action against the contractor and the Rewari Municipal Council (RMC) officials engaged with the project.
Exit poll results unnerve Rohtak Cong MLAs
Jhajjar, May 14
The exit poll results forseeing the Congress's drubbing in the General Election have unnerved Congress leaders, especially legislators of the Rohtak parliamentary constituency, who were assigned the task of ensuring the victory of party nominee and incumbent MP Deepender Hooda in their respective areas in Deepender's absence from the poll fray due to being bed-ridden following a spinal disorder.
Nod to lumpsum composition scheme for realty developers
Chandigarh, May 14
The Haryana Cabinet today approved an optional lumpsum composition scheme for developers engaged in construction of buildings and flats for sale. The Cabinet also gave approval for revising the lumpsum rate for work contractors other than developers and revising the TDS rate from 4 per cent to 5 per cent under the Haryana VAT Act, 2003.
DELAY IN TRACING 'kidnapped' girl
Jind villagers block road, stop sending girls to school
Narwana (Jind), May 14
Residents of Barta village have stopped sending girls to school and also locked gates of the schools after the police failed to recover a 19-year-old girl who was allegedly kidnapped from the village on May 1. The villagers also blocked the Patiala-Delhi highway for nearly five hours and held a demonstration in front of the Garhi police station.


Villagers protest in front of the the Garhi police station, and (right) government school locked by villagers at Barta village in Jind on Wedneday. Tribune photos

Bigwigs enthuse Cong workers
Chandigarh, May 14
Amid exit polls predicting a dismal performance by the Congress in the Lok Sabha elections, senior Congress leaders today tried their best to enthuse party workers in the run-up to the Assembly elections later this year.
Left protests poll rigging in Bengal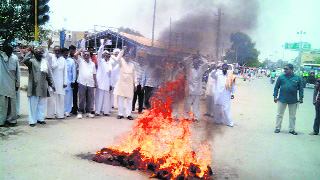 Rohtak, May 14
CPI and CPM workers today staged joint protest demonstrations at district headquarters across the state, demanding a repoll in all those polling booths in West Bengal where rigging had allegedly taken place.

Protest: Left party workers burn an effigy of West Bengal Chief Minister Mamata Banerjee at Subhash Chowk in Sirsa on Wednesday. A Tribune photograph

Akhil suicide case: Family members seek CBI probe
Karnal, May 14
Family members and relatives of Akhil Chauhan, who committed suicide on February 8, today met Director General of Police (DGP) SN Vashisht and demanded investigation by the Central Bureau of Investigation (CBI) in the suicide case. Not satisfied with the slow pace of investigation by the Crime Branch, the family members demanded the transfer of the case to the CBI or ADGP V Kamraja.
Rape victim's accomplice held for 'extorting' money from Sangwan
Dehradun, May 14
The police have arrested an accomplice of the girl, who has accused Sonepat Congress leader Pradeep Sangwan of raping and blackmailing her for two years. The Special Investigation Team (SIT) arrested Saeed Chaudhary, an accomplice of the girl, from Banjarawala here today.
Mobile laboratory to check fertility of soil, minerals in water
Karnal, May 14
To check the fertility of soil and mineral contents of underground water in all the villages of the district, the Agriculture Department today started a mobile soil and water testing laboratory. Balraj Singh, Deputy Commissioner, flagged off the van and appealed to farmers to come forward and take advantage of this laboratory.
Vigil high on UP border
Karnal, May 14
To review the security arrangements for counting of votes of parliamentary elections on May 16, Director General of Police (DGP) SN Vashisht today held a meeting with the IGP of Karnal range and SPs of Karnal, Yamunanagar, Kurukshetra and Kaithal at the IGP office.
Kin of missing man block road in Karnal
Karnal, May 14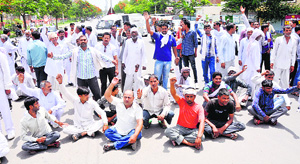 Family members of Rampal of Sirsal village of Kaithal district who went missing on May 12 blocked the road today for half-an-hour near the Mini- secretariat to protest the inefficiency of the police. They also raised slogan against the police. The protesters lifted the blockade after they were assured that they would be allowed to meet SP Abhishek Garg to discuss the matter.

Residents of Sirsal village block road near the Mini-secretariat in Karnal on Wednesday. Tribune photo: Ravi Kumar

4 die as water tank collapses in Gurgaon
Gurgaon, May 14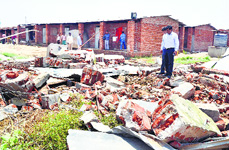 Four labourers were killed and one was injured seriously when a water tank collapsed in Sector 90 near Kankrola village in Manesar last night. They had come to bathe and wash clothes. More than 500 labourers had been staying in 'jhuggis' at the construction site of Simplex infrastructure India Limited. The company had provided a 10-foot-high tank with a capacity of around 30,000 litres.

The site where a water tank collapsed, killing four persons, at Manesar in Gurgaon on Tuesday. Tribune photo: Sayeed Ahmed

Polluting beer unit in rewari
Panchayat serves ultimatum on admn
Khaliavaas (Rewari), May 14
Residents of Khaliavaas village have demanded closure of Bar Malt India Private Limited that has allegedly been discharging effluents into a borewell on the factory premises. They alleged that the practise was giving rise to water-borne diseases.
CCTV cameras installed at Bahadurgarh trauma centre
Bahadurgarh (Jhajjar), May 14
After a series of attacks on doctors on duty, the district health authorities have installed CCTV cameras on the trauma centre campus here to keep a tab on patients and their attendants.
Extortion accused arrested
Sirsa, May 14
The police have arrested Chhottu Gujjar, who had allegedly demanded money from two local traders and opened fire on one of them. A police team were on patrol in Sector 20 here last night when a youth tried to slip from the Ajay Vihar market on noticing them.
15 years on, waterlogging persists in Sonepat colonies
Sonepat, May 14
The residents Shiv Nagar and Prem Nagar in ward no. 4 of Gohana town have been living a pathetic condition for nearly 15 years due to waterlogging in the adjoining vacant railway land and vacant plots.
RAPE CASE
DGP urged to transfer case to crime branch
Karnal, May 14
Agitated over alleged inaction of the Indri police in the rape and murder of an 18-year-old girl, a resident Johar Majra village, family members of the victim met Director General of Police (DGP) SN Vashisht here today. They demanded arrest of accused and transfer of the case to the Crime branch.
Nagar Parishad staff protest non-payment of salaries
Kurukshetra, May 14
Employees of the Kurukshetra Nagar Parishad today suspended their work after lunch and went on an indefinite strike over non-payment of salaries. Baljeet Singh, president, Nagar Parishad Karamchari Sangh, Thanesar, said "Salaries of about 150 employees of the parishad is due for April month. A meeting was called in this regard this afternoon. We met the Executive Officer (EO) of the parishad but he did not give any satisfactory reply in this regard. Hence we had to resort to a strike to get our salaries."
Two held on murder charge
Gurgaon, May 14
The Gurgaon police have arrested two persons for allegedly murdering the 80-year-old father of an assistant district attorney. Victim Bishan Singh Jaildar was murdered in Jatauli village near Pataudi on May 8 and his body was found tied to a chair.
Screenplay writer held for tweets on Modi
Gurgaon, May 14
Amaresh Misra, screenplay writer of the film 'Bullet Raja', was arrested by the Uttar Pradesh Police from Gurgaon today for his alleged controversial and communal tweets about BJP prime ministerial candidate Narendra Modi. "They arrested and produced him before a duty magistrate. He was remanded in police custody for 48 hours," said Gurgaon Commissioner of Police Alok Mittal. "A case was registered against Misra at the Hazratganj police station in Lucknow for making objectionable and communal tweets about Modi," he said. Misra's Twitter account had been suspended as well. — TNS

Dhankhar seeks special observer for counting
Jhajjar, May 14
Om Prakash Dhankhar, BJP candidate from the Rohtak parliamentary constituency, has sought appointment of a special observer for counting in Rohtak and Jhajjar district on May 16. Dhankhar has also shot off a communique to the Election Commission of India (ECI) stating that "I have come to know that policemen in civil dress are being deputed at counting centres. If the authorities are doing so, it cannot be termed as judicious because the act may spoil the atmosphere of counting centres." The BJP leader said if the district administration wanted to depute cops at counting centres, they should be in uniform to maintain law and order. TNS
Prohibitory orders around counting centres
Kaithal, May 14
District Magistrate NK Solanki has banned processions and assembly of five or more persons within 300 metres of vote counting centres with immediate effect. The order will remain in force till May 17. The counting of votes for Kaithal, Guhla, Kalayat and Pundri will be held at four separate centres at the RKSD College. The carrying of explosives, arms and weapons has been banned within a radius of 500 metres of the counting centres. All liquor shops will remain closed on May 16. OC
Court acquits double murder accused in Sirsa
Sirsa, May 14
A local court today acquitted Subhash Chander for want of sufficient evidence in a case of murder of an elderly woman and her granddaughter in Ellenabad, Sirsa. Additional District and Sessions Judge Sangeeta Rai Sachdeva acquitted Subhash, who worked as clerk at the shop of trader Ashok Kumar, whose mother Bimla Devi and 11-year-old daughter Mehak were found murdered on May 5, 2011. The police had arrested Subhash and claimed that he murdered the duo for loot. INLD supremo Om Prakash Chautala accused the police in June, 2011, of framing an innocent man to cover up its failure to arrest the killers. — TNS
Minor girl saved from wedlock
Fatehabad, May 14
A minor girl of Bhirdana village in Fatehabad was saved from being sent to her husband's house today. Information regarding the minor's wedding was received on the child helpline number 1098 in Sirsa. An anonymous caller said a class VIII student was wedded some time back and her parents wanted to send her to her husband's house by performing 'gauna'. A team from the District Child Protection Centre went to Bhirdana village and counselled her parents about the ill-effects of early marriage on girls. The girl's parents gave an undertaking that they would not marry her before she attained the age of 18 years. — TNS
Two get life term for murder
Sonepat, May 14
Ajit of Mahendi Pur village and Jitender of Bhainswal village were sentenced to life imprisonment for murdering Ajit's younger brother, Krishan, on November 3, 2011. The court also imposed a fine of Rs 55,000 each on the accused. Om Prakash of Mahendi Pur village lodged a complaint in the Murthal police station that on November 3, 2011, his younger son, Krishan, was standing outside his house in the village when his elder son, Ajit, along with Jitender, came there and fired at Krishan. After committing the crime, both the accused escaped. Krishan was brought to the Sonepat Civil Hospital where he was declared dead. An old enmity was stated to be reason behind the murder. — OC

Farmer killed in accident
Fatehabad, May 14
A 30-year-old farmer was killed and his father injured seriously when their tractor-trolley fell into a ditch on the roadside after a tyre got deflated. Rohtash and his father Manphool Singh of Bhambhoor in Sirsa had gone to Bithmari village in Hisar to meet Rohtash's sister with dry fodder for her cattle. When they were returning home this morning, a tyre of their tractor-trolley got deflated near a bridge on the Bhakra canal near Badopal village. Rohtash lost control and the tractor-trolley fell into the ditch. He died on the spot. His father was rushed in critical condition to the General Hospital in Fatehabad. TNS
130 LPG cylinders seized
Kaithal, May 14
The police have recovered 130 LPG cylinders from Lakhvinder Singh, a truck driver. He loaded 450 LPG cylinders from Jind for delivery in Radour, but allegedly misappropriated 169 empty cylinders. The police recovered the truck from Chhot village in the district. Efforts were on to recover the 39 cylinders which the accused had kept at his native village in Punjab. A police spokesperson said Lakhvinder loaded 450 domestic HPCL cylinders but deposited 281 empty cylinders on return and said 169 were lost after his truck overturned. He was arrested by the police Lakhvinder on May 10. — OC
All set for counting on May 16
Chandigarh, May 14
Haryana Chief Electoral Officer Shrikant Walgad said all preparations had been completed for counting of votes on May 16. Walgad further said the counting trends would be made available on the two websites www.ceo.haryanagov.in and www.electharyana.nic.in. May 15, the day of a repoll in the Gurgaon parliamentary constituency, would be observed as a public holiday in those areas where repolling will be held. TNS

Warrants of arrest against Meham ex-MLA
Rohtak, May 14
A local court today issued arrest warrants against former Meham MLA Balbir Singh, alias Bali Pehalwan, in connection with a murder case. Bali was supposed to appear in the court today but he failed to do so. The court also directed the local police authorities to ensure his arrest. Bali Pehalwan was named in Vishnu's murder at Kalanaur in 2011. He had got bail from the Punjab and Haryana High Court but it was quashed by the Supreme Court. The INLD leader then filed a review petition in the Supreme Court, which was also turned down. — TNS
Metro rail gets free Wi-Fi service
Gurgaon, May 14
Sistema Shyam TeleServices Limited (SSTL) has tied up with Rapid Metro Rail Gurgaon Limited to provide free internet Wi-Fi services. The services were started today on all trains operational on the six-station Rapid Metro corridor. Apart from the 5.1 km stretch, the SSTL will also provide free Wi-Fi access at four other locations in Gurgaon— Sikanderpur, IndusInd Bank Cyber City, Phase II and Micromax Moulsari Avenue. — TNS

ATM stolen
Hisar, May 14
A Central Bank of India ATM was stolen from Jindal Chowk in the town last night. The ATM had over Rs 7 lakh. The police have registered a case in this case. Along with the ATM, the robbers also took away one of the two CCTVs cameras. SP Singh, the bank manager, said no watchman was deployed at the ATM. The police spokesman said the police was yet to identify the robbers. — TNS