Una leads in exporting timber
Una, May 14
As the State Forest Department has opened many timber, fuel wood and other forest species for export to other states, the annual trade of felling and forwarding the produce to neighbouring states from the borders of Una district alone account for Rs 25 crore annually, making 6,000 truckloads.
Delay in Goods and Service Tax implementation costs investors dear
Solan, May 14
With major incentives of the 2003 Central industrial package having expired, the tax disparity between various industrial units operating in the state has started reflecting on tax-free units that are either shrinking its production or opting for a closure. The tax-free units are finding it difficult to operate with reduced margins after the expiry of various Central incentives and they are not able to compete with other players that still enjoy incentives such as income tax and Central excise exemptions.
700 fish die in Rewalsar Lake
Sundernagar, May 14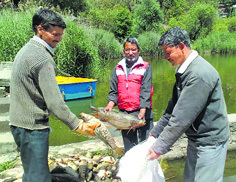 More than 700 fish have died in the past three days at Rewalsar Lake situated in the Rewalsar town of Mandi district. Employees of Rewalsar nagar panchayat said none of the officials of the Fisheries Department had visited the spot. Bansi Lal, president, Rewalsar nagar panchayat, said: "As soon as I came to know about the incident, a team was deputed to take the fish out of the lake."

Rewalsar nagar parishad employees take out dead fish from Rewalsar Lake on Wednesday. Photo by writer

Chartered flight from Chandigarh to Shimla in the offing
Chandigarh, May 14
In a good news for tourists, a non-scheduled air operator permit holder is planning to offer flight services from Chandigarh to Shimla soon. Himalayan Bulls Private Limited is mulling to add popular tourist destination Shimla in their ongoing Chandigarh-Kullu eight-seater chartered flight. The aim is to provide a boost to the already running Chandigarh-Kullu flight service.
Delay in workers' registration irks CITU
Mandi, May 14
The delay in registration of a large number of unorganised construction workers by the district Labour Department has been condemned by the workers and labour union. They said this is depriving them from getting several benefits from the Labour Welfare Board. They have been not been registered with the department for several months, said workers and union leaders.
Use of paper bags carrying porn pictures resented
Nurpur, May 14
Resentment is brewing here among residents over use of paper bags carrying porn pictures by grocery stores in surrounding areas. Inquiries reveal that such paper bags have been used by grocers at Raja Ka Talab, Ganoh, Jawali and Jassur areas surrounding Nurpur during the past 8 to 10 days. These bags are made using imported paper.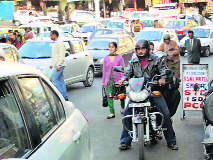 Ban on entry of heavy vehicles sought in Palampur
Palampur, May 14
NGOs Save Palampur and People's Voice have demanded a complete ban on the entry of heavy vehicles in the town keeping in view regular traffic jams in the city. Both organisations said the administration should put a ban on the entry of heavy vehicles such as buses and trucks if it was serious to streamline the traffic movement in the town.

Traffic moves at a snail's pace in Palampur. Photo: Ravinder Sood

500 officials deployed for counting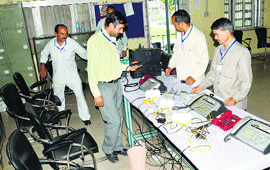 Chamba, May 14
The district administration has completed the preparations for the counting of votes polled in the Lok Sabha elections. The counting for five Assembly segments of Chamba district would be held on May 16 from 8 am at the Government Millennium Polytechnic College at Sarol on the outskirts of Chamba town.

The election staff inspect equipment at a counting centre in Mandi on Wednesday. Photo: Jai Kumar

Ex-DGP dubs Virbhadra govt most corrupt
Shimla, May 14
Former state Director General of Police (DGP), ID Bhandari, who was chargesheeted in the phone tapping case on the day of his retirement on April 30, 2014, today lambasted the Virbhadra Singh government and dubbed it as most corrupt. Breaking his silence, Bhandari, who was shifted in the wake of phone-tapping controversy to the post of DG (Home Guards), alleged that he was being victimised by some top-government functionaries against whom he had proceeded in corruption cases.
CPM opposes privatisation of public sector undertakings
Shimla, May 14
The CPM today opposed the recommendations of the PJ Nayak Committee on privatisation of public sector undertakings (PSUs) on the ground that it went against the spirit of financial inclusion. Even hundred of private banks in the West collapsed following the economic crisis, the CPM claimed.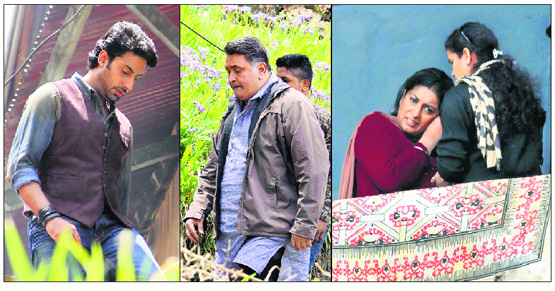 Shooting vignettes: Actors Abhishek Bachchan, Rishi Kapoor and Smriti Irani during the shooting of "All is Well" in Shimla on Wednesday. Photos: Amit Kanwar

Patients suffer as city roads cry for repair
Shimla, May 14
Residents continue to have a harrowing time on city roads mainly between St Edward's School and Kamla Nehru Hospital, Himuda Colony, Kagnadhar, and Sector 2, 3, 4 and 5 in New Shimla. The Municipal Corporation (MC) claimed that repair and tarring work had already started on roads, but many roads are posing threat to lives of patients visiting Kamla Nehru Hospital and the Indira Gandhi Medical College and Hospital.
Army recruitment rally in Kullu from May 22
Kullu, May 14
Army Recruitment Office, Mandi, will organise an open recruitment rally from May 22 to 28 in Dhalpur Ground in Kullu. This drive is being organised for youth of Kullu, Mandi and Lahaul and Spiti. Director, ARO Mandi, Colonel SD Mathur, said the recruitment in the Army was conducted on merit and candidates should not fall prey to touts promising job in the Army. He said the recruitment for soldiers general duty, clerks and storekeepers will be held during the rally.
CPM demands repoll in 1,000 booths in Bengal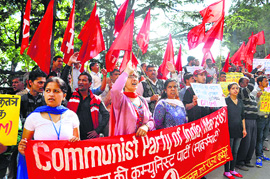 Shimla, May 14
The CPM were up in arms against the alleged violence and poll-rigging in West Bengal and demanded re-polling in over 1,000 booths where Trinamool Congress goons had launched a campaign of terror and intimidation on the eve of the Lok Sabha polling for the last phase.

CPM activists raise slogans in support of their demands at the DC office in Shimla on Wednesday. Photo: Amit Kanwar

HC reserves verdict in HPCA case
Shimla, May 14
The HP High Court today reserved its verdict on the application filed by the Himachal Pradesh Cricket Association (HPCA) to implead Chief Minister Virbhadra Singh, SP Kangra Balbir Singh Thakur, Director General of Police Sanjay Kumar and C Paulrasu, District Magistrate, Kangra, as respondents in individual capacity in the Himachal Pradesh Cricket Association lease cancellation case.
CME at Tanda college tomorrow
Kangra, May 14
The pharmacology department, Dr RPGovt Medical College at Tanda, is conducting Continuing Medical Education (CME) on Hemovigilance Programme of India being organised by the Department of Transfusion Medicine and Pharmacovigilance Centre and Regional Training and Resource Centre, Post Graduate Institute of Medical Education and Research (PGIMER), Chandigarh, on May 16 in Tanda Medical College. Dr D K Kansal, HoD Pharmacology Department, DRPGMC, Tanda, and member organising committee said today that the CME was being conducted under the aegis of National Institute of Biologicals (NIB) and the Indian Pharmacopoeia Commission in the Sobha Singh Auditorium of DRPGMC. He said 250 medical experts were participating in the CME and six lectures would be delivered by eminent medical scientists. — OC
Patanjali samiti writes to EC against BSP leader
Nurpur, May 14
The Kangra district in charge of the Patanjali Yog Samiti has taken an exception to the alleged criminal statement of BSP candidate from Hoshiarpur parliamentary constituency Bhagwan Singh Chouhan during electioneering. Rajnesh Sharma, Kangra district in charge of the samiti, said here today that Chouhan had made a statement of Rs 1 crore prize to whosoever would bring the head of Baba Ramdev. He said the samiti submitted a complaint to the Chief Election Commission and the Chief Justice of India yesterday and demanded legal action against Chouhan in order to maintain social harmony. Sharma lamented that such provocative statement of the candidate of a political party had hurt sentiments of lakhs of followers of Swami Ramdev. — OC
Residents sans water for 6 days
Kangra, May 14
Residents of Ansoli village near this town today expressed resentment that the 350 families were without water supply for the past six days. IPH authorities were silent spectators to the inconvenience they were facing, they complained. Ajay Kumar, former village panchayat committee member, said the IPH Department had been supplying water from a tubewell to nearly 350 families. The motor was damaged last week, disrupting water supply. He said some parts of the village had water from another tubewell. PS Dhanotia, Executive Engineer, IPH, assured that the SDO IPH would be directed to take appropriate action. OC
Bodies of two men found in Kullu
Kullu, May 14
The district police have recovered two bodies here today. One was recovered from a tributary of the Beas Sarwari Khud near the main bus stand. Another body was recovered from the Beas near Home Guard training centre in Bhuntar, about 10 km from here. — OC