Use stative verbs with correct tense form
Sharda Kaushik
"You are all knowing, friends, what sweetness is in Miss Pushpa...
Miss Pushpa is smiling and smiling even for no reason but simply because she is feeling." — Nissim Ezekiel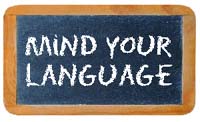 ON a note of satire, Ezekiel captures English as it is used by many in India. He cleverly weaves a string of stative verbs together to pen the 42-line poem, but with a twist. Meddling with rules of grammar, he uses the progressive tense form (-ing) for stative verbs, as seen in "knowing" and "feeling". While dynamic verbs describe physical actions like "running" and "fainting", stative verbs express mental, emotional and physical states of being like "know" and "feel." Stative verbs occur in the simple present tense form though exceptions can always be there, as in "I am enjoying the film" (the emphasis is on the action). Instances of stative verbs occurring with wrong tense forms follow:
1. I am thinking a holiday in the hills is better
Unless the speaker wishes to account for minute-to-minute "thinking", which would then make it an action and not a thought, the user must use the simple present tense. This form is used to convey thoughts and attitudes, complete by themselves. The sentence should be reworded as "I think a ...". Words like "think, remember, believe, seem" and "know" express mental states and must use the simple present.
2. I am seeing what you want
Once again, the simple present needs to replace the –ing form for the sentence to read as "I see what you want" unless the user wishes to describe an event. In that case "see" will occur as a dynamic verb along with an adverb of time to complete the sense, as in "I am seeing them tomorrow". Words like "see, hear, smell", etc. are stative verbs since they stand for physical sensations.
3. I'm lovin(g) It
Riding on "creative licence", Mc Donald's tagline has travelled the continents with its wrong verb form. "Love" is an emotional state, which makes it a stative verb. Therefore, it should not use the –ing form. But the company justifies it on the plea that it invites consumer attention to every moment of the experience, which makes it an action. Other stative verbs like "dislike, hate" and "prefer" must also occur in the simple present.
4. Sweetie is having a labrador
Sentences such as "I am having two brothers", though erroneous, are frequently heard. Stative verbs "have, own, want" and "belong" in contexts such as these represent possession and therefore cannot use the -ing form. The sentence can be reworded as "Sweetie has ...". When "have" changes its meaning becoming an action with a beginning and an end, it takes the –ing form, as in "I am having tea".
Linguists like Tom McArthur and Pam Peters are of the opinion that many Indian users at the intermediate level of competence ignore the rules discussed above. The correct use of stative verbs can take such users a step closer to the next level of competence.
— The writer is Director, Regional Institute of English, Chandigarh